OK, I was able to make some time to work on the fuse box bracket. Again big SHOUT out for Kyle aka NC-V!!!!!!!!!!! If not for his help and guidance, I would be totally lost............Thanks again Bro
These photo are my mock up........ I going to do a final version once I get all the measurements I need. I am using a 1.25" strip of 16 gauge stainless. Some of the stuff I did, I didn't take pics because I get hung up on doing the work vs thinking to take a picture of each step.
The first thing I did was to get measure the degrees I would need to bend the stainless strip. I used my I-phone to get these reading.
NOTE:
I will document all these angles and degrees when I'm done. This will save anybody attempting to do this from taking out their wheel wells 20 times to fit and test fit everything to make sure the box clear the hood strut, etc...... I lost count how many times I had to install and remove the wheel well.
Once I had the degrees down, I clamped the strip with the vise grip and used the I-phone to tell me how much I would need to bend the strip.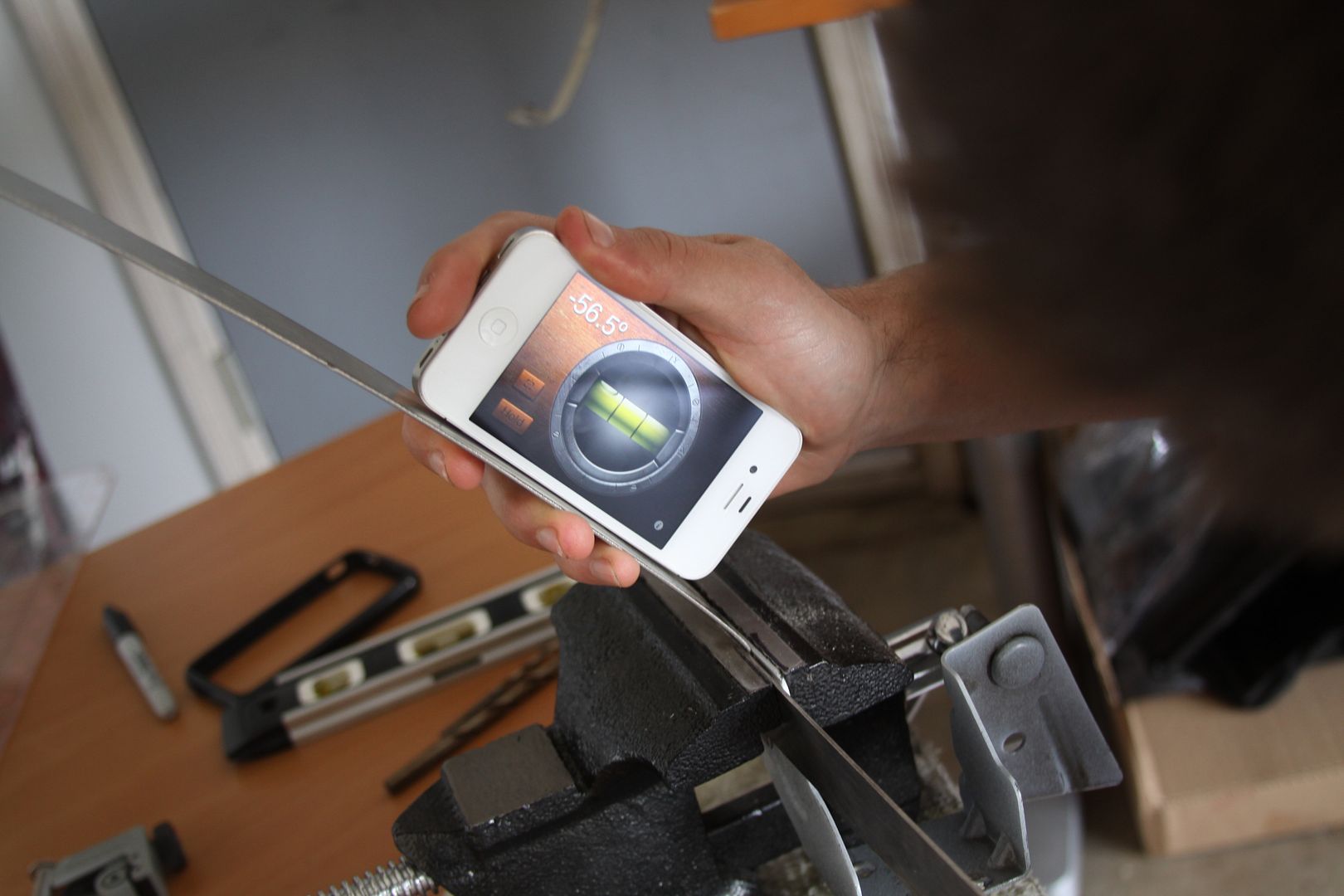 I used a piece of wood to tap on with the hammer protecting the stainless from marks. It also gave me a crisp line vs just pushing down and applying pressure on the strip to get my bend.
So a little more measuring.......
And a little more ........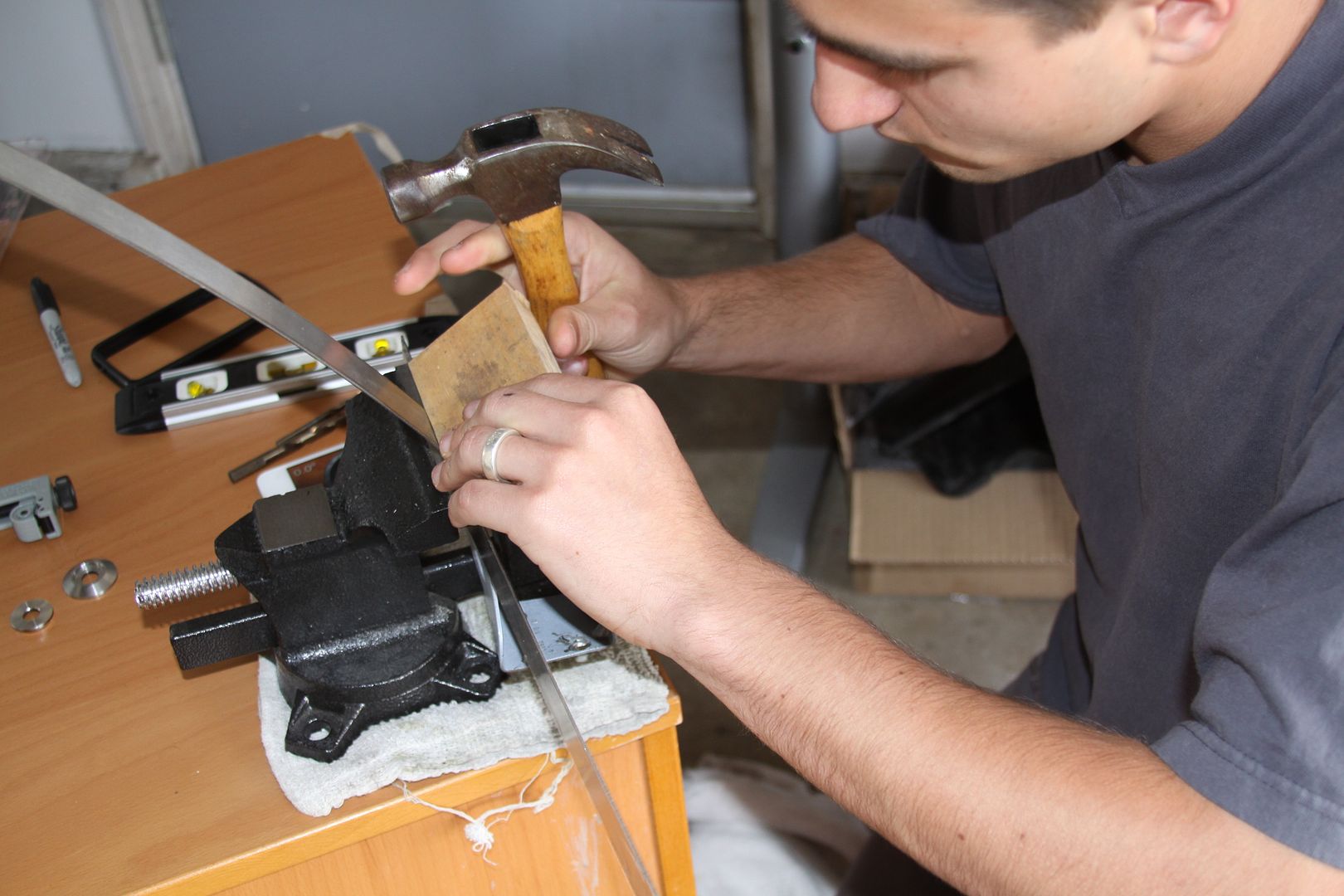 I did my first bend for the upper mount in a straight line. As you can see from this picture.
Well, after doing a test fit, what I didn't realized was the top frame were it will be mount is curved. The curvature is enough to throw off were I was going to bolt it o the lower frame rail by about an inch. To compensate, I re-straiten the strip and made a new bend at an angle.I knew how much of an angle I needed by placing the piece on the bottom were I was going to mount it. Than measuring the gap between the strip and the frame which was about a quarter of an inch. That's the difference you're seeing below.
NOTE: I wish I had taken more pictures to make explaining it easier but it hard to remember when your enthralled in the mist trying to figures this out as you go yourself.
What your seeing here is the top section that will be mounted to the top frame. The straight line was I made my first bend. When I did a test fit, I realized the because the frame is curved, if I just made a straight bend, the degree of the curvature in the frame would through off were I was going to be bolting the strip on the lower frame rail. So I had to compensate for the curvature by making my top bend at an angle.
I had to stop and make a run to Home Depot and get some angle iron. I cut two pieces to put between the vise so that the teeth wouldn't mark up the strip when I clamped it down.
This is a shot of my mock up.....
I went ahead and got rid of my over flow tank while I was at it.
This shot shows how nasty the factory paint is. Also the harness for the head lights looks like crap. From the factory, the heads lights a marked with a several different color markers which also looks like crap. So I already know I will be removing them along with the front end and cleaning/ detailing that whole area. I know, I know



To mount the bolt to the top frame, there's no access to put a nut behind it. So again thanks to Kyle, he recommended I use a nutsert. I didn't even know what a nutsert was or what the heck he was talking about till I goggled it.
I did blow about two hours going to HD, Lowes, Aces, Auto-zone, Napa and nobody carried them. I finally found a local hardware store, "Hanks" that had them. The only challenge is they were oust of the size I needed. So I'm have to called them on Monday to see if they can order me the size I need. I hope they can sell me just one, because they had them in quantities of 25 for $21, OUCH!
Thanks again Kyle for all the guidance and help, can't thank you enough!!!
Stay tuned.....