I think most GM metalics will show it. I ve been highly criticized for not understanding flop or substrates reaction to paint. I understand both. In a production line car, it's probable not expect a perfect match in a metallic with flop. The SGM is probably one of the toughest, but my compaint was on the metal surfaces only on the same plane or viewing angle. What I saw from mine and others was consistent. uneven basecoat. More layers would prob correct it at factory. GM felt it was good enough, in tolerance of flop etc. Most complaints were about different shades on different surfaces such as a plastic next to metal. GM even published a tsb that's on this website. that can be corrected as well with a good paint match and several layers of even base coat. I want to again say GM worked with me. I could have had it evened out at dealership paintshop, but I felt the path to correction was going to require a lot of work for my standards. It was. Like all car things comes down to money. I had paint protection that had to be removed and will need reinstalled as well. So I doubt I will get my money back out, but I love the color enough to make it the way GM intended it. I didn't paint the whole car, just the sides where uneven basecoat looked like stripes on my doors and quarters. In my case it was a little out of my tolerance.
updated 2/10/11
finally repainted...here is shot of the newly repainted drivers side in sunlight. this is about 5 or 6 coats of spies hecker paint, and matrix clearcoat i am very happy with, there is no issues with the uneveness of the basecoat anymore in all angles or light...the car is still disassembled for custom work going on...heritage grill swap, rear diffuser body color match, new spoiler, etc..think calipers are being painted today SGM, and a tomatoe red stripe on outer edge on wheels like SLP ZL pkg if dont see anything dramtic im thrilled since that paint should look even in basecoat...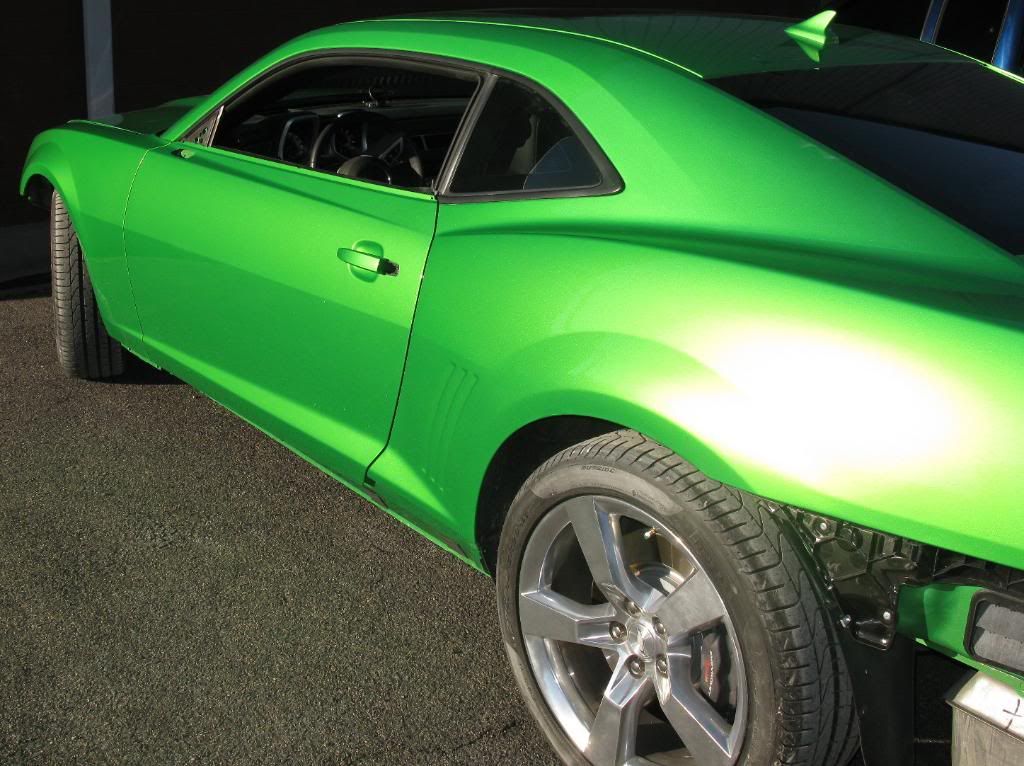 front bumper off to paint fog light inserts green, change bulbs to AAC plasma white, install a lower front defuser, and install a heritage grill (painted) with 69 SS front badge (the real thing from NPD)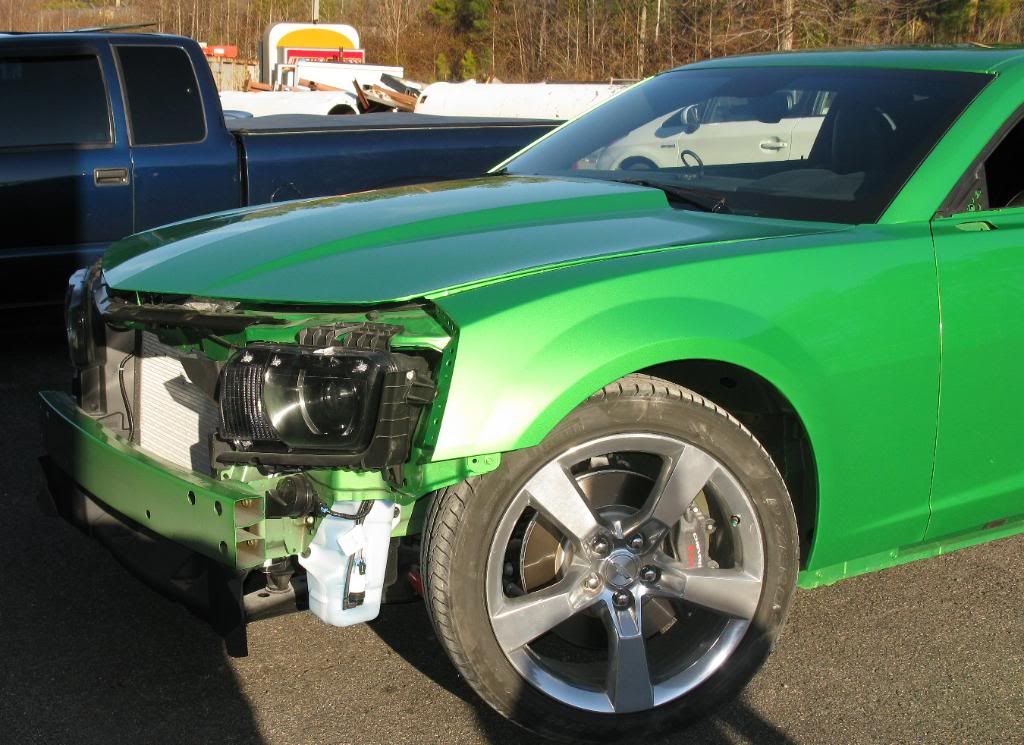 engine bay..
just standard v8 cover painted over stock silver for now..i have some hydrocarbon green cover pieces installed previously. i am not done under the hood, dipstick is green, fact airtube will be green as well..so should offset well. may look at some rotofab pieces like the corvette 2 piece covers. hood mat bowtie will prob have a vinyl green over it or painted..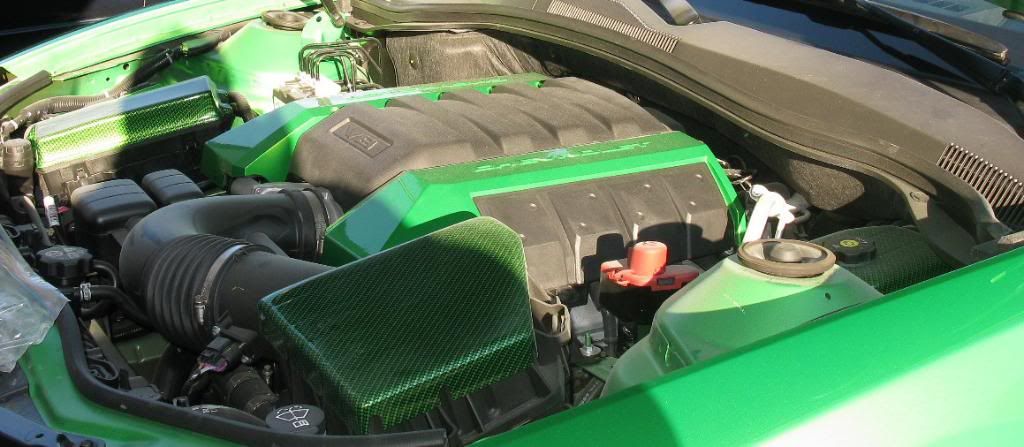 side view for driver side front to back..
very sunny again, just showing the flop. the doors were painted, but fenders were blended in. looks good, confirms to constant basecoat...really with SGM, u see a huge flop for a metalic. the color is just incredible.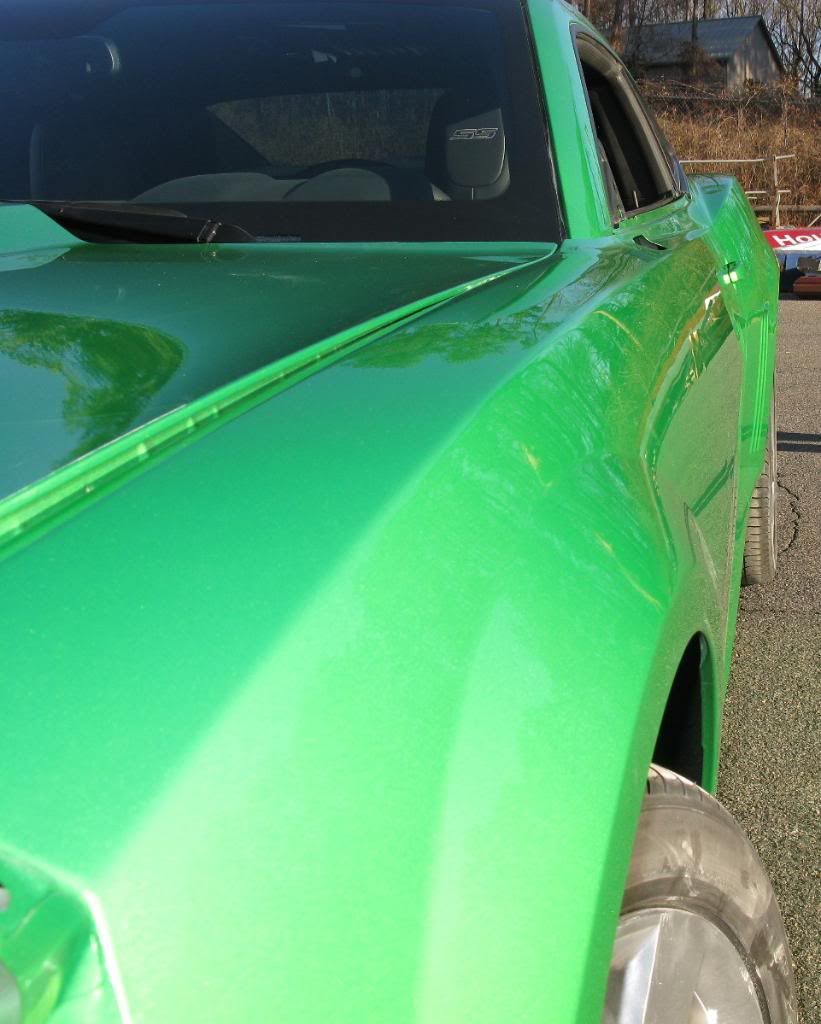 __________________
2011 2SS/RS SGM KAE, MN6, SLP ZL sways. TPC strut tower brace, GMPP Exhaust,roto-fab cai, pfadt lowering springs, Pedders subframe inserts, radius arm and steering rack inserts. 69 camaro fender and hood badges,heritage grill with orig SS badge, AAC green and white LEDs, RJM designs interior with green houndstooth seats inserts, suede headliner, Berger Chevrolet rear blackout big block tribute, 3stage white gold diamond pearl custom rally stripes by ayers custom paint concord, nc