Sorry about the absence of stuffed animals Bigsquirell, but I think you pretty much covered that for me.
First off I want to thank my 2 buddies who helped me w/ the install especially the one w/ the commercial grade lift in his garage where we did the install. I also want to thank Jeff at
Whipple
who actually answered the phone on a saturday and helped. 94guy from the board w/ a couple of tips and a tune as he had just installed his a few weeks before. Ted from JRE, Andy from ADM, and Total Engine perf..
This is a pretty complex build but not super difficult, just takes a good amount of hours to get it done. The kit is very well thought out, and comes w/ many extra`s such as a hack saw to cut the stock air box, fuel line disconnect tool and an awesome easy to use crank pinning tool w/ a drill bit provided. It is very complete. The only thing I would add to the kit if I was them is a ball headed allen wrench for the bolts holding the blower to the lower manifold. I have a lot of tools but do not own ball headed allen wrenches and a normal allen wrench will not fit in certain spot, a bolt is under where the jackshaft connects to the rear housing.
The blower itself is beautiful and it has a huge intercooler. Probably why the blower just barely clears the hood. The heat exchanger is black and is virtually invisible behind the grille, I thought this was great touch vs leaving it raw aluminum, which to me would have been an eyesore behind the grille. The intercooler pump looks to be a ford unit used either on the lightnings or cobra`s, so now I have a ford part on my car...Lol.. All of the connector extensions supplied w/ the kit are oem quality, very nice.
I already some time ago had done the heater hose relocation, low temp t-stat and have the ADM Race intake so I did not have to do those operations again, saving coolant and not having to modify the stock airbox. So we were ahead of the game on that.
I have an L99 so as such I borrowed the flywheel locking tool from a dealership, I know the manager pretty well and he loaned it too me for the weekend Here it is Kentmore part#J-42386-A
You must remove the starter to use this and use the starter bolts to hold it in place, after several attempts to get it to fit, we found that you must remove the plastic dust shield to get it to go all the way up and engage the flywheel teeth, see pic of dustshield:
Pic of kentmore flywheel holding tool installed:
One thing that is very important that we found out the hardway. Please read the following as it is very important, I would assume for almost any blower install but this was definetly the case with my
Whipple
. I had taken off work to do this build w/ my friends, the first thing we did per whipples instructions was try to dowload the superchips tune in the car. did not work. Instead of calling
whipple
then we chose to continue with the job, pretty much had to get cracking as 1 freind took the day off too to help. We got it all done and attempted to install the tune again, called superchips that sat morn and no one was there, spoke to Jeff at
Whipple
who sent us some HPtuners tunes as we had plans on doing the fine tuning w/ HPtuners since my car is not stock and the superchips tune was for stock. Once the car went into closed loop it would not stay running. We tried everything, nothing worked my tuner came over no dice. Called superchips mon morning they said my Operating system in my computer was not supported by them. I have an early 2010 VIN ends 12,546 and I have never had an update done by GM to my PCM/TCM. My tuner tried and tried to get it to stay running w/ tuning in HPtuners. However, there were tables missing from my PCM that were in other peoples
Whipple
tunes who sent them to us trying to help me. Thanks again everybody. Well the table that was missing is the Air/Fuel Ratio Analysis program. Its not in the old OS, but is in the new OS from GM. I can`t understand why GM shipped cars w/ out this table. I guess they did a patchwork to get them to run NA, but boy it sure won`t run w/ the blower. Runs fine is open loop, hits closed loop let of on the gas floods out and cuts off no matter what you do. So I took the car to my dealer freind, had to tow it, they flashed it. Starts up runs and drives fine. Disabled AFM and drove it home. Crazy. So the moral here is if you have an older VIN w/ no updates, go weeks in advance and get your car flashed by the dealer w/ the updates. I have been through this pain for you. Don`t make the same mistake....Lol..
Another tip is on the intercooler water pump. The way it mount it kind pushes up against the top of the driver side heat exchanger bracket, we didn`t like this so we grabbed a couple of spacers and spaced it out so it would not contact the bracket. See pic:
Heat exchanger pic:
Yet another tip is on burping the intercooler system. You will need an extra pair of hands for this way but it works and is mess free as compressed air and a rag don`t work to get air out of the system. Leave the intercooler resivior tank off the rad support hold it up w/ just one hose attached, block off the other hole. attach a wet dry vac to the hose that would attach to the blocked off connection on the resivior, fill the resivior, have person running vacuum, turn it on, suck the fluid through, stop before the tank runs dry, add fluid and repeat process till coolant hits the wet dry vac. Works perfect and is mess free. Wish i had a pic of this but our hands were full...Lol..
Here is a pic of the blow off valve, you must make sure the actuator rod is not in a bind, if so it must be bent slightly, luckily mine did not: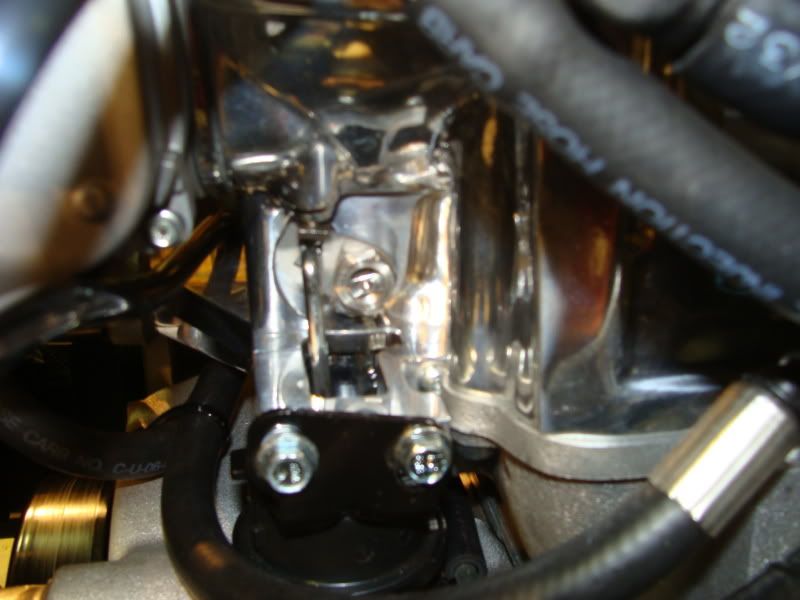 The ADM Race intake works great w/ the
Whipple
. The only thing is the crankcase vent hose hits the new idler and must be put in a different spot on the 90 before the throttle body. You could use something to seal the spot and move it yourself or contact Andy at ADM for one that is not predrilled and he will provide a new 90 plus a new venthose and tit for the low price of 25 dollars. thanks Andy!!
Pics:
Idler where the original ADM venthose went
New 90
intake pics w/ blower:
Now i just need to hit the dyno and get tuned, and install a catch can. I`ll update with some numbers, may be about 2 weeks though.
Ok finally have numbers, this is with ARH 1 7/8 longtubes, 3 inch magnaflow AMD race intake,
Whipple
4 inch stock pulley at 9.1psi at peak on stock internals, L99 Automatic. A pickup of 172rwhp with nothing more added than the blower. 1 thing I have discovered is that the L99`s tiny cam is a BIG restriction. Despite the free flowing exhaust its obvious the air is backing up in the intake. We swapped pulley`s to a smaller size and saw very little increase in power and hit 10.6psi! We ran 6 pulls back to back w/ very little heat soak. The intercooler lines were barely warm in and out of the resivior. This thing definetly stays cool! My IAT`s stayed ambient the whole time thanks to the ADM race, however on a boosted app I would prefer the IAT to be in the lower manifold. But I can verify Andy`s CAI does the job as he designed it. We left the A/F super safe, especially since this was on a dynojet, not as much load as the road..
most of the run its around 11.4-11.5 and at peak its 11.8. So my numbers closely match Big Squirells, he got 532 w/ same setup minus the 3 inch exhaust. Looks to be about it w/ the stock cam and the 4 inch stock pulley.
I do want to thank so many people who helped me get this tune right, Ted, Andy, everybody that sent me files ect... Just remember go to the stealership and get your PCM updated before installing a blower, and if you have the old original operating system and do not do this then you car will not run in closed loop. Period. No tuner can fix it w/ out the missing air/fuel analysis table.
Track times below w/ this setup:
Best of 10.99@125.40!