wtb: 87 camaro.
---
Looking to buy a 1987 camaro, 5.7 with t-tops. preferably white in color but not required, nor do I care about the condition of the paint. just want a typical "in good running order" camaro. if anyone knows someone selling one in the Modesto California area, please let me know. thanks in advance!

p.s. I've been checking craigslist daily, and will be making an account on the thirdgen site soon to post there as well. also, if someone would be as kind to direct me to a site for VIN code verification id appreciate it.

thanks again!...
__________________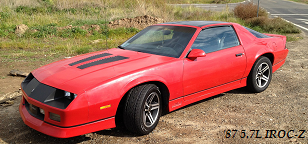 "
Camaro
Z/28
is back. Gentlemen, Don't even bother to start your engines."