Located in the Chicago area. Anyone nearby is welcome to come and check it out.
I do not have a specific price in mind, but I'd like to start somewhere in the $2-3k range, understanding both the life left in it as well as the $$ it would cost to repair. It kills me to think of it being sold for parts, but if that's what the buyer wants in the end, then that's what it would amount to. But with the clutch itself still having so little use to it, that alone is worth a decent amount.
This is the moment I never thought I'd see.... selling my pride. :( Unfortunately, it's not being sold to make way for a new one, I simply cannot afford to pay for repairs. So my loss will be someone's gain.
Make me a fair offer & I will consider all that I get. Thinking of putting it on the bay, but figured I'd see if I can get any local interest first, especially seeing as how it'll probably need to be towed.
Unfortunately it's been too chilly for me to go out & clean it to make it all pretty, so excuse any leaves in the interior or dirt on the paint. I'm including the most recent pic I have of it when it's been semi-clean, while attempting to remove myself from the image. :p
Car has over $10k in mods. I know this car inside & out and still have the majority of all paperwork & receipts. I've never taken it to a track or a dyno, so I have no true measure of it's power.
I am the original owner, and the title is clean with only around 108k miles + fully loaded. Car needs a good home with TLC. Car was initially a demo that had some front end damage that was repaired. There's also been a small tear in the leather of the driver's seat when I bought it. Over the years, the seat belt holder fell from the passenger side headrest. Otherwise the interior is just fine, just give it some new floormats & it's good to go.
This has been a fast, solid car for me for years, pushing about 400hp, not much of a winter driver. Definitely great as a daily driver, when there is no snow. Race clutch is nice & tight.
Up until the last 2 years, the car has been garage stored, so expect the usual bumper paint dings from others who cannot parallel park.
If I had it my way, I'd drive this thing for another 12 years. Well, drive it along with a 5th gen.
Leather seats
CD
T-Tops
power seats
power steering
6 speed manual
MODS
Custom big block hood
rear SS spoiler
custom hugger SS badges
BMR subframe connectors
MSD ignition
ceramic coated shorty headers
full Borla exhaust
McCleod twin disk racing clutch (about 5 years old)
Hand ported intake with about 75% increased airflow
1:8 roller rockers
cold air intake with K&N filter
manual fan switch
reflective orange camaro lettering in rear
rear window tint
The bads
- Pass side fog light is broken & needs an entire new light assembly
- Dent in side of bumper on drivers side
- Driver side side mirror had been broken off. Glued back in place but mirror does not move electronically
- Crack in windshield
- Rear defrost needs replacing
- Computer has problem turning fan on. Manual switch must be used to keep car from overheating.
- Car comes with 17" chrome SS rims, but they have seen 2 seasons of snow & chrome is peeling. Currently on 1 stock 16" rim & spare, so 2 of the 17" tires need replacing.
- Major problem now is heads have been leaking oil. Lots of backfiring & the electrical system has suffered some because of it. That is the current issue that doesn't really allow me to drive it very far, and the reason I'm not driving it at the moment.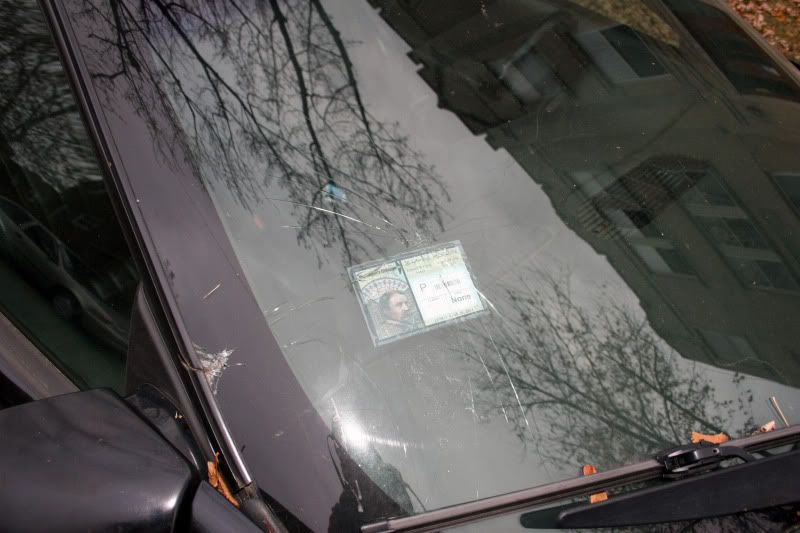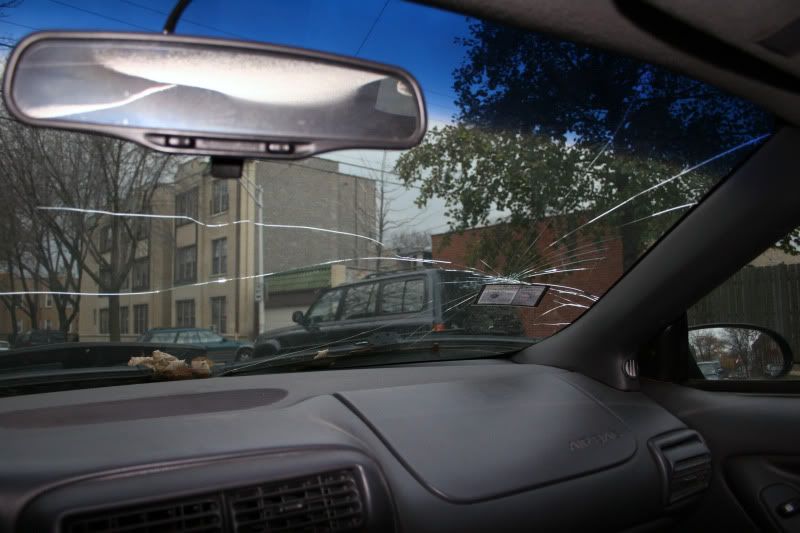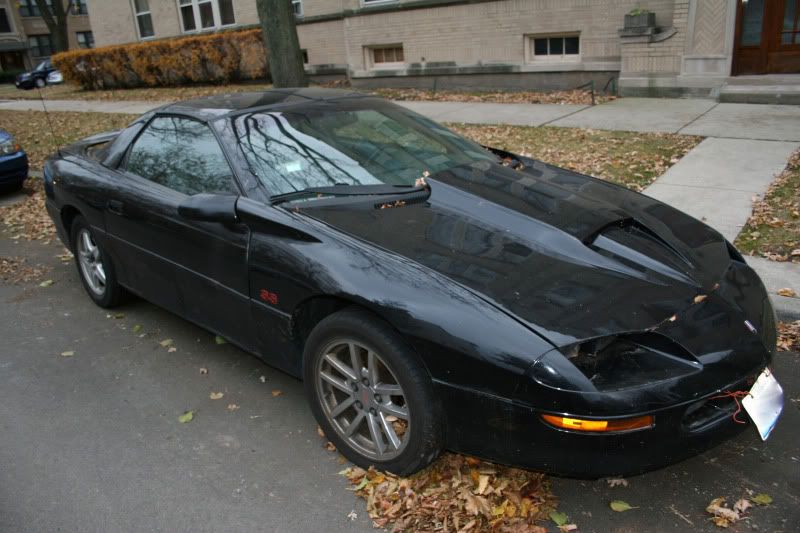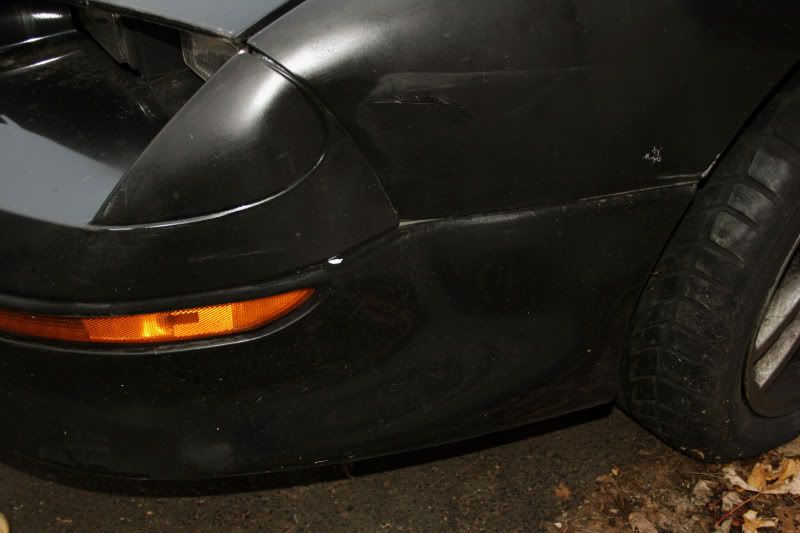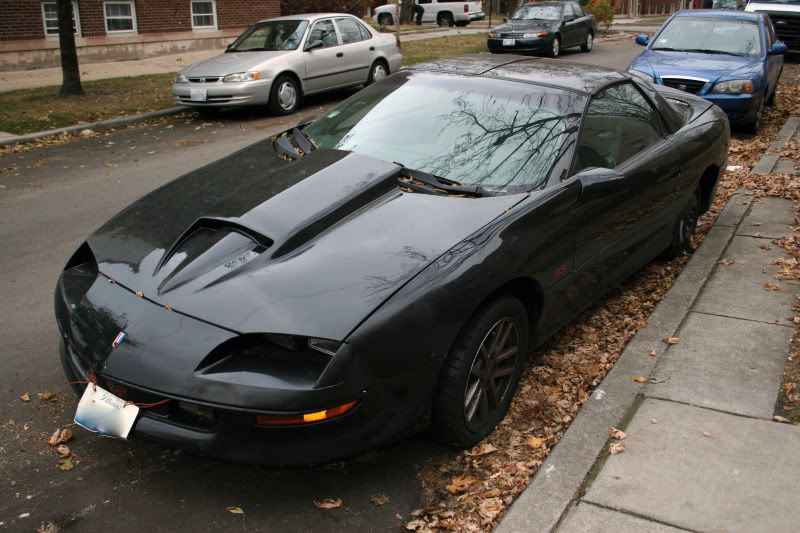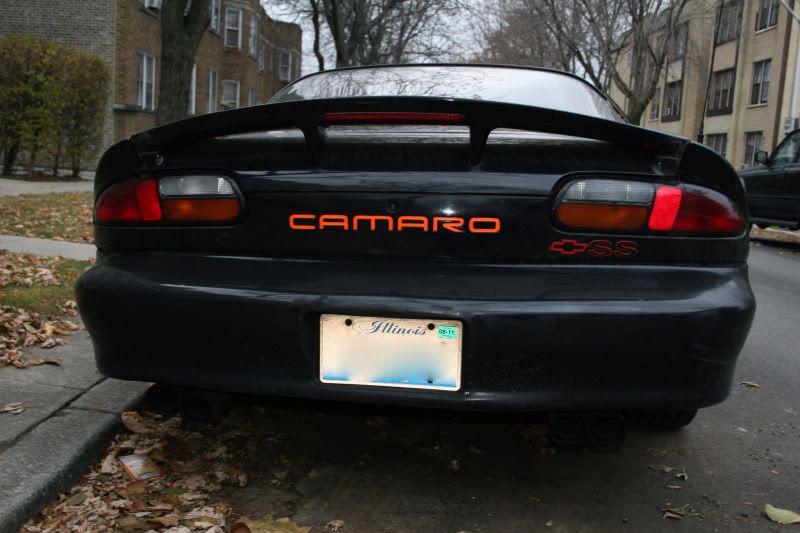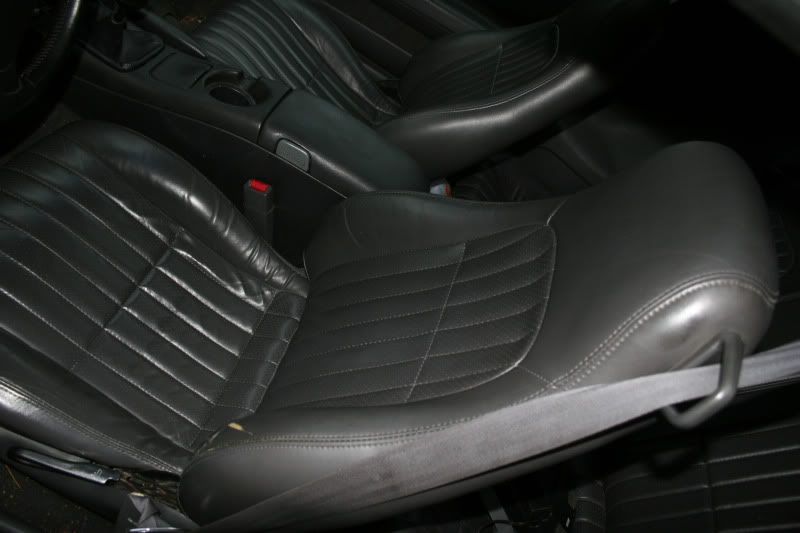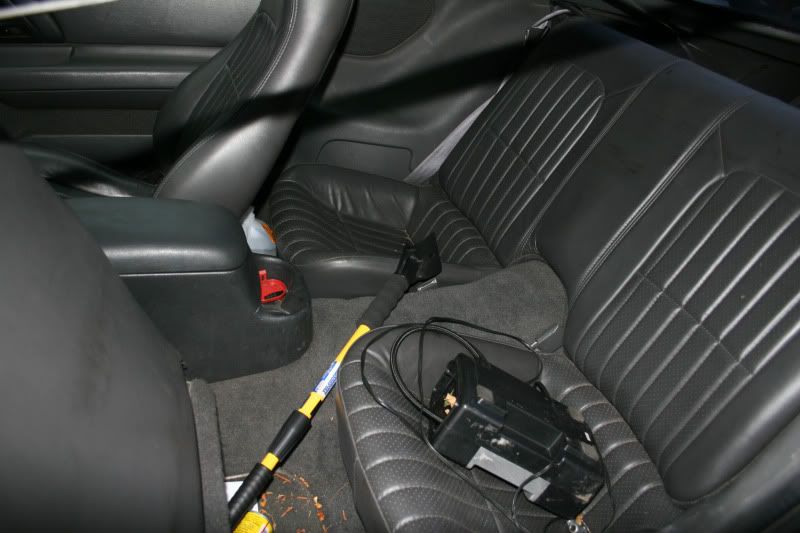 Here is the most recent pic of it while semi-clean. Ironically the picture was taken a day or so before the windshield was vandalized, so you get a fairly good example of the potential it's got on a "good day". (note that I said semi-clean, not polished up by any means, but without much of the dirt it's got in the current pics)