Been hanging around for quite some time, so figured I'd start a build thread.
But this is more than a story about me and my Camaro, its a story about my life (which could get long! LOL)
Insert Long Story Here:

or Skip down below.
I grew up in Oklahoma with my folks and older sister, with lots of cousins, aunts/uncles/grandparents/friends/family nearby. We were very well off, until the early 80's. At that point we lost everything other than ourselves and our farm, so we moved to there, where I spent my childhood. 160 acres that was bought during the Oklahoma land rush, and yes my family were TRUE Sooners...
My mom worked her tail off so that my dad could go to college to work towards a new career. The oil boom was over in Oklahoma, and the economy was already dying in our little town, even back in those days.
Dad got his MBA in marketing from OU and it was time to move onto greener pastures. So summer 1989 we packed up all our stuff and drove out to San Jose, California. Us Okies out in Cali, just in time for the big earthquake. I was still in middle school, and had a real hard time adjusting to life here.
At the time I had no idea what my dad was going through at the time...I later found out that he had to sell our farm and land, just to be able to afford to keeping food on the table. I know that it tore him up inside to sell the land.
We soon learned about the Cali lifestyle and settled in like "locals". We love it here, and dont think we're ever gonna leave!
Fast Forward to 1996:
I was a dumb kid in high school, making a ton of $$, living at home. I decided that it was time for me to "be better than my father". SO I wanted an Impala SS, 1996 model. Well I got the run around at every dealer I went to (I was 18-19 y/o with no credit), but I finally got my car.
A year and half later, I had no job, and I lost my car to the bank, and hand to move back home with my parents. I had thought that my Redemption had occurred, and that I had proven myself a man, yet I was back where I began.
A lot happened in my life between then and 2010, but I wont bore you anymore!

Build part of the thread:

Shorter version starts here:
Early 2010: I wasn't one of the chosen who followed all the news of the new Camaro, because I never envisioned that I would ever have one. I had been down the path of "want" before, so I didn't want to disappoint myself again.
I really needed a new car, but had just bought my wife a new car 10 months back, so money was tight. But my wife insisted that we go check our the new Camaros, since I had been drooling

for awhile. Went for a test drive, and I was hooked. I had already done my homework on pricing etc, so I did a transfer from another dealer, and ended up getting a great deal!
So this is a
Redemption
for my father, and for my mistakes as a young man: I drive this car for myself, I mod this car for myself, I share this car only for myself... I dont do it for recognition, for forums, for vendors, for anyone other than me. It is a symbol of my hard work and determination.
There's more to it, but that's plenty of yack-yack for now!
Thanks for reading: Now for some pictures!!
Picking up the car, 2-15-10 setting up Onstar.
I dont care about the damn blue tooth, let me drive!!
Got to spend some time with the world traveling chicken "Bonnie", back when the car was still stock... Another Long Story...
Here are some shots after some paint correction with Adams!
Some shots from Napa, CA run
After Pedders Xa Coilovers:
AAC Sidemarkers
And the newest mod: Forgeline ZX3P Wheels. Playing with camera settings too...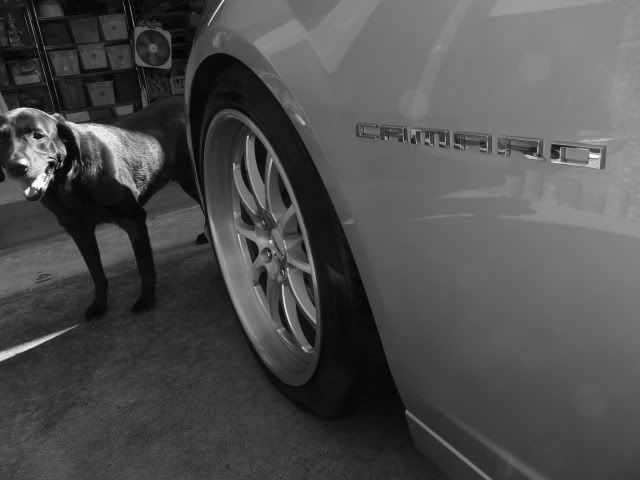 That's all for the moment Folks! More to come VERY soon!!
Mods:
MGW Shifter w/gripper knob
Pedders XA's
Pedders Swaybars/Endlinks
Pedders rear cradle and front radius bushes
CAI Cold Air Intake
Custom DRL wireless harness, with rolling code controller
AAC Sidemarkers, LED strips throughout, ABL interior LEDs, RGB KnightRider Scanner
Forgeline ZX3P Wheels, Brushed Finish
Coming up next:
LG Exhaust and Headers with tune
Custom Vinyl work
Who knows!!??
Anyone want to make me an awesome sig?
Thanks for reading!

Jason