Quote:
Originally Posted by
Avalnch
What is the benefit to an adjustable length rear lower control arm? I don't see how chopping a perfectly good LCA in the middle and putting in a twist point would be an advantage.
It's all about camber. The biggest issue with lowering these cars is rear camber adjustability. The inner bolt on the lower control arm is very limited in its adjustability. Lowering the car more than about 1.375" makes it not possible to get the rear camber back within OE specs. If the customer specifically wants to run lots of negative camber he is fine but doing so will cause excessive tire wear on regularly driven vehicles. To combat this issue we developed our standard Lower Control Arms (
TCA028
) which are pre-shortened to allow alignment specs within the OE range. This is fine for the majority of customers but since you are still bound by the OE camber bolt, it is still difficult to get camber outside of the OE range of adjustability. For OE height vehicles or vehicles that require aggressive negative camber, we developed the adjustable version of our control arms (
TCA029
). Our heavy duty 1.125" adjuster allows an inch of adjustment, more than enough to cover OE to 3"+ lowered vehicles.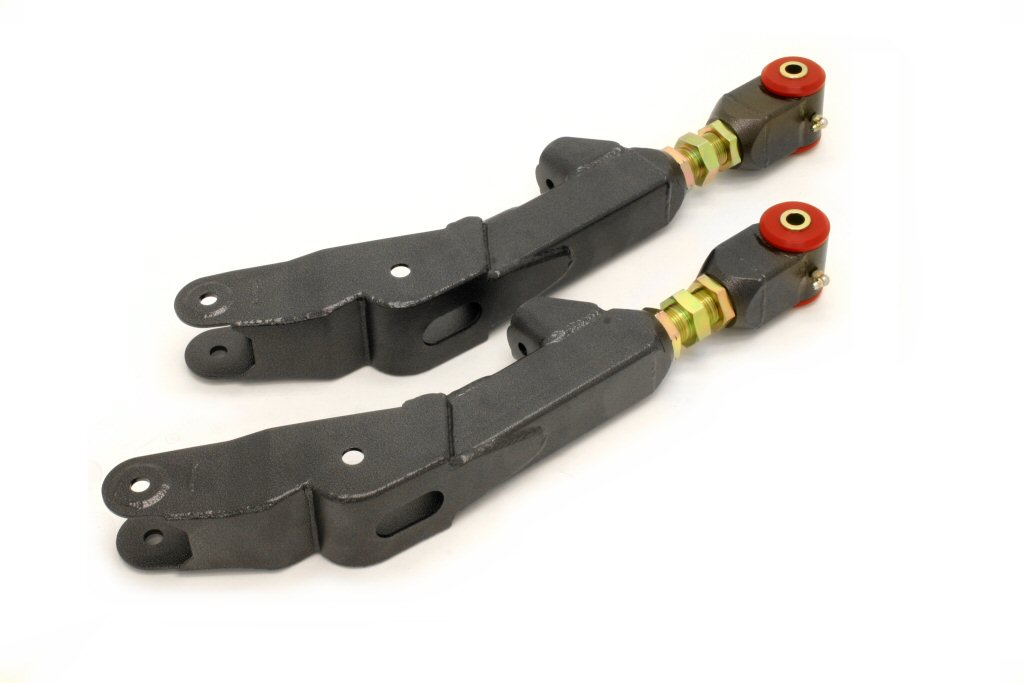 We are getting close to production on these but may delay the release to revise the outer box slightly for even more wheel clearance. As more and more wheels become available for this application, we continue to "evolve" this product to accomodate as many combinations as possible.