In my recent research, I have not found any headers, short or long that are actually ARB or CARB certified in California.
I did see that Doug Thorley did have the CARB stamp on their shorty headers. I e-mailed them and they responded that they do not have any headers, short or long that are CARB approved in California.
Here's the URL to the California Air Resources Board that lists their CARB approved after market stuff.
http://www.arb.ca.gov/msprog/aftermk...rmktdevice.php
I see a lot of forum members say that shorties are approved here in California, but I have not found anything in writing that says they are.
If you do find one, I would be interested in what company it is.
Allen
__________________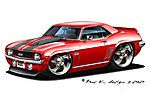 '69 SS Camaro
2SS/RS, CGM, Magnaflow Exhaust, Pfadt Suspension, Airaid intake (Sold)
71 RS Camaro (Sold)
Z Car (Sorry, Nissan 350Z)