Order placed for a new TB from (SC2150) Tracey@ RX Performance products on 11/27 received on 12/2, great customer service and communication from Tracey throughout the transaction!
My first impressions were the throttle response was alot nicer, really crisp and snappy. The extra few ponies and torque were gladly felt and appreciated . Push the gas pedal a tad and off she went. No dead spots anymore, the car feels more alive now. I don't know if its me but the car does sound a bit different also..but maybe its all in my head.
The install was not hard at all. I first unhooked the negative battery cable then loosened the clamp on the intake tube of my CAI and kinda just moved it out of the way. Installing the TB did not require me to remove any thing else other than that. I loosened the four bolts took them out and removed the stock TB.
Next I took the new TB and installed with the stock gasket as instructed by Tracey and tightened the 4 bolts back down snugly in a criss cross pattern. Hooked the intake tube back up and tightened down. Replaced the engine cover and hooked up the negative battery cable.
Fired and let her warm up, checked for any CEL and off I went smiling the whole way! Great performance mod for the money, would recomend to any V6 owner. Thanks alot for the great product Tracey!
This is how it arrived: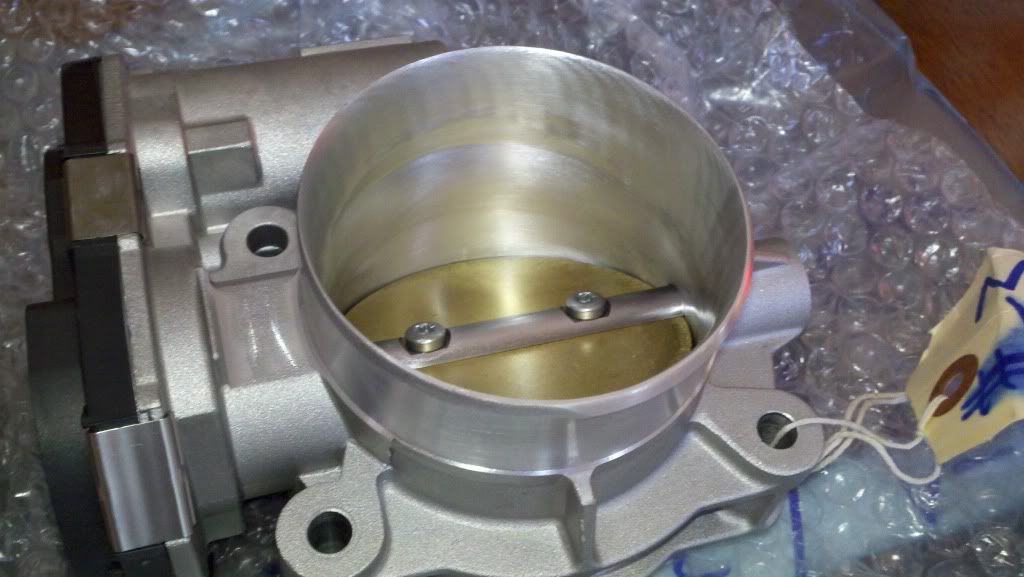 Installed