I am just starting this build thread now, after almost 5 months after buying the car. I don't remember the exact dates I did all these previous mods or the exact order I did them in. There are briefly presented here as reference and perhaps to the amusement of others. Feel free to use any ideas you like, most of them I got from other members here. The only thing I think I have done origional so far is the door kicks and sills, then again I could be wrong. I have many more mods coming, and may add too the postings here already if I need to clarify, edit, or is someone asks me good questions on something that I feel I should have better described.
When I decided to buy a Camaro I had a fairly specific idea in mind. I knew I wanted a 1LT with the RS package and I wanted the RJT or IBM color. When the dealer down the road got one in, I knew I had to have it. I wanted the V6 because this is my only car and my daily driver. So the combined fuel savings, initial car cost, and insurance seemed more practical for something I may end up driving 100+ miles a day some times. Add to that, I dont have a carport or garage at the moment to park a more expensive treasure in. I decided to save money on the 1LT package so I could put that money into doing my OWN upgrades, choosing my own colors and such. I am going mostly for look and comfort, but also a little bit of a punch added to the butt dyno.
So, on August 16, 2011, I went down to pick up the car. It is a 2011 1LT RS RJT six speed built in March 2011. I am a bit of a Tolkien (The Lord of the Rings/Hobbit guy) geek. So I decided to name the car, "Narya". Few may know that Narya is the name of the ring of fire in those stories. The word Narya means "fire jewel" in the language if the Elves. It was worn by Cirdan and later given to Gandalf in the Second Age.
The very first thing I did was have the windows tinted. I decided on 15% for the back and two small side windows and 20% for the driver and passenger door windows. The legal limit here in WA state is 35% but it is not usually enforced. At the percentages I chose, it is dark enough to look good and obscure all but a silhouette of anyone inside, and is less likely to draw the attention of Police.

I started reading a bunch of threads here on Cam5 and saw that people were painting the tail light bezels, which I thought would look much better on the RJT than the chrome. So that simple cheap mod was the next one I did. It looks awesome, cost about 5 bucks and took a total of 2 hours or so on a satraday.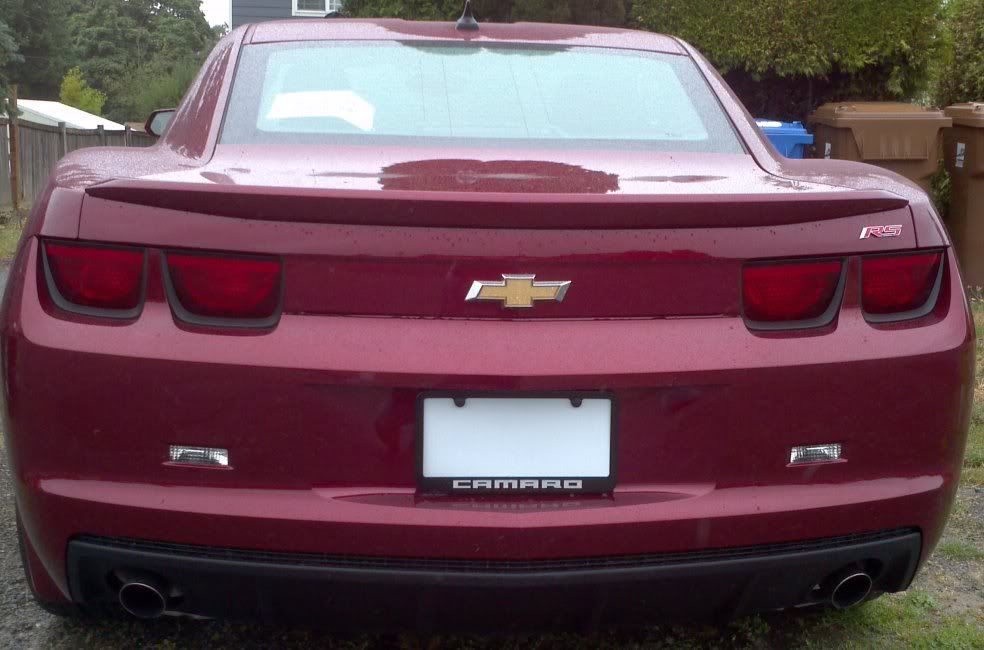 Once that was done, I was so happy with the Matte black on RJT look, I decided then that would be my exterior theme. So I planned to add Matte rally stripes, black fuel door, vent gills, black badges, etc. That is still a bit in the works, but will happen over time... piece by piece.
Another ealy on mod I did was add red LED footwell lights. I did this mod in my last car with blue lights, but I knew this time it had to be red. Since the outside there was going to be Red with black highlights, I decided the inside should be black, with red highlights (and a bit of silver). So red it is. The LED strips were purchased at Auto Zone for about $15 and just tapped into the dome light circuit. Easy as pie and looks good. I did something simular to the trunk light. I also plan to add a red LED light strip and button to the glove box.
I am also a BIG tech geek. Although the stock stereo is pretty nice and feature-full, I needed nav, HD radio, DVD, backup cam etc. So I added the Metra dash kit, a JVC DVD/NAV head unit that has built in Sat and HD tuners and hooks up to my Boyo back up cam. Installation was a bit more involved and the Metra kit isn't perfect, but it fits my needs well, maybe I will tweek the Metra kit when the weather gets better and I can work on it more.
Another early mod was of course, a CAI. Not only does it add a bit more aggressiveness to the engine sound, and quicker throttle response, but it also gets rid of that big plastic MONSTER of a stock air box. Looks and function FTW.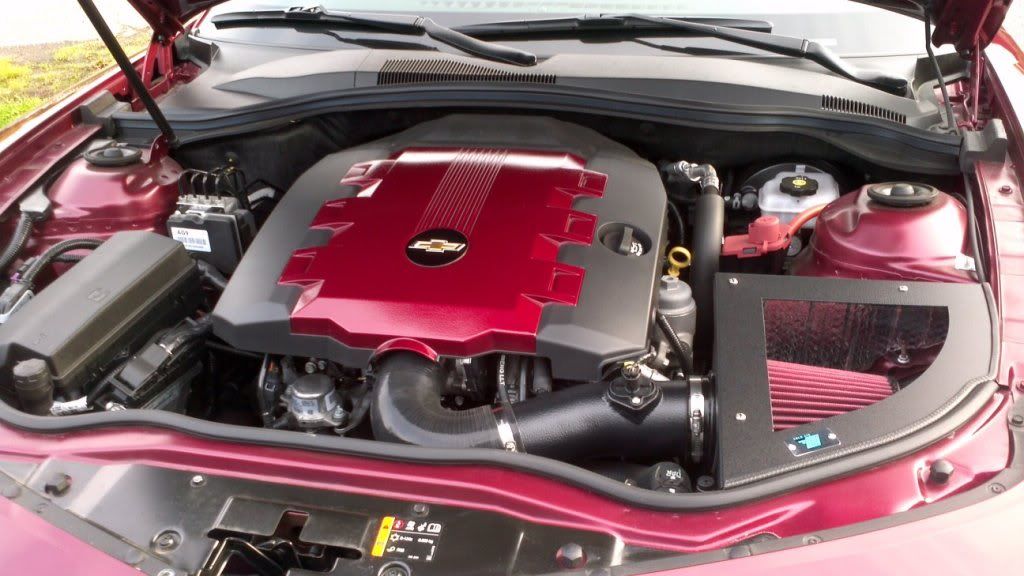 Continuing with my RJT/Matte exterior theme, I had Rally Stripes added. I was really suprised how much they changed the look of the car. I purchased the stripes online from Ryder Graphix and had them professionally installed by a local shop.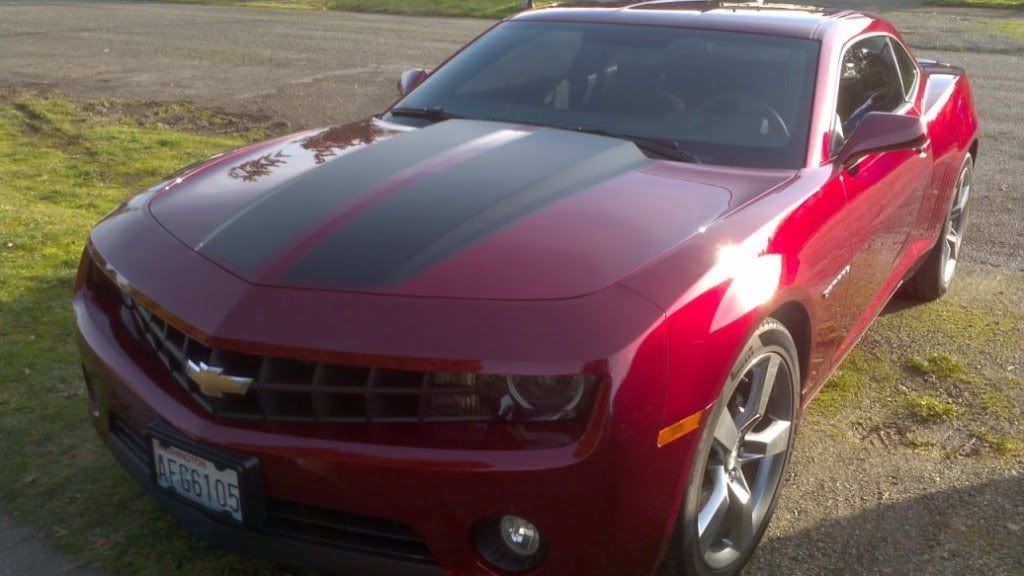 I also recently added a few more interior mods that not just look good, but will protect sensative areas of the interior. These are the Defenderworks black door sills and door kicks, I found a very good deal on them around Christmas. Normally they are fairly expensive. But they are good quality. My wife helped me add some cool custom touches!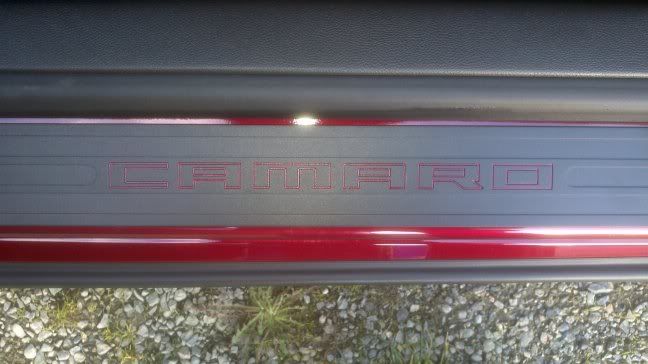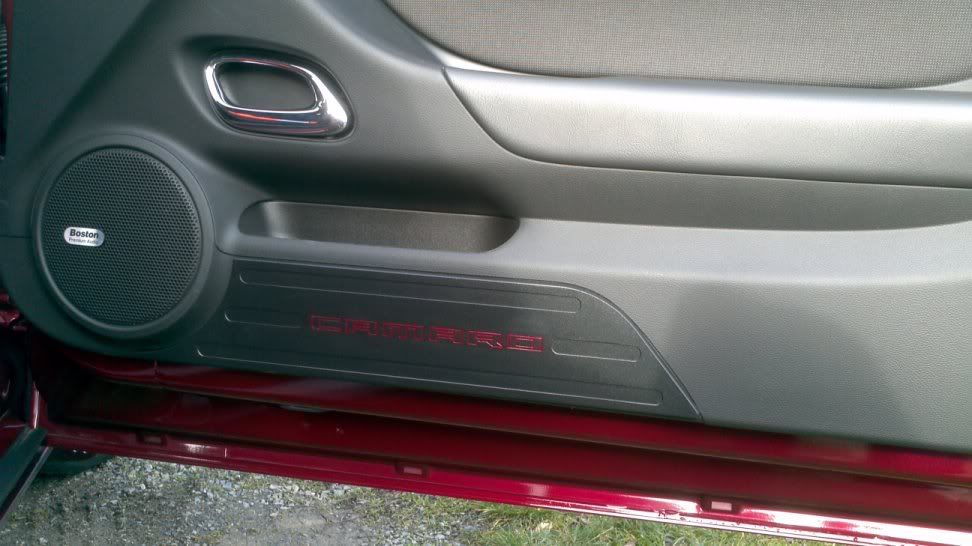 Winter is perfect time for cosmetic mods because I can work on the parts indoors, then run out and install them on a half way decent day. In early Jan 2012 I painted up a GM strut brace and the fuse box cover and slapped them in. When I got the brace it had some minor dings and scratches in it. I got some 400 grit sand paper and my Makita sander and spent 15 minuts bringing it to a smooth perfect surface, then primed it, sanded the primer, 3 coats of RJT paint, and 3 coats of clear. The fuse lid took 2 coats of primer, 3 coats of RJT and 2 coats of clear. They both turned out perfect. Now if only they had fully painted the engine compartment at the factory...
I have done a few other small mods that I havent put up here yet, and have more coming... slowly. Work has been kinda slow lately, so I need to watch what I spend.