This is a planning thread for us to hammer out details and discuss ideas related to the above topic.
Once all details are finalized I will create a new thread to avoid confusion.
Goal
To lock in a date, and determine which interests the group more, reserving an entire winery (if we have the numbers), or hitting up a local brewpub in Livermore.
Dates
For Brewpub option - any weekend in March starting the 17th
For Winery option - any weekend in March starting the 17th and ending the 25th.
There is a major event the 31st in Livermore where all wineries get together and do barrel tasting. Over 35 wineries in a single location. This is a VERY busy weekend, and should be avoided unless we end up with only a few people. Details are here. I will be attending this, but I'll list as a separate item as it gets closer.
Food
First Street Alehouse
is my primary suggestion since it is NOT a chain, and they do their own brews.
If we go the winery route, many of them have the capability to make food, however we would probably have to make a commitment to an exact number of people (potentially even prepay, I would need to research further if there is enough interest).
Route
The route will start on the San Jose side of Mt Hamilton in Murillo (?). We will need to locate a large enough parking lot (which should be easy to do) to use as a staging ground. We need to be as close to the starting line as possible (reasoning below).
We will end in Livermore at a parking lot TBD to gather up and head to our final destination as a group.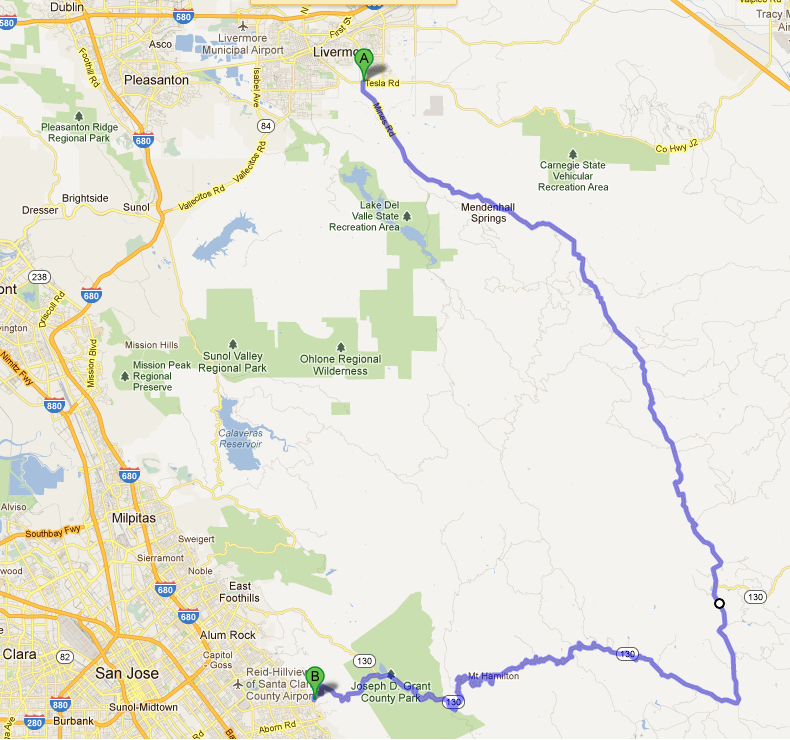 Running Style
Let's be honest here, the number one complaint I hear is how many different driving styles we have and how each prefers to go their own pace and not be forced to keep up or get lost.
We need to add into this that casually this is a moderate skill road, with the skill required increasing the more aggressive you drive.
Plus there are a ton of bikes (motor and ped) who will be enjoying this road just as we are, so we need to be aware of them!
I'm open to suggestion, however for now this is how we will operate.
1. Prior to the event, via pm, I will get an aggression rating from each driver (scale 1-100). This rating will determine your order, allowing everyone to drive at their own pace. I will reserve the right to make last minute changes if I think someone's 80 is actually a 30... Also if you list yourself as a 95 with no suspension work compared to other aggressive drivers with heavy suspension, you will be placed behind them.
Shutterbugs should reduce their rating by 50 as you will want to pull over a few times for shots.
2. We will meet up at the gathering point and re-review choke points and 1 lane roads.
3. The pecking order will be announced and I will be directing the cars out of the lot in this order. Keep in mind that this means I'm last and will be behind PacificKing (grandma) when I'd put myself at a 75... So if anyone doesn't drive safe I'll bring you back from the dead and kill you myself~
4. DRIVE SAFE, MIND ROAD HAZARDS, ONE LANE ROADS, OTHER RIDERS/DRIVERS ON THE ROAD!!!!
5. We will gather up at the lot in Livermore. My lovely wife gets carsick easy so she won't join me on this, however she will join at this point and I'll stuff a cooler of drinks and some snacks in her trunk for those who get to the lot and are hanging out waiting on the rest.
6. Once the last driver is in we will fire em up and roll out to our final destination that we decide on below.
7. Have a great time.
8. Drive safe going home.
Other Notes
I'm doing my best to attempt to fix the top complaints I hear about our other events so PLEASE post here or pm if there is anything else you can think of that we should address. I don't mind dropping the hammer to get it done so everyone can enjoy things
at their own pace
.
This is a beautiful and very enjoyable drive that everyone should experience at least once in their life. Driving casually it is very safe, but like any canyon carve, respect the road.
Let's do this~ :5thgenvert:
Some inspiration for you...
On Mountain Hamilton
by
flopper
, on Flickr
Mount Hamilton Sunset
by
Images by John 'K'
, on Flickr
Mount Hamilton Sunset Panorama
by
Images by John 'K'
, on Flickr
End of Day
by
atenpo
, on Flickr