OK peeps, after playing tug-of-war with the calendar for two months, we've got a date!
Clear your schedules for the weekend of
October 20th and 21st!
>>>>>>
10/20 will be track day at Buttonwillow raceway
: a diverse, 20-turn road circuit track featuring 3 miles of pavement! Racing will be available for the full day, (at a discounted cost of $150 OR LESS) and to
all
skill levels! PLUS we are currently working on procuring the skidpad for those who want to throw down on some autocross.
The venue
:
http://www.buttonwillowraceway.com/
Registration is here! As of now we will be sharing the track with the S2K Challenge. This means our Camaro run groups will alternate with the S2000 run groups. They run, then we run. HOWEVER, If we can pull in enough drivers Speedventures has agreed to cancel the S2K Challenge and lock the gates for us! If you know anyone interested in driving, be sure to invite! Once you've registered, please post so we can keep track!
Registration:
http://www.speedventures.com/events/...il.aspx?id=389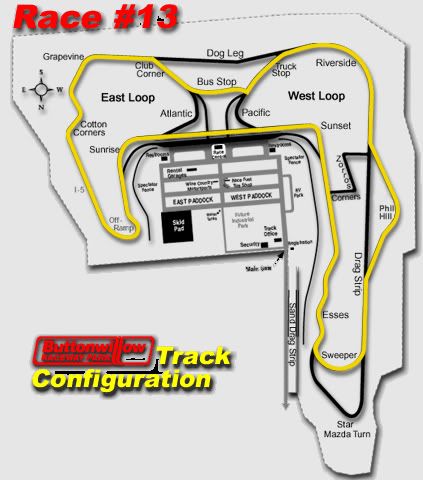 We will be running as "white" group. This allows us two training sessions:
First session will be low-speed, no passing allowed- just to get a feel for the track.
Second session will be low speed, with passing drills (we will be instructed on proper passing prior to running)
All following groups will be regular runs- Camaros only
Ride-along instructors will be available to those that would like one, for $60/day.
One of our CVC members tearin up the track in his Camaro:
>>>>>>
10/21 will be BBQ day!
Come enter the first
CA Camaro car show
, eat some grub, and relax with your fellow Camaro enthusiasts! Last year was great, let's do it again! BBQ day is of course, free of cost.

Info on the BBQ location will be released shortly!
We are currently working on getting discounted rates on lodging for CA Camaro Meet attendees, hotel info to follow soon!