Modern paint systems start with a primer/etcher that is applied over the substrate (body panel). Increases in body panel manufacturing have lead to thinner and thinner layers of primer. On most modern cars the primer is .3 to 1.5 mils thick. On older vehicles a thicker primer was used to hide the inconsistencies in the panels.
The primer seals the substrate from the environment (preventing rust or oxidation). After the primer has been applied the body panel is given color by the base coat (often referred to as the color coat). The base coat is usually flat or semi-gloss in nature. Again with modern paint systems the tendency has been to limit the thickness of the base coat; just enough is applied to ensure even and consistent color. The base coat can range in thickness to just over .5 mils to 1.5 mils in thickness.
If the paint is a pearl, candy, or metal flake some base coats may have flake or pearlizer mixed into them . Other paint systems may receive additional layers of flake or pearlizer on top of the base coat to add this effect. The thickness of these extra coats can vary wildly by manufacturer but most often range between .3 mils and .8 mils thick.
The upper most paint layer is the clear coat. Clear coat is a clear (pigment-less) paint that is responsible for the UV protection of the layers underneath it, as well as the gloss and shine of the paint. When we polish modern paint systems we are actually polishing the clear coat. The clear coat varies in thickness from approximately 1.5 mils (thin) to 4 mils.
Typical Thicknesses
Primer: .3 - 1.5 mils
Base (color) coat: .5 - 1.5 mils
Specialty coats (optional): .3 - .8 mils
Clear coat: 1.5 - 4 mils
How thick is a mil exactly?
A mil is a standard unit of measurement meaning one thousandth of an inch, or .001 of an inch. In other words, it would take 1000 mils to make an inch.
Paint is also measured in microns, which is a metric unit of measure meaning 1 millionth of a meter. There is approximately 25.4 microns in 1 mil.
How thick are standard items around the house compared to the clear coat found on most vehicles?
I used a Defelsko PosiTest DFT Paint Thickness Gauge to measure the thickness of various items at my disposal.
It couldn't be easier to measure the thickness of paint (or any item on a metal table). Simple hold the meter at a right angle to the material being measured and press lightly down. The machine does the rest. The total thickness on this repainted panel (used for testing) was quite thick: 13.6 total mils.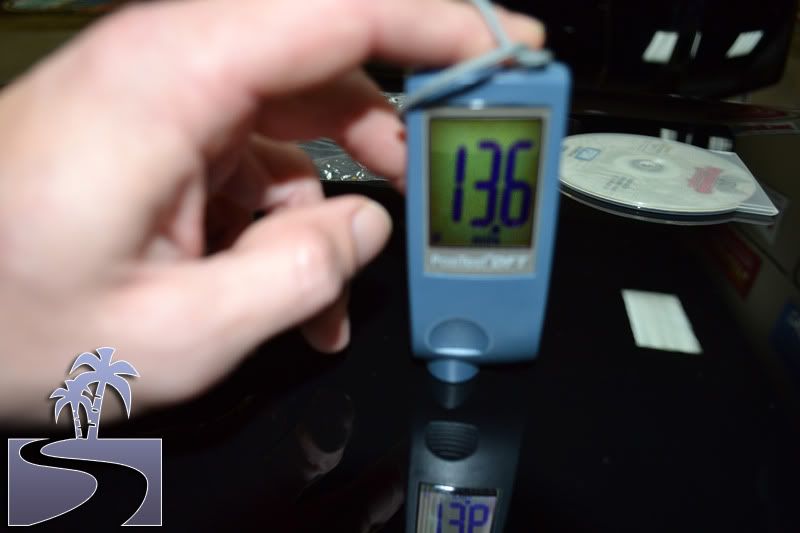 Those who have ordered from Autopia-CarCare.com have received one of these gorgeous thank you letters made of high quality copy paper. It measured 3.9 mils thick, which would be a very thick clear coat.
Standard printer paper was next. It was the 3 mils thick.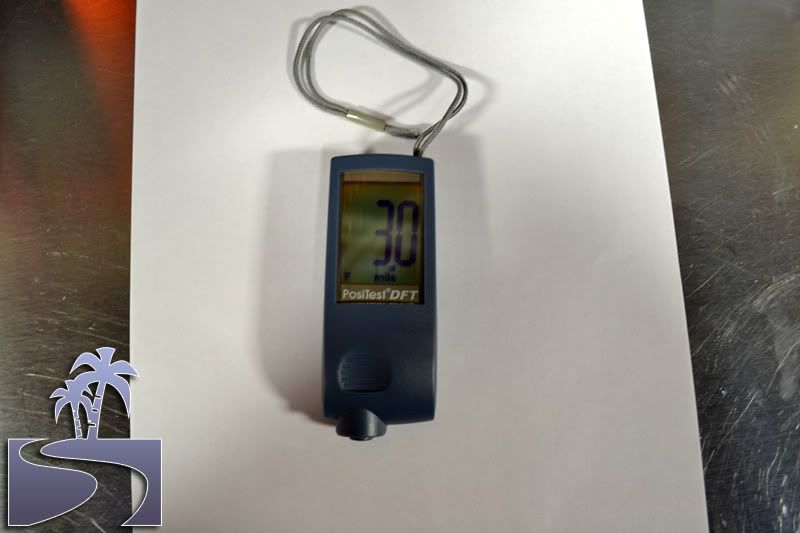 A standard sandwich bag is very thin. Double stacked it was 2.2 mils thick, measuring just one side of the bag resulted in 1.1 mils.
Fully printed magazine cover.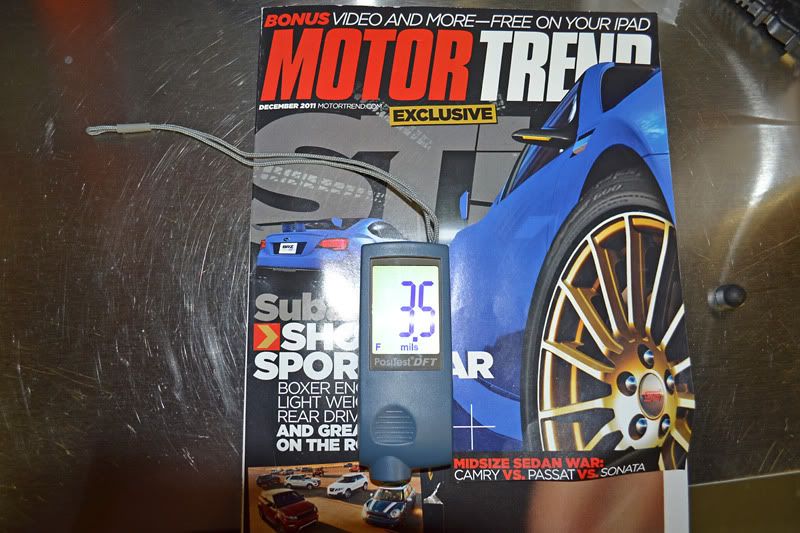 I attempted to measure a CD/DVD, but it was too thick to get an accurate reading. The Defelsko PosiTest is accurate to 40 mils, which suggests that the CD was significantly thicker.
A credit card, measured on the thinnest point.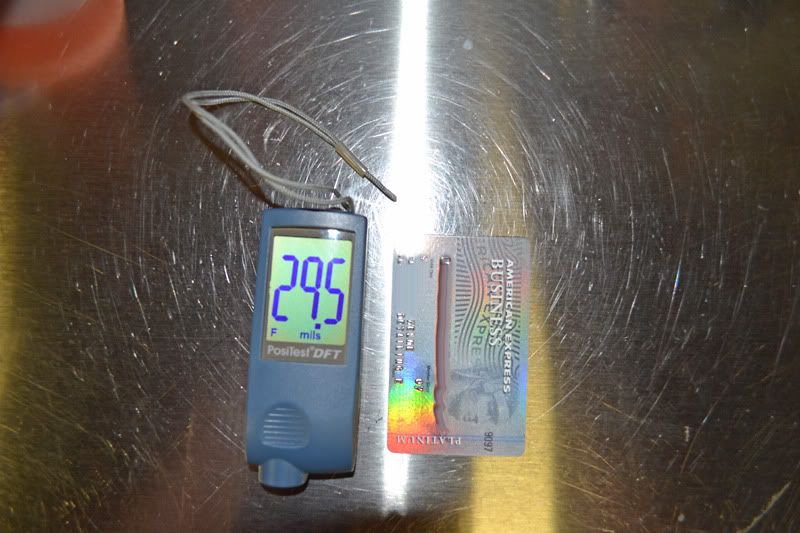 And finally a dollar bill.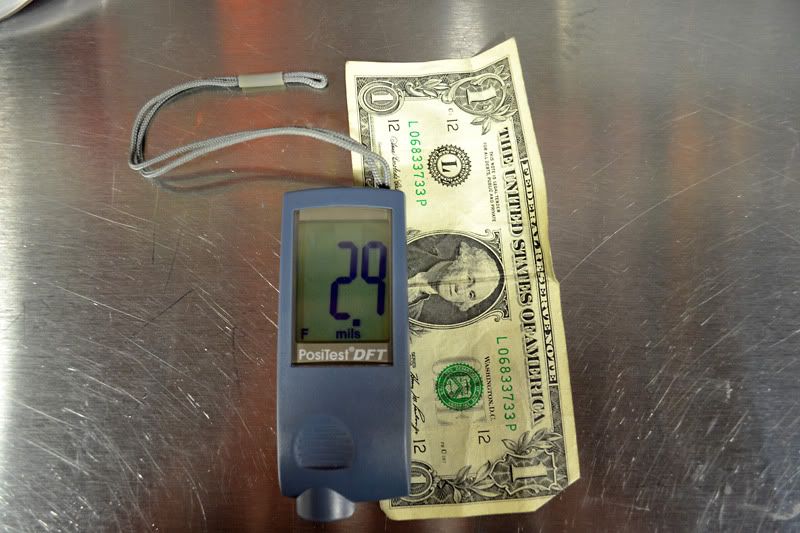 When we are talking about removing paint defects from modern clear coats it is worth repeating the point that they are thin (from a sandwich baggy to a dollar bill thick) and ultimately we don't want to remove more then 10-20 percent of this. High quality, modern polishes use such fine abrasives and are so accurate at leveling the paint that much of the risk associated with polishing paint has been reduced. But always remember that it is best to err to the side of caution and live with a few defects then thin the paint chasing perfection, particularly on a daily driver.