Using the BLACKFIRE Metal Polishing System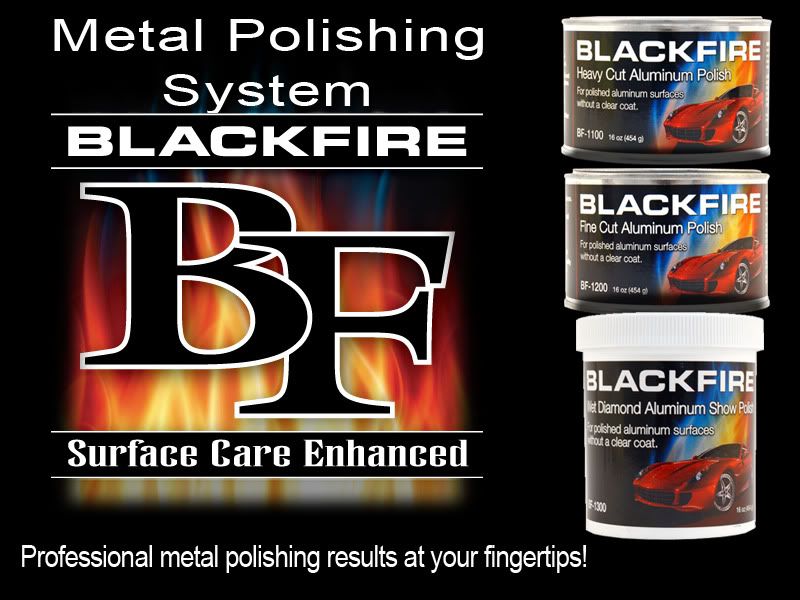 While there are many metal polishes that do a great job at shining metals such as aluminum and creating a high-gloss finish, many lack the power to do heavy correction. This is because, much like polishing paint, doing heavy correction on metal requires aggressive compounding and polishing to remove deeper scratches and create a visibly level surface that will reflect light evenly. Many aggressive metal compounds will scour and haze the surface and may leave it duller, requiring subsequent steps to restore the gloss.
High level metal polishing is usually reserved for metal polishing professionals who use a variety of polishing bars and a buffing wheel. The BLACKFIRE Metal Polishing System was designed to give enthusiasts, who have experience using a machine polisher, the ability to achieve professional levels of correction and gloss. Metal polishing is a dirty job, but the reward is worth it.
What you will need:
A rotary polisher or dual-action polisher: Because of the aggressive abrasives used in metal polishing you will generally achieve better results using a rotary polisher.
The BLACKFIRE Metal Polishing System: This system consists of a 3 products designed to cut, polish, and final polish aluminum and stainless steel. BLACKFIRE Heavy Cut Aluminum Compound is an aggressive 'pre-polish' that removes heavy staining, water etching, and scratches; BLACKFIRE Fine Cut Aluminum Polish is an aggressive polish that remove compounding marks, stains, and restores gloss to aluminum and stainless steel; BLACKFIRE Wet Diamond Aluminum Show Polish is an ultra fine liquid rogue that restores gloss and creates a super reflective surface.
Pads: The BLACKFIRE Metal Polishing System is designed to be used with specifically blended wool pads for the first two steps and a polishing foam for the final step. You can use different wool or foam pads for the compound to achieve different effect, but the BLACKFIRE Metal Wool Pads make it easy to make sure you have the right pad for the job.
A lot of general purpose microfiber towels: Metals such as aluminum and stainless steel will "bleed" black residues when polished. This black residue will permanently stain towels and render them unfit for paint work. It is recommended to have an ample supply of general duty microfiber towels on hand.
Appropriate clothing and safety equipment: Polishing metal is dirty work (because of the aforementioned bleeding of the metal). Use should were eye protection (eye glasses at a minimum or safety goggles), work clothing, and high quality gloves.
A Pad Spur: Use a pad spur or brush to clean the and fluff the wool pads frequently. Clean pads will not only polish faster and more effectively but reduce the amount of scouring left behind on the surface.
A Pad Cleaner: A Pad Cleaner makes cleaning the pads on the fly easy. For this we used the Grit-Guard Pad Cleaning System.
Good helpers: Polishing metal, much like polishing paint can be very time consuming.
Getting started:
The first step in getting started is to evaluate the metal surface and clean it.
The back of this custom1947 hot rod pick up truck was covered in custom diamond-plate aluminum.
Note: Diamond plate can be made from aluminum, steel, o stainless steel. Generally stainless steel is going to be harder to polish (it is a tougher material) than most aluminum, similar to scratch resistant clear coat. The process is the same, but stainless and harder metals may require more compounding.
The diamond plate had stains, etching, and was generally dull in appearance.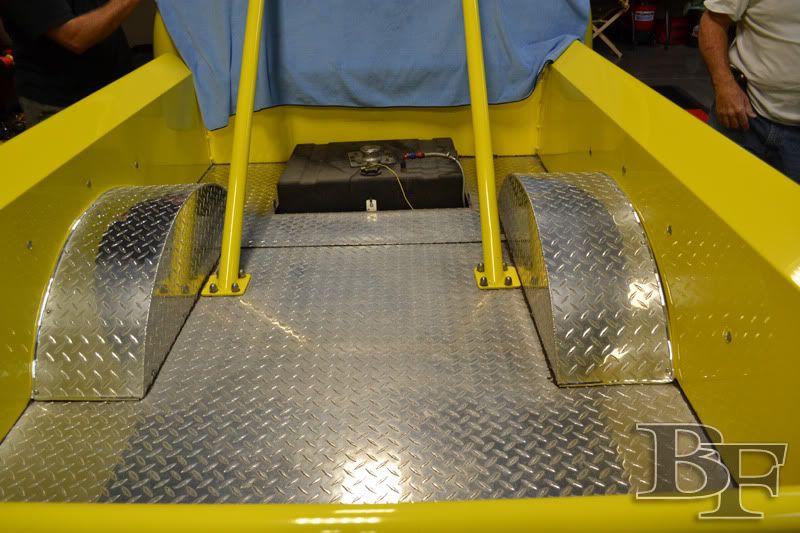 Todd used BLACKFIRE Wet Diamond Waterless Wash on all of the surrounding paint as well as the diamond plate itself.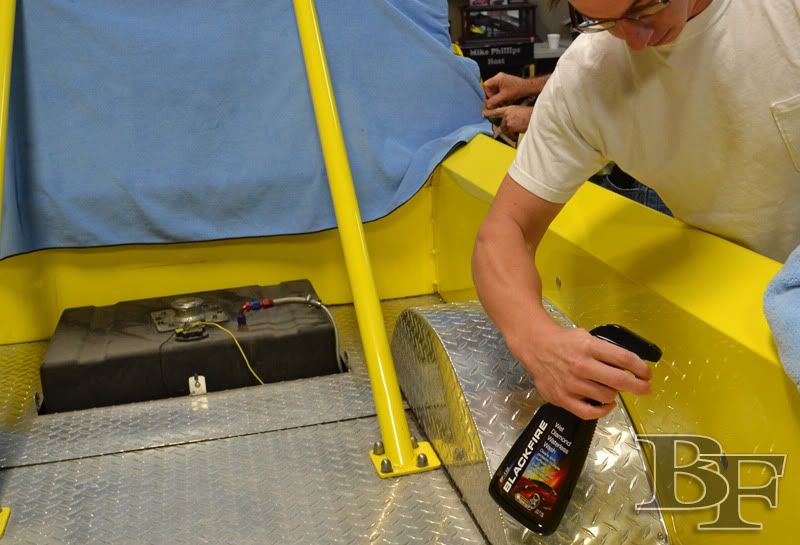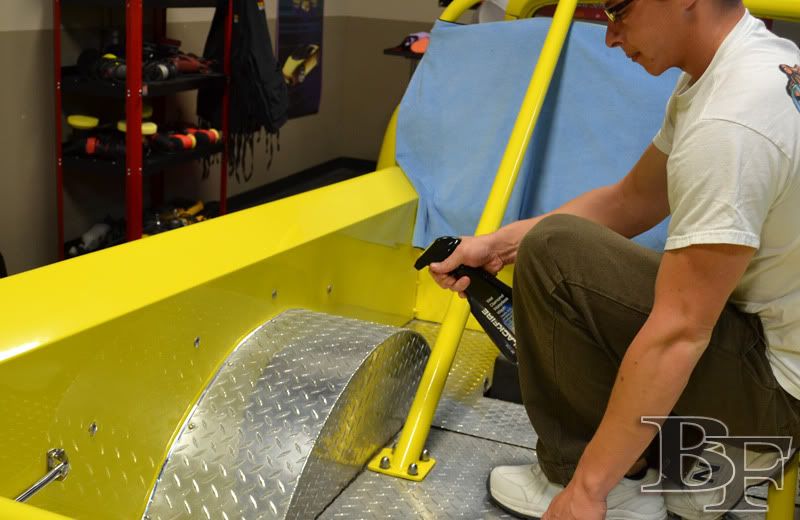 Test Spot.
Much like polishing paint, it is best to start with a small test spot to dial in your process completely, before repeating that process over the entire surface. Different metals may require different techniques, and while not used for the purpose of the following, it is a good idea to start with the least aggressive method first, and work up until you find the process that works best.
The gas tank cover, removed prior to the previous pictures, served as the the test panel.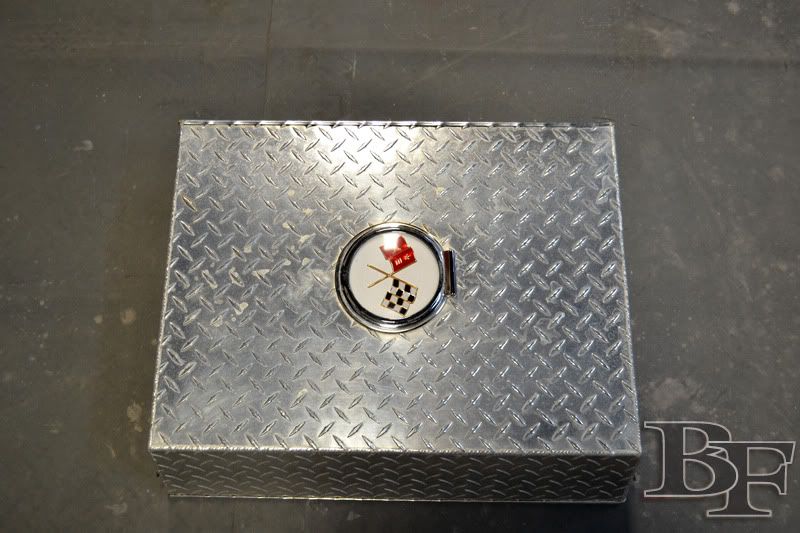 Meguiar's Masking Tape was applied to the vintage (1966 Corvette) gas lid as well as to mask off a section for working.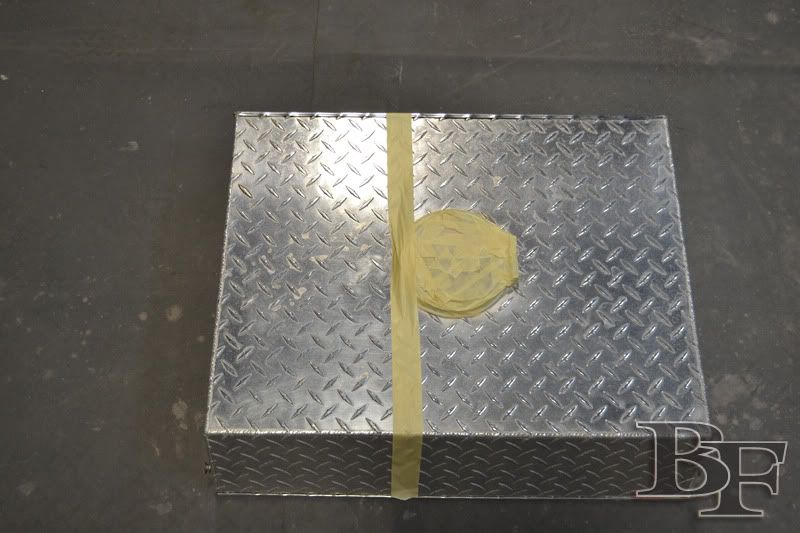 Step One Compounding:
BLACKFIRE Heavy Cut Aluminum Compound is designed to restore weathered, chalky, dull, and spotted bare metals. It can be used with great results on aluminum, brass, copper, magnesium, and blended metals. As step 1 in the BLACKFIRE Metal Polishing System, BLACKFIRE Heavy Cut Aluminum Compound removes surface rust from chrome and stains from stainless steel. It's the first step in restoring a mirror-shine to bare metals.
This is the workhorse of the BLACKFIRE Metal Polishing System. This is the polish that does the heavy correction. If we were working on paint, this product would be called a compound. Technically, BLACKFIRE Heavy Cut Aluminum Compound is a pre-polish. It's to be used before a gloss-restoring polish. It creates a uniform, SATIN finish ready for "Step Two", gloss polishing. It quickly removes surface rust from chrome and will buff out harsh stains in stainless steel. This is an ammonia-based paste, packed with diminishing-abrasives, formulated to stick to vertical surfaces to make large panel polishing quick and easy.
To achieve best results work BLACKFIRE Heavy Cut Aluminum Compound for an adequate time to ensure the complete break down of the abrasives.
You can use BLACKFIRE Heavy Cut Aluminum Compound with a rotary or Dual-Action polisher, although quickest results will be achieved with the direct drive rotary polisher. You can apply it with the recommended BLACKFIRE Stage 1 or Stage 2 Wool pads, or with a variety of moderate to heavy cutting foam pads if needed.
The tools used: Here is BLACKFIRE Heavy Cut Aluminum Polish, next to the BLACKFIRE Stage 2 Wool Pad, on a FLEX PE14-2-150 Rotary Polisher.
Apply BLACKFIRE Heavy Cut Aluminum Compound directly to the panel using a soft brush, such as this 1 inch detailing brush and spread into a light, even coat.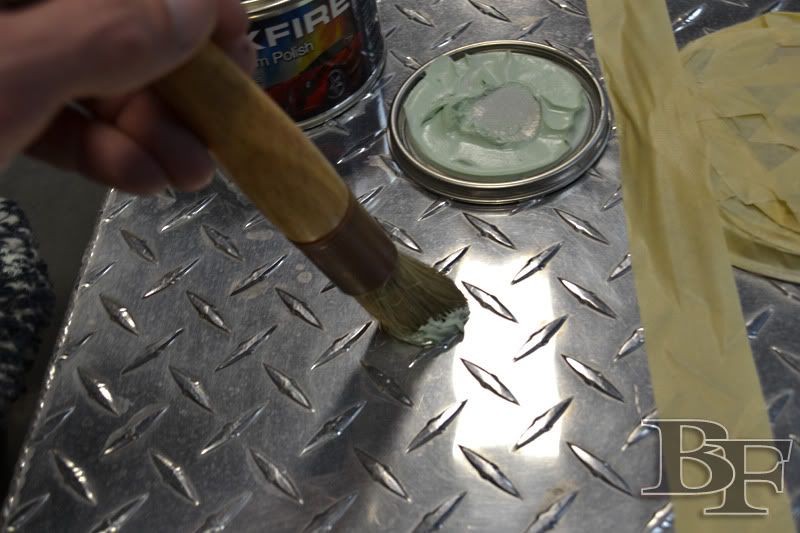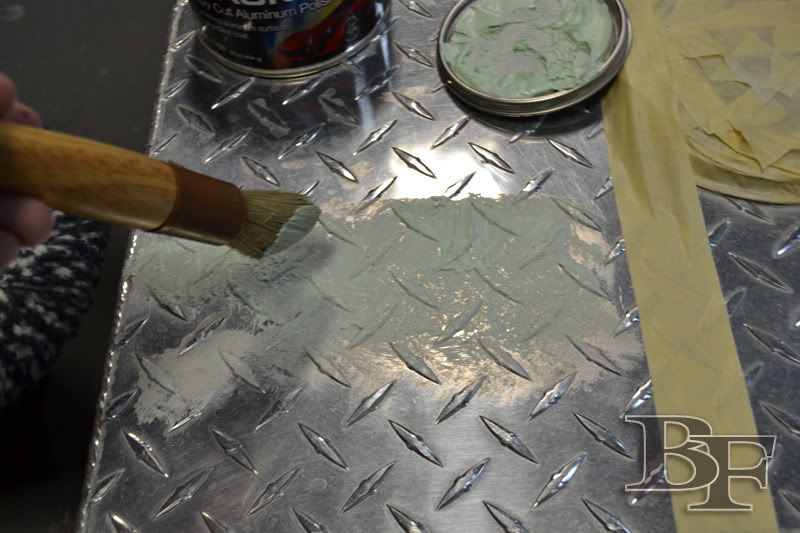 Todd spreads the polish at low rpm (>1000) then increase speed and pressure, working at 1500 rpm until the the polish begins to clear in slow, over lapping passes.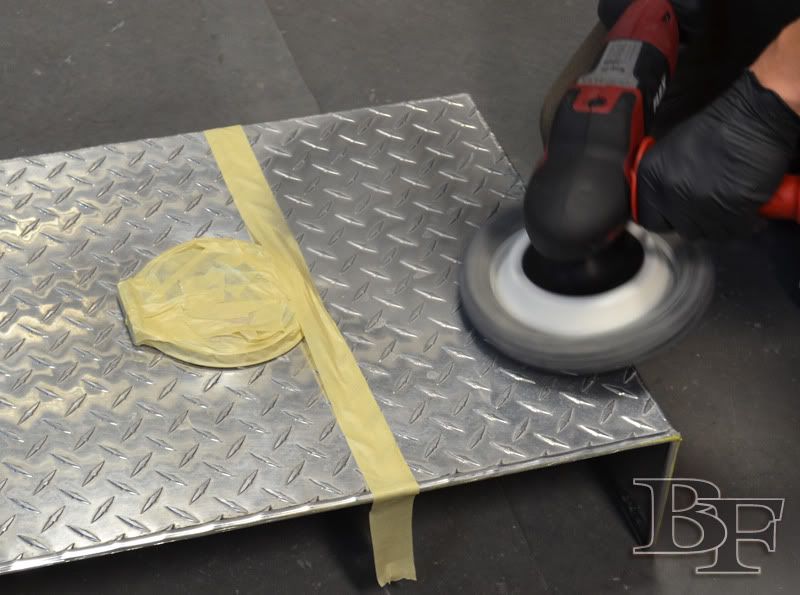 You can clearly see the black that has "bleed" from the metal on the face of the pad. This from the trace amounts of aluminum that have been polished away instantly oxidizing.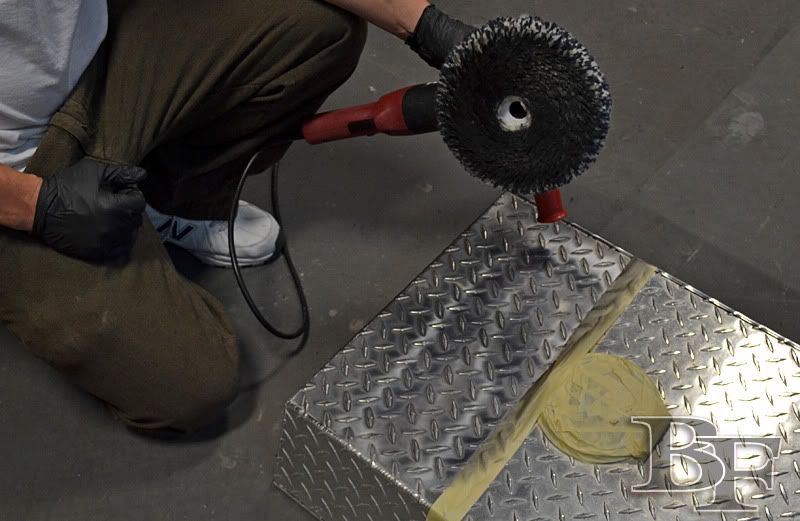 A quick inspection reveals that a little more compounding would yield a better result. Remember to take your time on the first step, it lays the foundation for the shine that is about to come.
Todd added at a little more compound on top of the piece and worked it in slowly using the technique described above.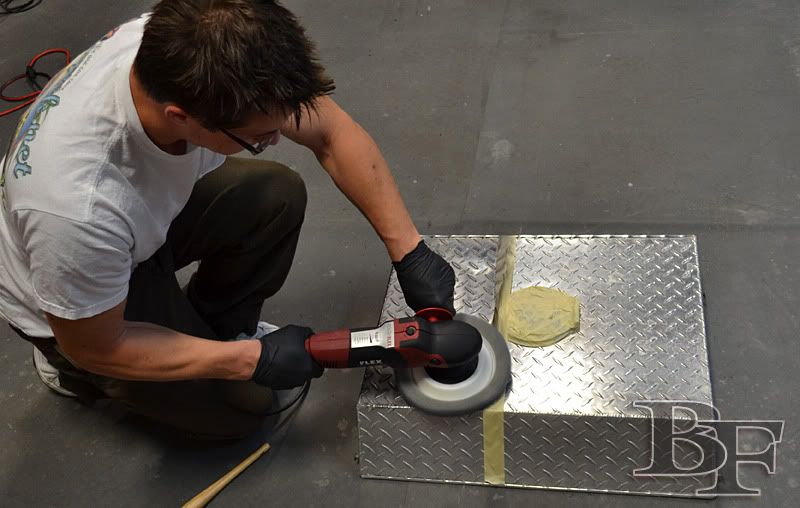 When you are happy with the results use a general purpose microfiber towel to remove the residue and prevent scratching.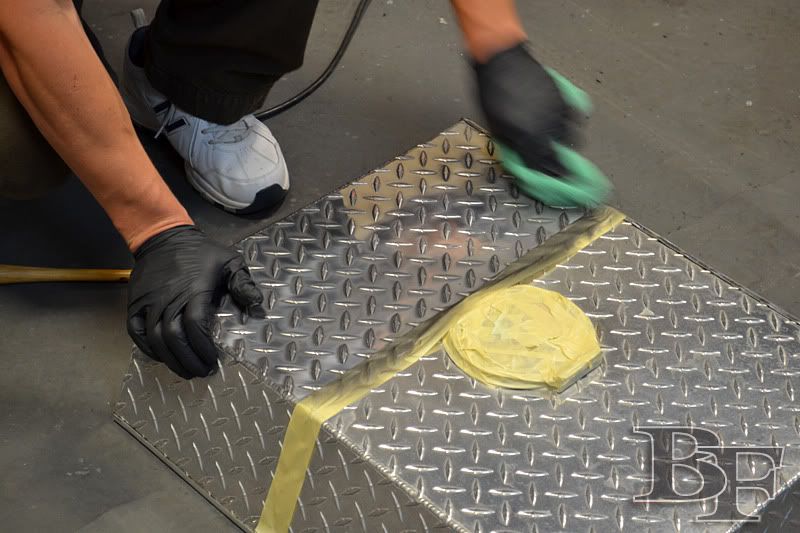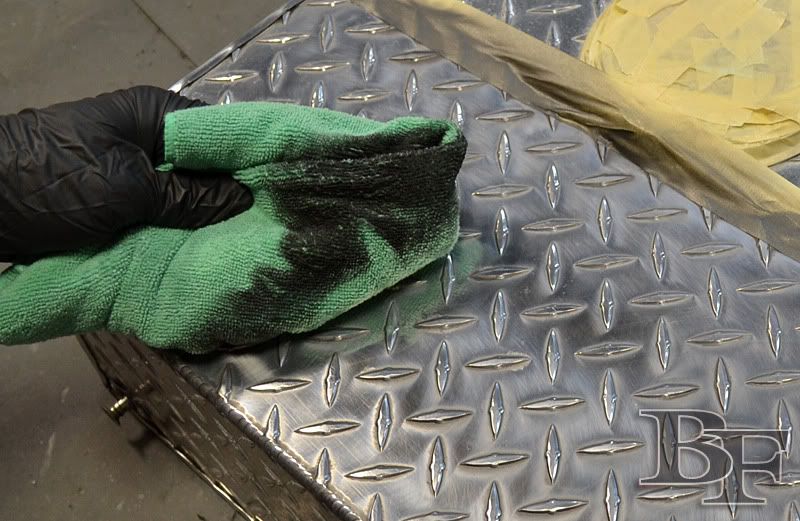 The results after step one show a much better finish that is far more reflective then the previous side and is devoid of deeper scratches and staining. The second step will refine the surface and produce a higher gloss finish.