Ultima Car Care products are held in high esteem for their ease of use and amazing performance. It is hard to find any product line that features products that are as easy to use and get as many favorable reviews, but what about their car soap? As Ultima says, is it Clearly Different?
The bottle is an ergonomic design that resembles a spray bottle. It holds 22 fluid ounces of Ultima Paint Guard Wash.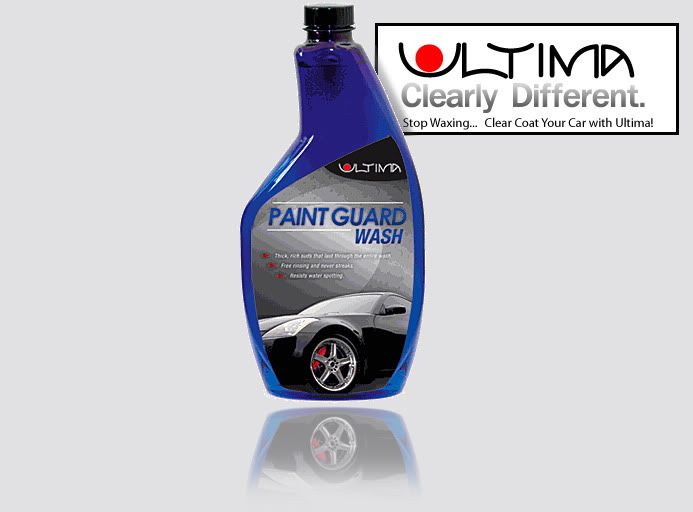 The directions are clearly labeled on the back.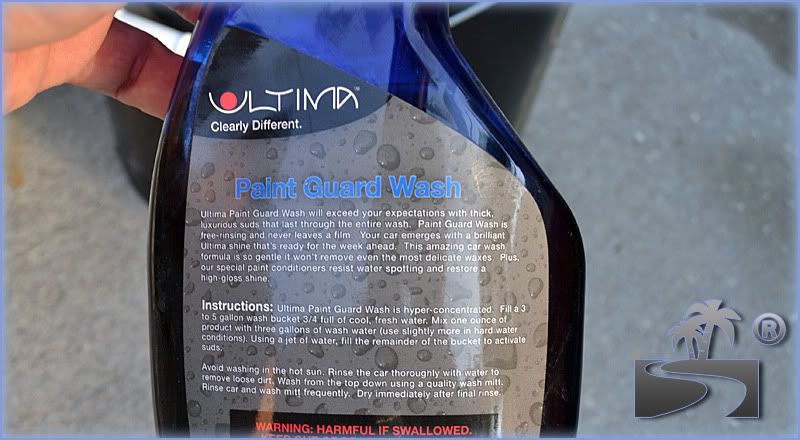 Copy from back label:
Ultima Paint Guard Wash will exceed your expectations with thick, luxurious suds that last through the entire wash. Paint Guard Wash is free-rinsing and never leaves a film. Your car emerges with a brialilant Ultima shine that's ready for the week ahead. This amazing car wash formula is so gentle it won't remove even the most delicate waxes. Plus out (Ultima's) special paint conditoiners resist water spotting and restore a high-gloss shine.
Directions (label copy):
Ultima Paint Guard Wash is hyper-concentrated. Fill a 3 to 5 gallon bucket 3/4 full of cool, fresh water. Mix one ounce of product with three gallons of wash water (use slightly more in hard water conditions). Using a jet of water, fill the remainder of teh bucket to activate suds.

Avoid washing in the hot sun. Rinse the car thoroughly with water to remove loose dirt. Wash from the top down using a quality wash mitt. Rinse car and wash mitt frequently. Dry immediately after final rinse.
The first step of the directions say to fill a bucket (I used a 5 gallon BLACKFIRE Bucket with Grit-Guard insert) 3/4's full with cool water. The water I used was well water, which should test Ultima's claim to resist water spotting to remain effective in hard water conditions.
Note: The well water had stained the lower part of the house and driveway brown from sprinkler run-off.

I added 1.5 ounces of the golden colored car soap (more for hard water) to the bucket. It has a pleasant, almost baby shampoo smell.
Using a jet of water, I filled the rest of the bucket. The results, as advertised, were a mountain of suds. These did in fact last, with no noticeable degradation, until the wash was complete.
For a wash media, I elected to use a Gold Plush Microfiber towel. I dipped it deep into the solution to try to pick up as much as possible.
Putting Ultima to the test:
The shampoo made three claims that I really wanted to test. Most car shampoos do a great job at cleaning a car, but what about the following claims made by Ultima.
Never leave a film behind

Easy rinse-off

Resists water spotting
I washed the Ferrari F430 in its entirety, without rinsing!
Note:
Most shampoos, including Ultima Paint Guard Wash, recommend washing and rinsing a section at a time flush away dirt (before it settles) as well as to prevent soap scum from forming. I really wanted to test the abililty of this to rinse free and with out a film, so I stacked the guards against this recommendation.
The first thing I noticed was how slick between the Gold Plush Microfiber Towel and the Paint. It literally wanted to slide off due to the extreme lubricity. It also created a very nice lather on the paint.
It took approximately 15 minutes for me to wash the entire Ferrari, including the door jambs, cracks and crevices. I waited an additional 5 minutes before rinsing.
Then I hit the Ferrari with a blast of the well water and was amazed at how easily it rinsed clean. When soaps leave behind a film, it is usually noticeable because the water will pool and you may see a rainbow effect when you towel dry it. Ultima Paint Guard Wash not only rinsed completely clean, but the water formed up in tight beads and because to run off the paint.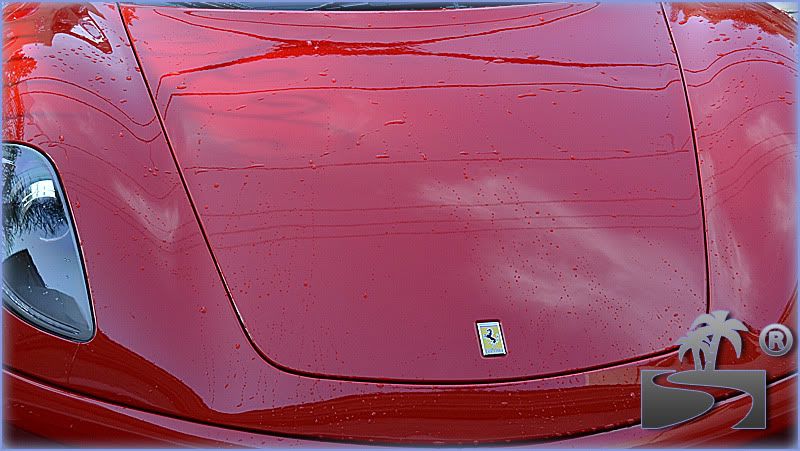 I also used Ultima Paint Guard Wash to clean the wheels to test it's cleaning power. The brake dust was removed with out a problem. The lower rockers, which were fairly soiled, including the exhaust tips, also washed and rinsed completely clean.
Final touch:
I flooded the paint with a stream of water to chase away the majority of water dropplets, then toweled the paint with a Guzzler Waffle Weave drying towel.
There was no film, the towel glided over the paint, removing water little water remained. The Ferrari, as advertised, had a slick feel and a high shine. While this is not a daily driver (it sees about 3000 miles a year), I am the only one who waxes it. It had not been waxed in 14 months.
Note: Final Picture is after BLACKFIRE Crystal Seal
Conclusion:
Ultima provides long lasting suds, that even brake dust couldn't reduce. The remained constant from start-to-finish. Despite leaving it sit on the paint FAR longer than I would recommend and using well-water, it rinsed completely clean with ease. It was also easy to towel dry and the finish looked great.