Since 2001, Sonus has produced precise car detailing solutions for discerning car owners. From its modest roots creating add-on products for P21S and Klasse, Sonus has grown to become one of the most complete car detailing product lines in the world, with customers in more than 20 counties.
SONUS Trim & Motor Kote: Engine & Trim Acrylic Sealant
Sonus Trim & Motor Kote is an acrylic based sealant/coating that is sprayed on and allowed to dry. As the sealant/coating dries it adheres to the surface by penetrating and bonding. This is a silicone free, long lasting sealant.
The bottle is features 16.9 fl. oz. (500 ml) of product and a high atomization trigger sprayer.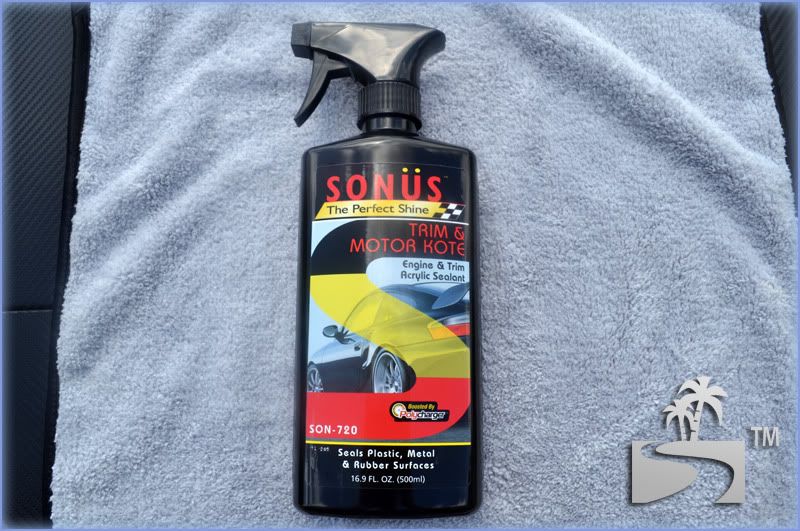 The directions are clearly labeled on the back: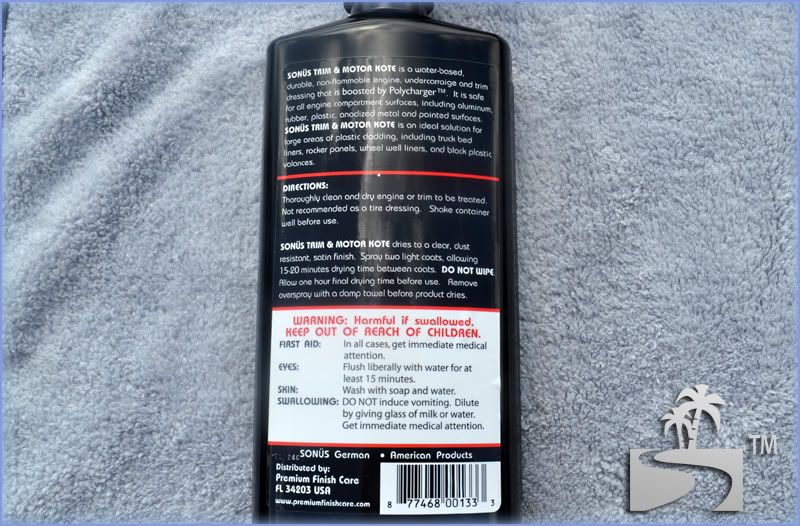 Copy from back label:
Sonus Trim & Motor Kote is a water-based, durable, non-flammable, undercarriage and trim dressing that is boosted by Polycharger. It is safe for all engine compartment surfaces, including aluminum, rubber, plastic, anodized metal, and painted surfaces.
Sonus Trim & Motor Kote is an ideal solution for large areas of plastic cladding, including truck bed liners, rocker panels, wheel well liners, and black plastic valances.

Directions (label copy):
Thoroughly clean and dry engine or trim to be treated. Not recommended as a tire dressing. Shake container well before use.
Sonus Trim & Motor Kote dries to clean, dust resistant satin finish. Spray two light coats, allowing 15-20 minutes drying time between coats. DO NOT WIPE. Allow one hour of final drying time before use. Remove overspray with a a damp towel before product dries.
The first step in the directions is to clean the engine bay (and dry) thoroughly.
My Mazdaspeed 3's engine wasn't too dirty but it did have a light covering of soot and dirt.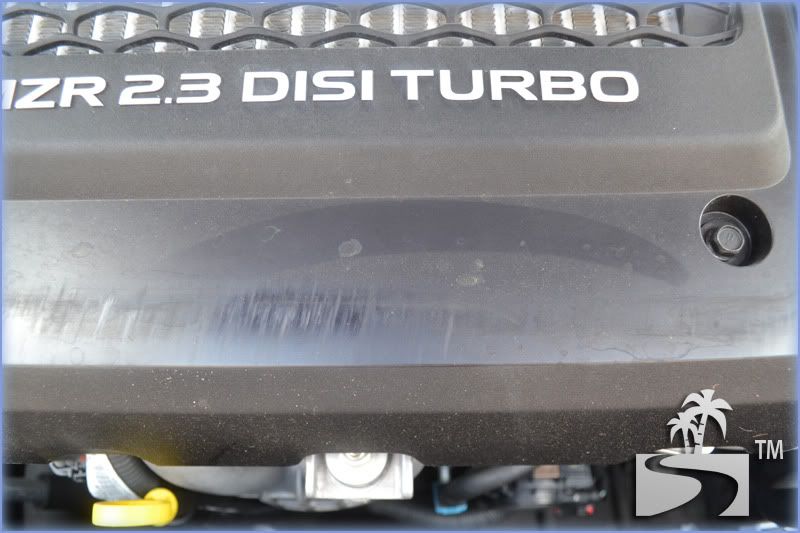 The inner-cooler grate had also picked up a some visitors.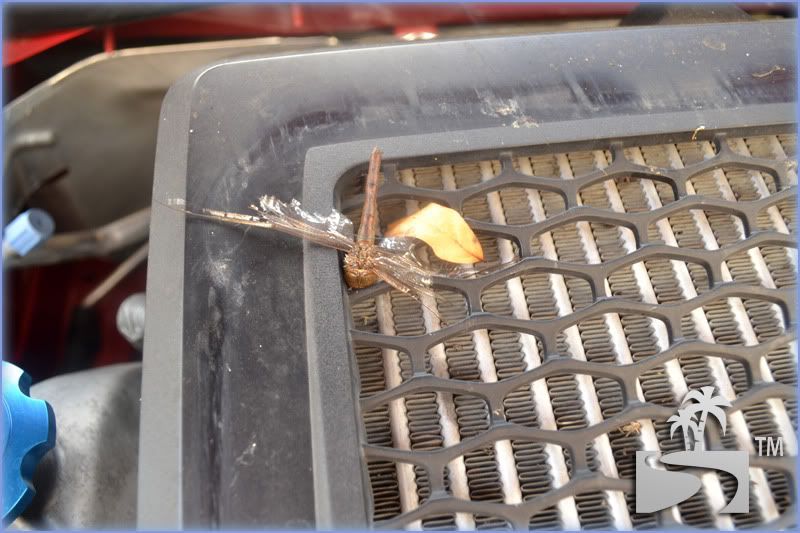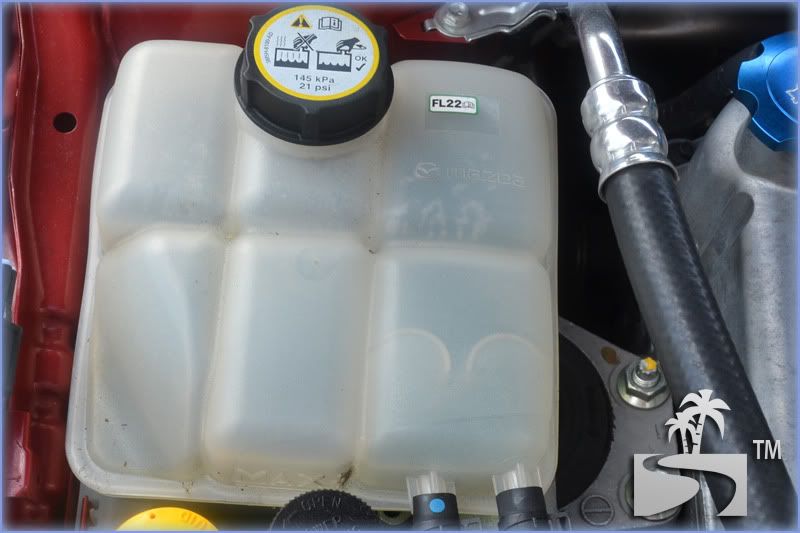 After covering sensitive electronics and the air intake I cleaned the engine bay.
Optimum Power Clean
, diluted 3:1 with water, was sprayed liberally on all exposed surfaces. Then I used a
Montana Boar's Hair Wheel Brush
and
Wheel Woolie
to clean the area's with
Ultima Paint Guard Wash
. I than rinsed the engine thoroughly and dried using my trusty
Metro Vac N' Blo
and several
All Purpose Microfiber Towels
.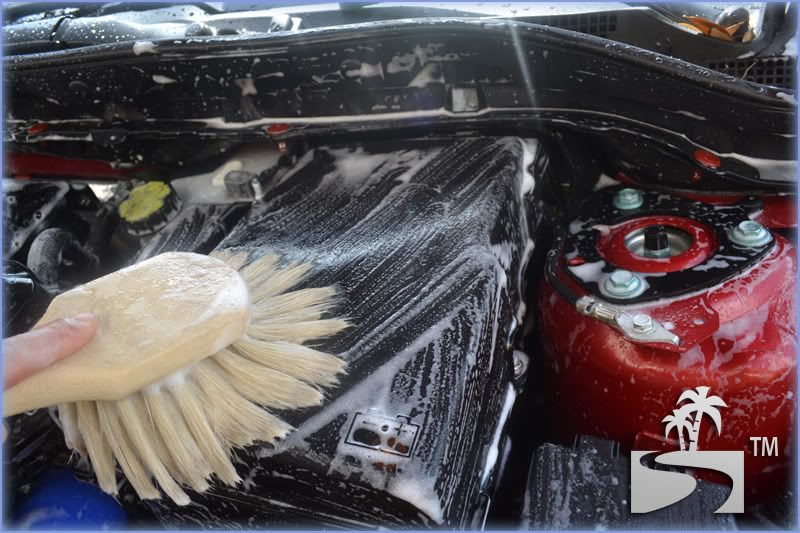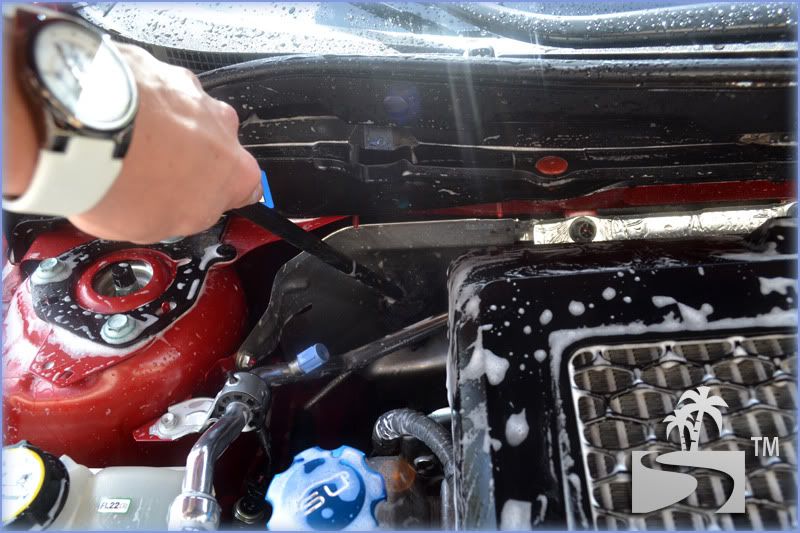 The 2.3L 4 after being blown and wiped dry. I closed the hood and ran the engine for 15 minutes to ensure everything was completely dry and would not interfere with the application of Sonus Trim & Motor Kote.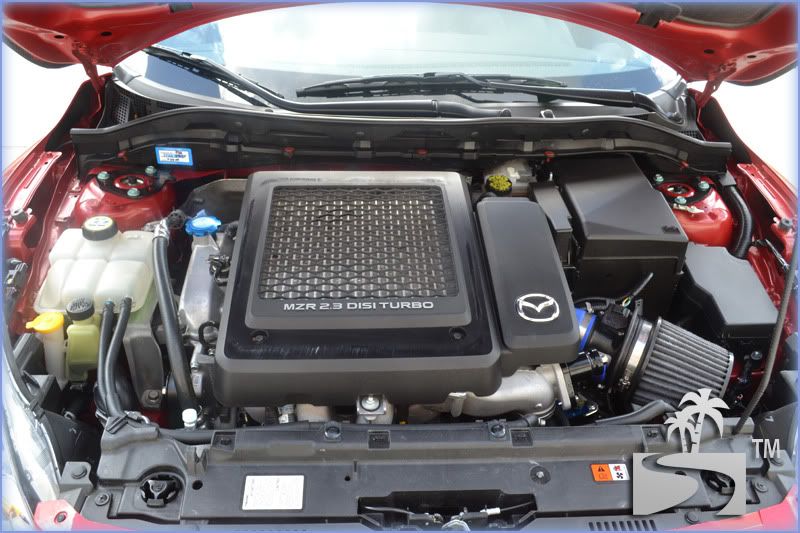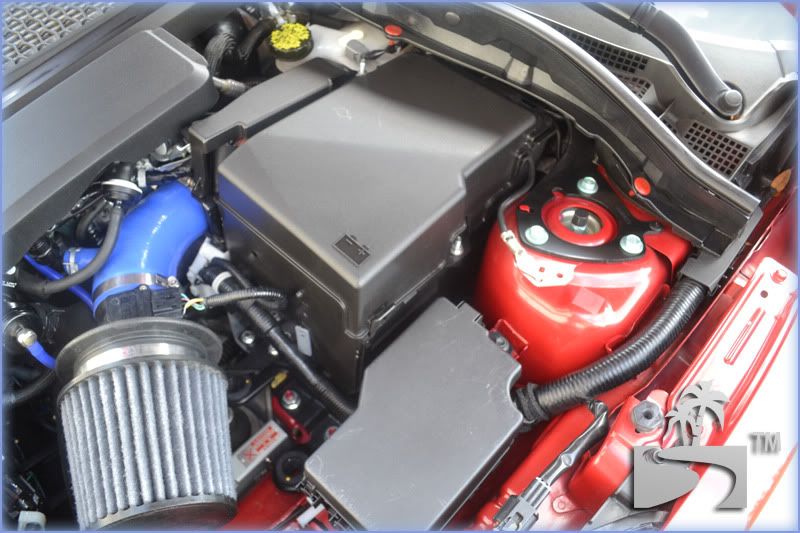 Application: Coat 1
After shaking the bottle well, I applied a light coat over the engine compartment. I found that applying from 12"-18" inches away in a sweeping motion provided the most even and thorough coverage. You can see teh high atomization (fine) sprayer at work. It took approximately 10 sprays to cover the entire engine.
The battery box provides a good example how the surface looks immediately after application.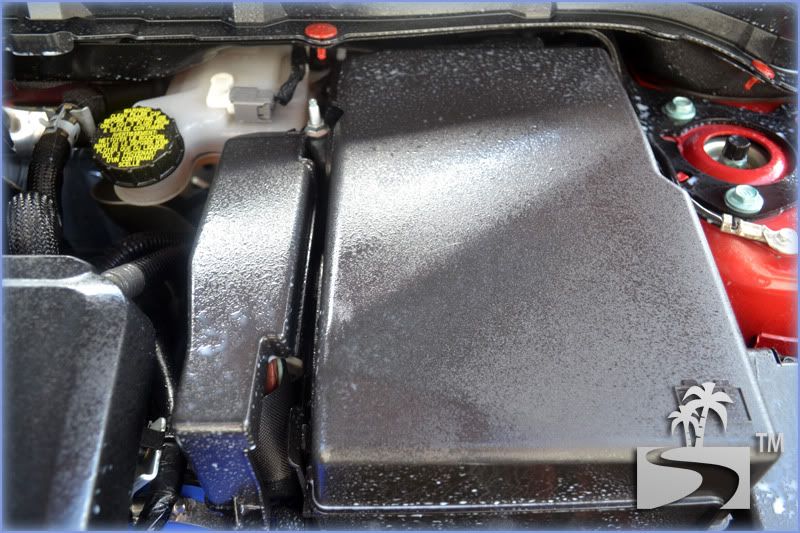 Application: Coat 2
The directions call for a second coat 15-20 minutes after the first coat. At this point the first coat had dried in most places and a light 'dusting' mist was all the was required. It only took four sprays to ensure even coverage on the second coat (for me).
The second coat being applied.
The battery coat after receiving the second coat. You can see that the first coat had dried fairly thoroughly. A second, light mist covered any voids.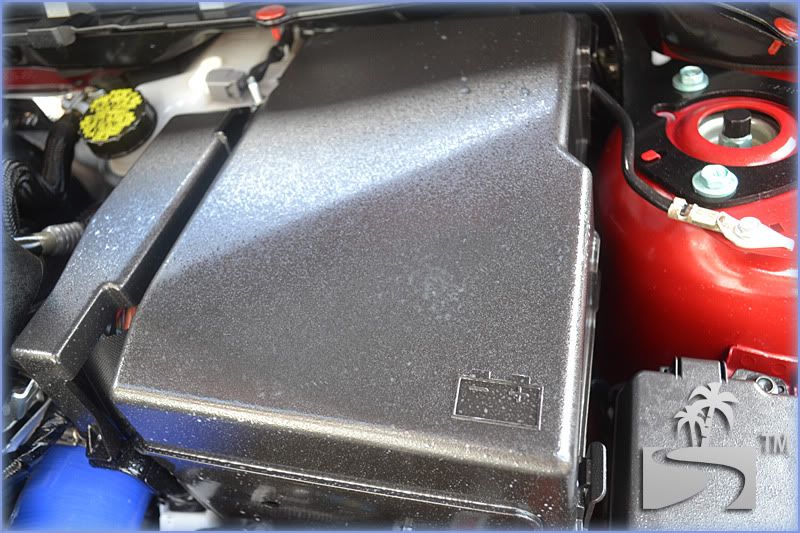 30 Minutes after Coat 2.
The directions for Sonus Trim & Motor Kote clearly state DO NOT WIPE. As Dave pointed out in his excellent review (also required reading for anybody using this product):
http://www.autopiaforums.com/forums/...to-detail.html
, you have to this product set up on it's one.
After 30 minutes parts with a pebble or fine texure appeared completely dry and evenly coated.
However areas with a smooth texture (including rubber hoses and painted surfaces) were still wet. Again do not wipe Sonus Trim & Motor Kote, allow it to dry on it's own.