In depth Product Review: Mothers Professional Heavy Duty Compound
Mother's line of Professional products was introduced nearly two years ago. After speaking with the man who formulated the line and learning of it's unique features I was intrigued to give the entire line a try.
From most aggressive: left-to-right: Heavy Duty Compound, Compound, Machine Glaze, and Foam Pad Polish. Also included in a hand compound and detail spray.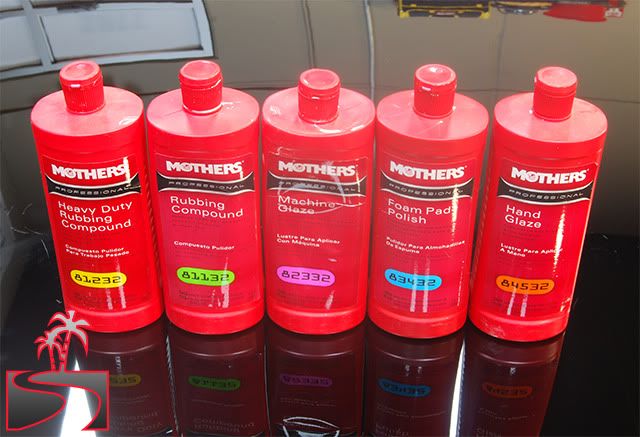 The test panel is the hood off of a pick-up truck. In order to create a sutible panel I DA sanded the panel using a no-name brand of 2000 grit paper and rather bad technique (high speed and uneven pressure). I purposely wanted to create pig tails and deep scratches.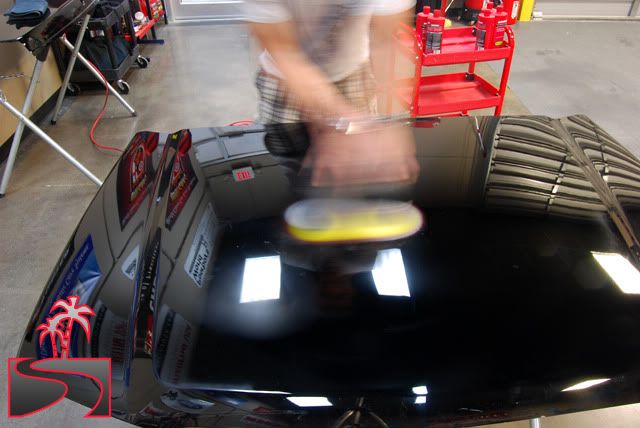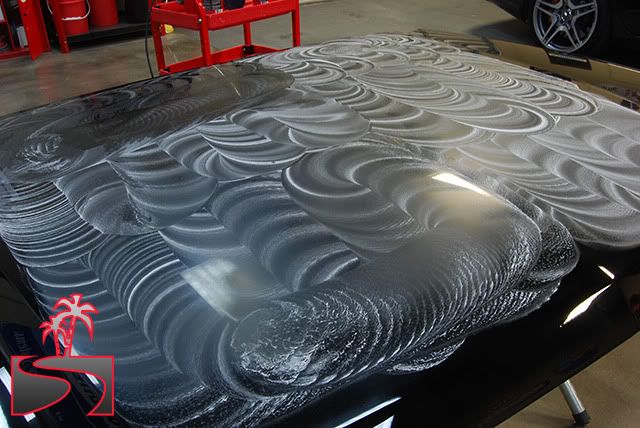 Two views of the hood after removing the residue with alcohol and water.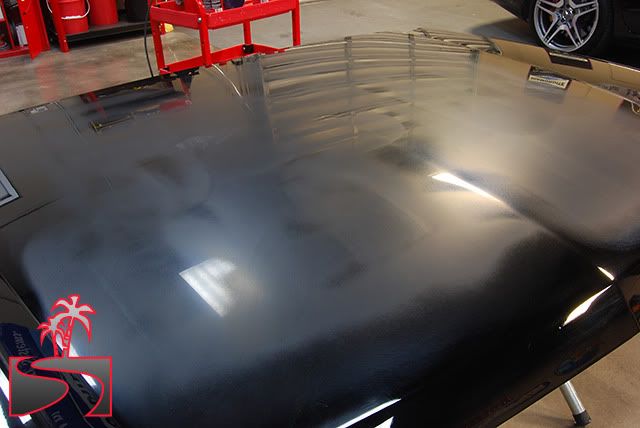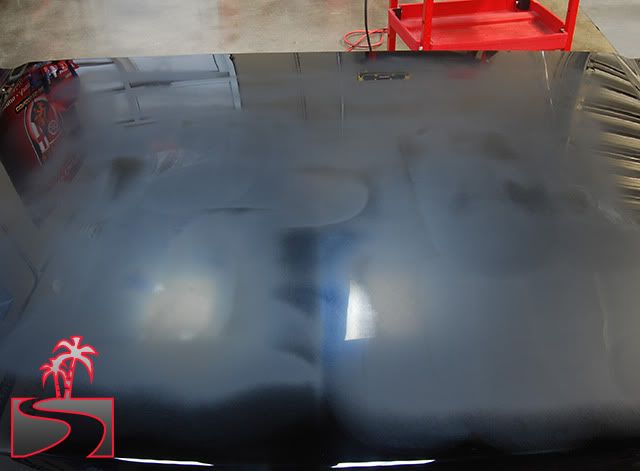 The Rotary Polisher
The first step would be to test Mothers Professional Heavy Duty Compound using a rotary polisher and a wool pad. This is usually the first tools that professionals and talented enthusiasts reach for when removing rough texture from paint.
I armed a
Flex PE14-2-150 Rotary Polisher
with a
Meguiar's W66 Backing Plate
and a
Lake Country Wool Pad
.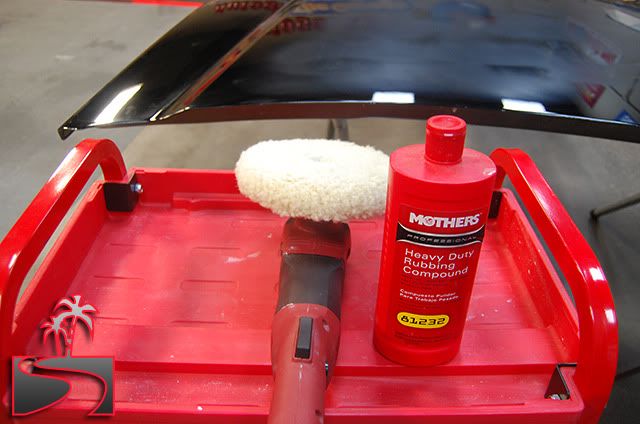 Mother's Professional Heavy Duty Compound is slightly runny in consistancy. I usually start with a 6 inch line of product; because it ran so quick I ended up with a similar sized blob.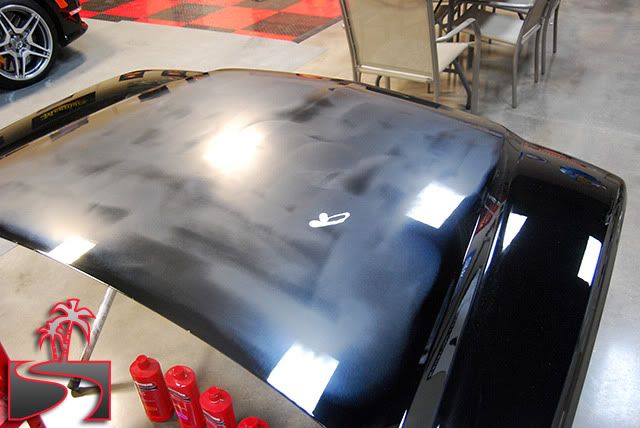 I spread the compound on speed 1 (600 rpms) then turned up the speed to approximately 1200 rpm and polished with light pressure. My work time was approximately 30 seconds on my initial go.
Mother's Professional Heavy Duty Compound was very easy to remove from the paint in this manner but the finish had an excessive amount of buffer swirl. (Note: This is common when using a 4-ply twisted wool buffing pad).
Also the defect removal was not as great as I had anticipated with DA sanding scratches highly visible.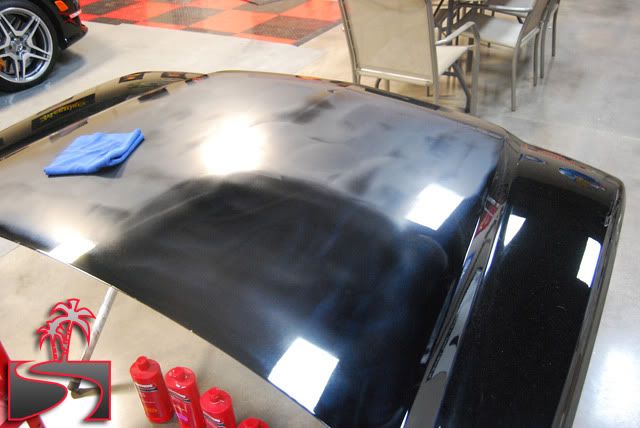 I added more product to the paint and made a second application, this time tweaking my technique. I increased the speed to 1500 rpm, added slight downward pressure, and increased my work time from 25-30 seconds to approximately 45 seconds. The Mother's Heavy Duty Compound came alive, removing the rough 2000 grit sanding scratches with ease while refining the finish to a much higher quality.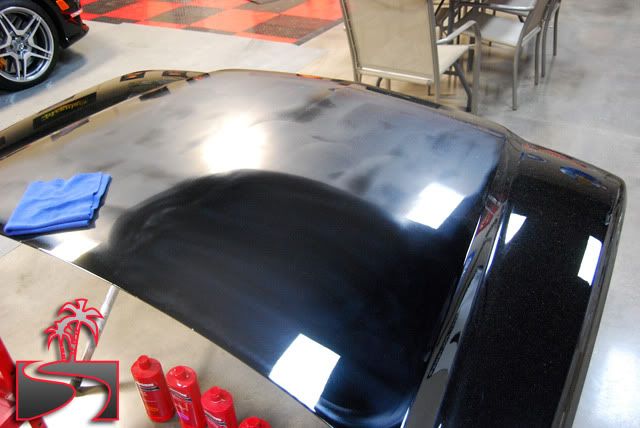 Under a Brinkman Swirl Finder the finish still had buffer swirl, but it was extremely fine and appeared to be quite shallow. All things considered, this is a quality finish considering the pad choice and RPM.
Curious to see if I could achieve even a higher quality finish with Mother's Professional Heavy Duty Compound I cleaned the pad with a pad brush to remove any residual paint.
Tech Tip:
When compounding you are removing a large amount (relative to other polishing processes) of material. This material (abraded paint residue) can act like glue and cause the abrasives to stick together. This will reduce the quality of the finish as the abrasives become more aggressive (instead of less aggressive).
After cleaning the pad I polished this the top section using the remaining compound residue on the paint. The effects of cleaning the pad where immediately evident as the finish quality increased dramatically. The front of the hood (right-side in the picture) had a much higher quality finish.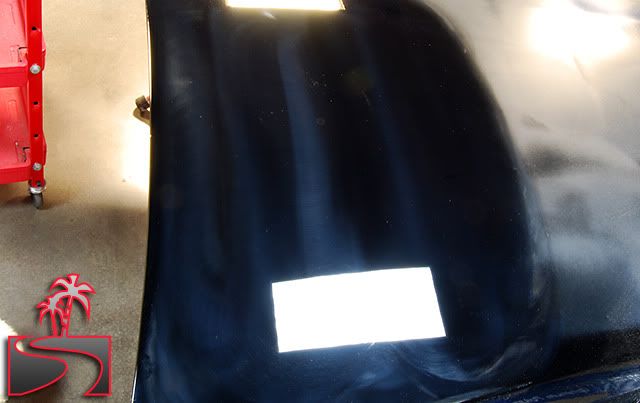 Nick from Autogeek.net stopped by to inspect the results.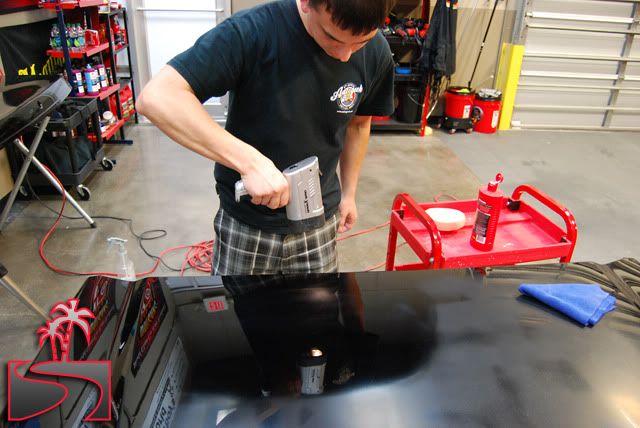 The finish left by abraded paint residue.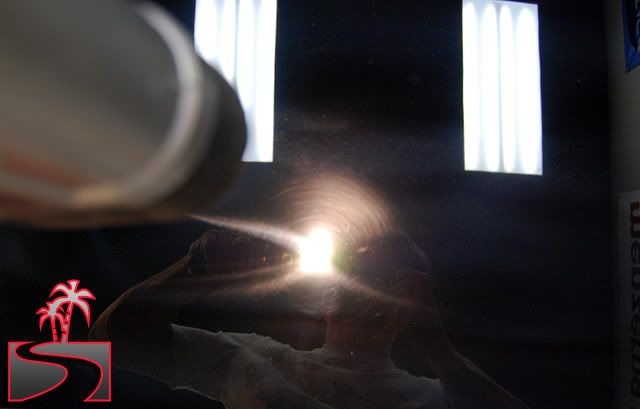 The increased surface quality after cleaning the pad and making an additional 3 passes.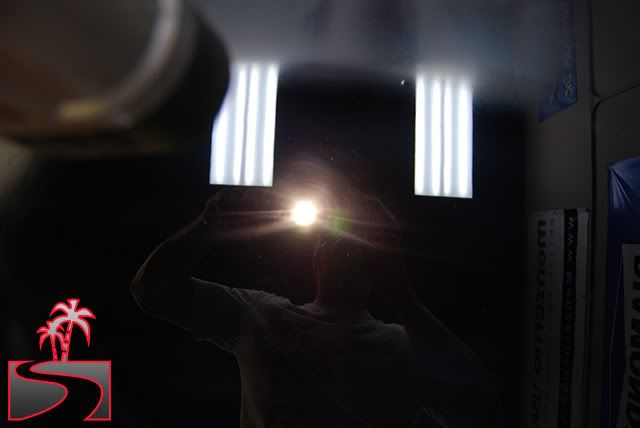 While I was impressed with the cutting ability of Mother's Professional Heavy Duty Compound (powering through rough 2000 grit scratches when used with a long-enough work time and slight pressure) I was equally impressed with the quality of finish this product produced.
I decided to see how it would react on a polishing pad. In this case a
Lake Country Orange H20 Kompressor
.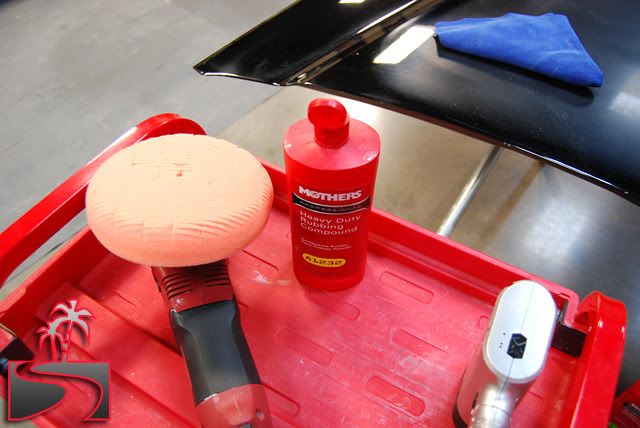 The panel was polished at 1200 RPM's using light pressure and moderate arm speed until the compound had broken down.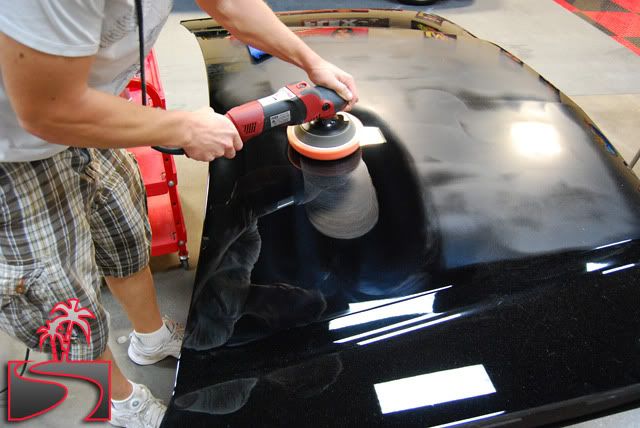 20 seconds after beginning.
40 second's after beginning.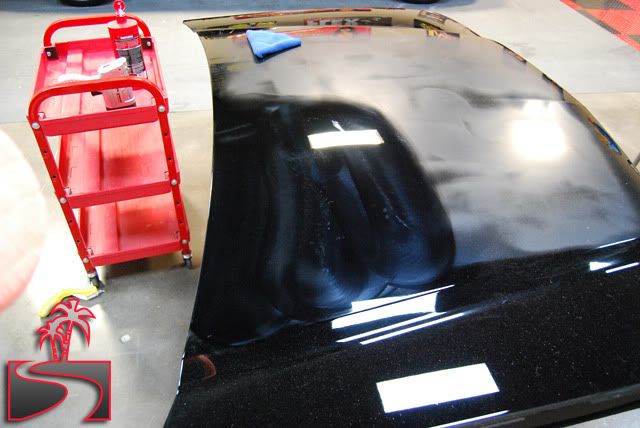 The resulting finish after wiping away the residue (under a Brinkman Light). A very fine swirl was visible, incredible for a compound which powers out 2000 grit scratches with ease.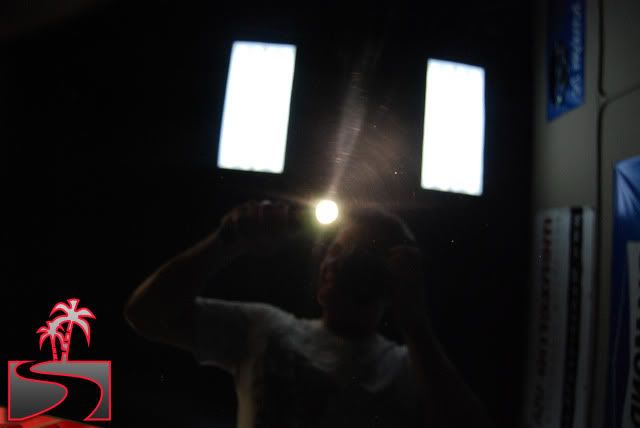 Leery of the filling potenital of any compound or polish, I stripped the panel with multiple wipe-downs using CarPro's Eraser.
No filling was noted.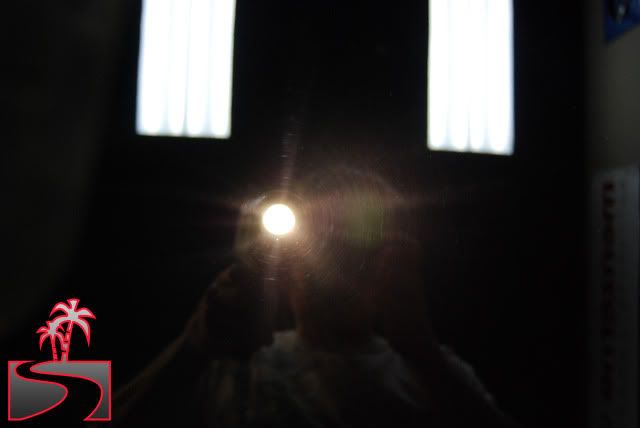 At this point it had become quite Mother's Professional Heavy Duty Compound uses a fine abrasive and has the ability to finish quite well. I wondered how it would fair when used on a finishing pad. I armed the Flex rotary with a Lake Country Black Kompressor pad and drew a 6 inch line of product on the paint. As expected the soft finishing foam required about 90 second of work time to refine the paint to the highest level and fully breakdown the polish.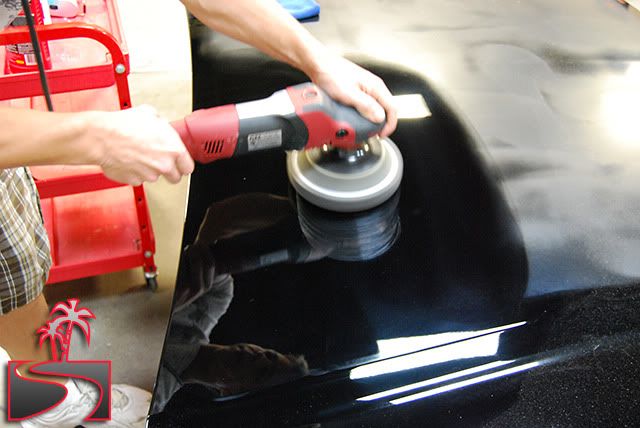 In some areas the Heavy Duty Compound had become affixed to the paint and did not wipe off as easily as it had in previous applications. This is likely because of the higher speed (1800 rpm) and increased work time needed to break the polish down. Considering this is a compound I was not alarmed but it did limit my ability to test for filling in this application as I had to use CarPro Eraser to remove all of the residue.
The resulting finish was extremely good, with only the slightest hints of holograms visible and almost zero swirl.