[COLOR="Navy"]
Detailing Clay is used and loved for a great reason. It removes any bonded contamination that has adhered to the paint and restores a glossy appearance and smooth feel. Some paint contamination, such as iron oxide (rust) fall out (aka rail dust) actually penetrates below the surface of the paint and cannot be removed by regular clay bar applications.
Rail dust is also extremely abrasive and can greatly increase the risk of marring the paint finish as it becomes inbedded into the clay's surface.
CarPro, a company who has quickly gained a strong following in the United States for its high quality Ceramic Coating (C-Quartz) has a large selection of innovative products designed to complement car care. One of these products, a true, game changer, is their Iron-X Series of paint decontamination cleansers.
As pictured above, CarPro's ever expanding line of car care products features 5 dedicated paint cleansing solutions. The products are pH balanced and acid free!
From Left-to-Right:
Iron X Paste
- Iron X Paste is a hyper concentrated version of Iron X Iron Remover. This paste is excellent for cleaning areas of particularly stubborn contamination as well as wheels/rims with heavy caked on brake dust build up.
Iron X Soap Gel
- Iron X Soap Gel combines a high lubricity cleaning soap with some anti-iron Iron X ingredients. This is a mild iron cleaner that is perfectly suited for maintenance washes and mild iron fallout clean up.
Iron X Trigger Spray
- Iron X Trigger Spray is a powerful iron remover that you simply mist on to the paint and allow to dwell. Iron shavings will turn purple as the solution dissolves them, above and below the surface.
TRIX
- CarPro TRIX is a combination of TaR x and Iron X, hence the name. It works to remove iron fall out as well as clean bug splatter, tar, and adhesive residue from the paint, in one step.
Tar X
- CarPro Tar X is CarPro's innovative, citrus based bug and tar remover. This unique chemical features 'green tracers' that show you, in neon fashion, where this chemical has been applied to the paint so you chart its progress.
I plan on detailing every product in the CarPro Line Up (It's a hard job, somebody has to do it!).
Here is the first review I did, on CarPro Iron X & CarPro Iron X Soap:
Camaro5-Deep Clean your Paint with CarPro
I really wanted to see how well CarPro TR.IX (combination of bug/tar removing powers of Tar X and the Iron removing abilities of Iron X) to the test. We already know how well they work at removing contamination from paint.
The wheels on my Mazdaspeed3 had not been cleaned in some time and the brake dust was starting to bake/cake on.
Additionally there were some tar deposits in the barrels of the wheels, behind the spokes, and on the wheel well lip.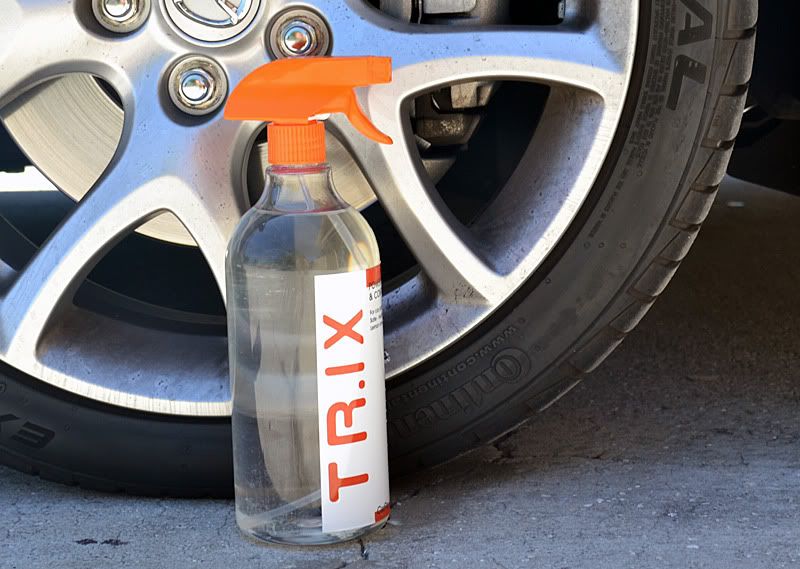 CarPro recommends that TRIX should be shaken frequently for maximum effect.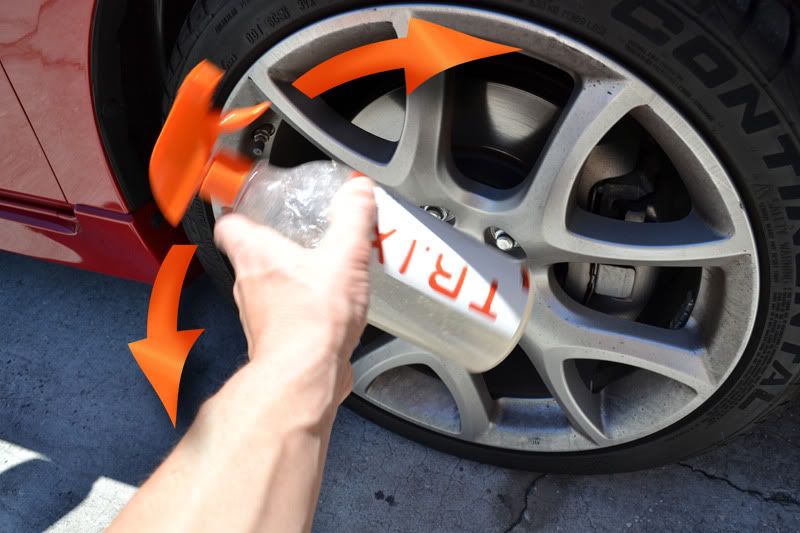 I started by spraying liberal amount over the surface of the wheel and behind the spokes.
The effect was almost immediate. CarPro TRIX began to change colors almost instantly, turning a deep purple as it dissolved the iron.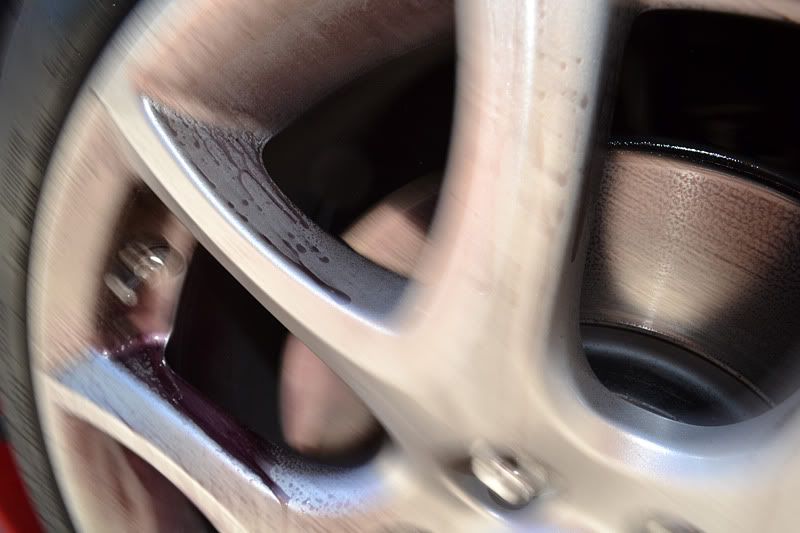 With in thirty seconds of spray the face of the wheel was running in purple.
To agitate the solution I filled a BLACKFIRE 5 gallon bucket with water and used my several year old Wheel Woolie.
Now I am fanatic about my paint and I am a fanatic about my wheels. The Wheel Woolie is made form extremely soft, electrified lamb's wool. It will not scratch or dull the wheel's finish. Best of all it allows easy access to the face of the spokes...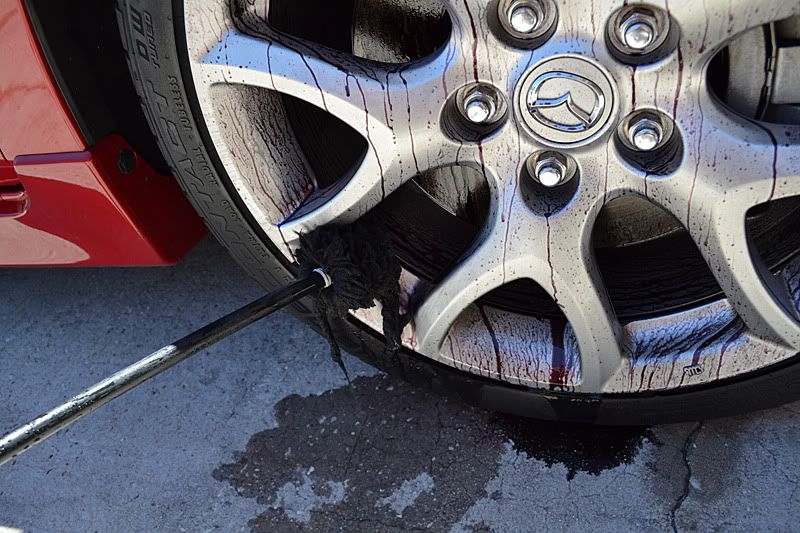 The barrels of the wheels...
behind the spokes...
Since CarPro TRIX did an amazing job disolving the iron fall of the brake dust, the combination of the Wheel Woolie and water made cleaning the wheel extremely easy. The afixed brake grime ran off with the gentlest touch.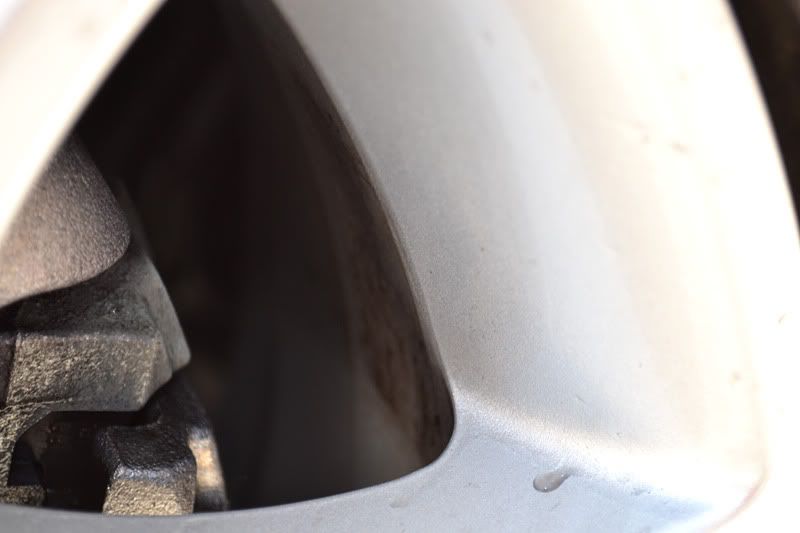 I used the bucket to rinse out the Wheel Woolie and prevent scratching the wheel surface.
A quick rinse of water left the wheels sparking clean.
Now to test the tar and bug residue power of TRIX.
I spray a liberal coat (after shaking) onto the painted area of the wheel well.
After 20 second of dwell time.
After 1 minute the tar had begun to soften and run.
I used a Wheel Woolie and water to lightly agitate the tar, then rinsed clean.
Finally I dried the wheel with a All Purpose & Wheel Microfiber Towel. These towels are definitely soft enough to use on paint (remember I am a fanatic) but color coded for wheel duty.
The end results.