Camaro 7pc Chrome Billet Dash Knob Kit #CA0008SC :: 2010-2012 Camaro SS & V6
2010, 2011, 2012 Camaro 7pc Chrome Billet Dash Knob Kit #CA0008SC
These 2010-2012 Chevrolet Camaro Dash Knob Kits are CNC machined from the finest 6061 aircraft grade billet aluminum then chrome plated to perfection.
Sold as a set of seven chrome knob covers. Each kit includes the headlight knob cover, two radio knob covers, two A/C knob covers, turn signal knob cover and windshield wiper knob cover.
Our kit is supplied with silicone adhesive for hassle-free installation. Fits 2010-2012 Chevrolet Camaro, all Models.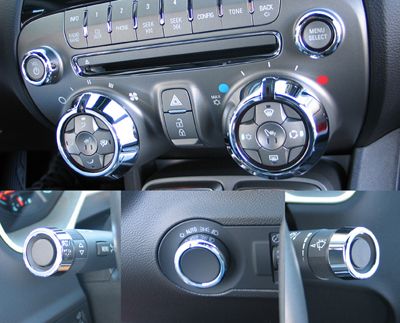 Place your orders at www.PhastekPerformance.com