A few weeks ago, I came across some vinyl stripes that a member was selling in the classified section. They were full length gold stripes. I had been wondering what I could do to make my Camaro more unique from the multitude of Camaros I see on the road these days.
I work in IT, so obviously I'm a nerd. I didn't want to do the overly done Transformers theme either. So I started planning for an Ironman themed Camaro. The gold stripes against the RJT looked great in the photoshop that another member did for me.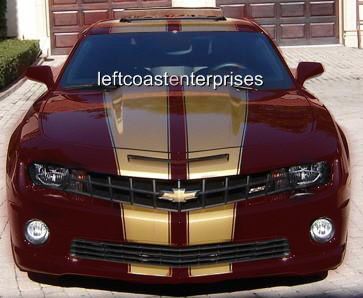 So, now that I had the exterior started, I began working on the next step. You can't have an Ironman car without an arc reactor. I went on Instructables.com and looked at all the homemade arc reactors. All the really awesome looking ones required a CNC laser cutter, something way out of my league. So, I contacted the company that is the pinnacle of lighting products, AAC. Justin from AAC said it wasn't something they normally do, but that he was eager to see the outcome. He has done some amazing work so far, and I can't say enough good things about him and his company. Here is the mock-up he recently sent me.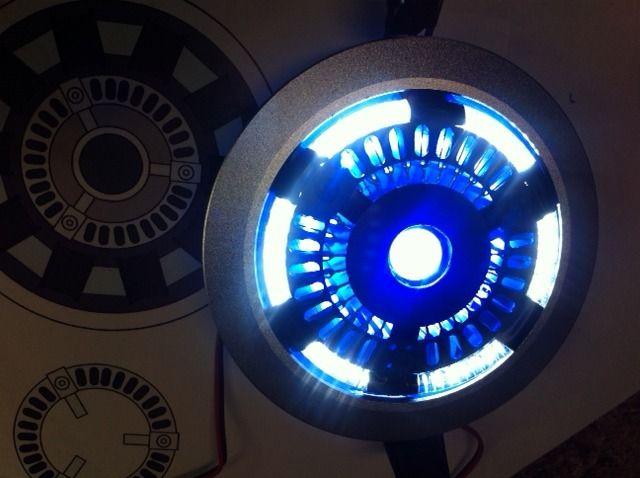 I was going to fiberglass something custom myself for the engine cover, but felt with this being the centerpiece of the theme I should leave it to the pros.
I dropped my engine cover off this morning at Sonus car audio (really great customization shop) and they were excited to be involved with it. They're currently planning out the engine cover. I'll post some pictures up as soon as I get something back from them.
I have a proximity sensor and a customizable voice alarm being added to my Viper remote start system next Monday, and already have some JARVIS sound files that will be programmed into the voice module.
That's where I'm at right now though. If anyone has any ideas, I'm open to them.