A common question on most detailing forums is when do you do certain processes to the paint in order to keep it looking it the best. The following processes are considered necessary to keep your paint looking its fullest potential.
Wash
Clay
Polish
Wax/Seal
Washing
Washing means removing any dirt, grime, and residues that have accumulated on the exterior of your car. Generally washing isn't necessary for the longevity of your paint; things like dirt, grime, and even most tar isn't going to damage paint. However washing is necessary to keep your paint looking shiny as the film of dirt and grime will dramatically reduce the shine.
Some things such as hard water spots, bug remains, and bird bombs should be removed from the paint as soon as possible as they can cause damage.
The more frequently you wash your vehicle, the easier it is to keep clean.
Vehicles that are outside are going to accumulate more filth, much faster. There is also the increased risk of damaging particulate ruining the paint.
Generally find a routine that allows you to keep your vehicle looking the way you want. I try to wash my car once a week, more often if it sits outside or is exposed to bugs, bird bombs, or rain.
Claying
Claying removes the things that stick to the paint that regular washing will not remove. As our vehicles are exposed to the elements they are subject to all sorts of things that just love to bond to the paint: iron fall out, environmental pollution, over spray, and water spots to name a few. Over time some these items may actually damage the paint.
Using detailer's clay restores the shine that this contamination prevent in addtion to creating clean, smooth surface that allows wax or sealant to adhere for maximum benefit.
However often you clay (or should clay) will depend on how much contamination your vehicle is subject to and how often it is washed. Frequently washing your vehicle can prevent contamination from bonding to the paint's finish or lessen the degree to which it does.
Inspect your vehicle's surface (after washing) by feeling it, paying attention to the rear of the vehicle (trunk/rear bumper) and horizontal surfaces. It should feel smooth. You can increase your touch's sensitivity by placing your hand in a plastic sandwich baggy and lightly rubbing over the surface. If it doesn't feel absolutely smooth (you notice a pebble like or grainy feel) your vehicle should be clayed.
Note: We recommend waxing/sealing the paint after claying.
Polishing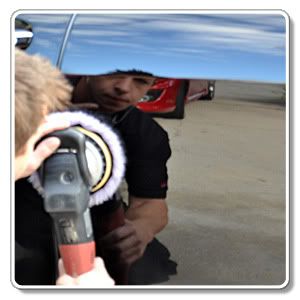 Polishing is the process of smoothing the paint surface to reduce any edges or texture that cause light to disperse instead of reflect. Unlike claying, in which you use your sense of touch to inspect, polishing requires visual inspection.
If you notice any fine swirl marks, towel marks, or other paint imperfections on the surface of the paint, machine polish (paint correction or surface enhancement) will restore gloss.
The frequency of polishing will depend on how carefully the vehicle is washed (washing/drying is the number one cause of surface damage) as well as other factors like paint hardness. Since polishing paint requires removing trace amounts of the finish, careful washing techniques are key to keeping your vehicle looking great for it's life time.
Inspect the paint in direct sunlight, looking for paint imperfections.
Waxing/Sealing
Washing removes dirt, claying cleans the paint, polishing restores/enhances the shine/ and waxing/sealing the paint adds valuable protection. The frequency of how often finish should be waxed/sealed will depend on how well the surface was prepared prior to waxing/sealing, the product used, the environment it faces (daily driver vs. garaged kept show car) and even how frequently it is washed.
When a fresh coat of wax or sealant is applied to the paint it will have a certain look and it will repel water in a very specific way. Both your eye balls and your sense of touch are excellent indicators of when the wax/sealant is beginning to deteriorate.
If you see a loss in shine or a significant change in the water beading/sheeting characteristics you have a good indication that the wax/sealant should be replenished. If you feel more drag on your wash mitt when you are washing to feel a dramatic loss in slickness then these are are good indicators.
Even premium wax/sealant products are inexpensive per application, so the best bet is put your vehicle on a realistic schedule of waxing/sealing. The added cost (a premium wax like Pinnacle Souveran is less than 2 dollars per application if applied thinnly) is well worth the added protection.
As a good friend told me, "Find what you like and use it often."