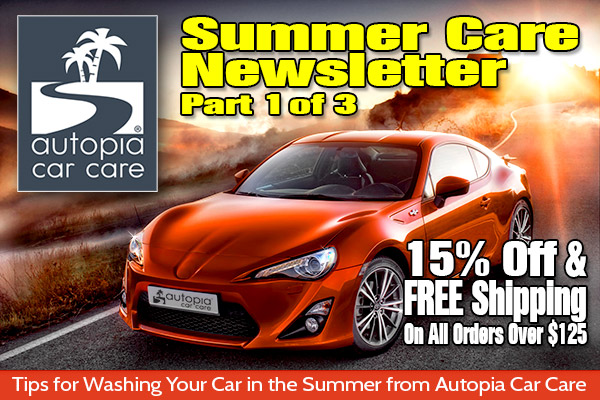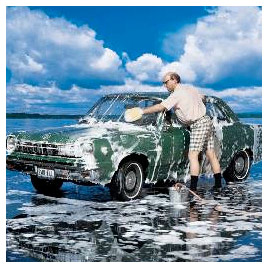 Summer is here!
The time to relax and enjoy warm weather is now. Washing and protecting your automobile is never more vital! With the Northern Hemisphere tilted towards the sun, not only are our days longer, reducing the amount of shade we have to wash, but many areas of the US are placed on water restrictions. These problems require unique solutions and Autopia-CarCare, based in sunny Florida, has you covered! In this first of three articles, we take a look at washing your vehicle while avoiding the sweltering heat and water restrictions.
To gain extra shelter and protection from the heat many of have been forced to rely on using automated car washes that scratch our paint or touchless car washes that use harsh chemicals which strip our wax or sealant when we need it the most! A better solution is to wash your own car in the shelter of your own garage. Taking a hose into your garage and soaking your belongings is out of the question. And if you are in an area with water restrictions it is illegal. The best option is to use one of ecologically friendly Rinseless Wash products from
Autopia-CarCare.com
.
BLACKFIRE Car Care
,
Detailer's Car Care
and
Optimum Polymer Technologies
all offer excellent Rinseless Wash products. Each has a unique formulation with a particular twist on this rapidly growing segment of car washing.
Rinseless Washes offer a paint safe and effective solution to the concerns of water shortages, environmental issues, and car washing location restrictions. They also allow you to wash the car in the shelter of your own garage with out concern for soaking valuable items. Rinseless Wash Products are designed to encapsulate the dirt and grime on your vehicle so it can be wiped away with out the fear of scratching while adding valuable protection!
A look at some of our popular Rinseless Wash Products:
BLACKFIRE Wet Diamond Rinseless Wash
is a high lubricity Rinseless Wash that uses BLACKFIRE's proprietary Wet Diamond Polymers to encapsulate dirt and grime so they can be wiped away with out scratching. The Wet Diamond Polymers, the same that are in BLACKFIRE's famous paint sealants, adhere to both the dirt and the paint finish. As they bond to the paint finish you are adding valuable protection much like a paint sealant to help protect against the sun's intense summer radiation.
Detailer's Rinseless Wash & Gloss
is packed with lubricants that wrap around dirt and grit to elevate it just above the paint surface. Specialized polymers grab dirt and trap it within the slippery solution of lubricants and water. As you wipe the wet surface with a microfiber towel, the dirt will stick to the towel, not the paint. Upon drying the surface, it will feel super slick and have an incredible gloss.
Optimum Polymer Technologies No Rinse & Shine
only requires 1-2 gallons of water to wash your entire vehicle. No Rinse & Shine is completely free of soapy surfactants so it does not require rinsing. This unique product contains substantive polymers which bond to the paint and protect it during the rinseless wash.
Proper Supplies:
In order to use your Rinseless Wash Products properly you should use the following tools:
Rinseless Washing Technique:
Start by pulling your automobile into your garage and allowing it to cool until the surface is no longer hot to the touch.

Fill the first bucket approximately 80% full of water then add the recommended amount of Rinseless Wash solution.

Fill the second bucket full of regular wash water. This will be your "Rinse Bucket" uses to clean your wash towel.

Place two high quality wash towels in the wash solution bucket and allow them to soften for 5 minutes. We recommend using plush microfiber towels such as the Super Deluxe Plush 600 Microfiber Towel.

Wash top to bottom, one section at a time.

Squeeze out and ample amount of Rinseless Wash Solution from the towel over the section to be cleaned and wipe gently over the surface until clean.

Rinse your wash towel mitt in the "rinse bucket" before loading more solution.

After washing a section, dry immediately with the Cobra Guzzler Microfiber Drying Towel to a streak free shine.

Continue washing and drying a section at a time, including the glass, trim, and mirrors. Do not clean wheels with the same towels you will use on your paint.

When the body is complete, use a wheel towel and the remaining solution to clean your wheels, tires, and wheel wells.
JOIN THE AUTOPIA NEWSLETTER!
Join the Mailing List at
Autopia-CarCare.com
for more special offers and great tips. Sign up on the home page!
Quick Summer Tip
As the sun's rays pass through your window and reflect of the interior pieces they change shape. Sounds funny, right? Well not to your interior. This chance in the shape of the sun ray's wavelength traps it in your car as the light can no longer pass back through the glass. This is the dreaded "
Greenhouse
" Effect that we learned about in school.
The temperature in your interior soars. Not only is it uncomfortable to get into a hot vehicle, but it the heat can dry out sensitive plastics, vinyl, and leather surfaces. Even worse the sun is loaded with UV radiation that will fade and dull any interior surface it contacts. The good news is you can stop the heat and the damage in its tracks with
The Covercraft UVS Heat Shield
.
The Covercraft UVS Heat Shield blocks out hot UV rays to protect your vehicle's interior and keep it more comfortable. The outward surface is covered in a highly reflective silver fabric to deflect the sun's rays. The inside of the heat shield is soft pellon felt. The interior of the heat shield is a foam board that insulates the car from heat.
Not only will your interior temperature remain more stable making the first few miles much more comfortable, but you can protect against the powerful fading sun rays in one easy step. You will wonder why you never had one before!