Hi my name is Roy and I'm an addict.
You see I wasn't always like this at one point I had a car that I really didn't care about modding. I washed it weekly and waxed it every few months and just drove it around town and to work and back. It was a silver 2004 350z touring. It was a fun little car and at the time of trade in had just over 44,500 miles on it. That was after driving it across country when the Air Force decided my services was required in Florida. I had that car from just after we was placed (All of my kids are adopted) with my first daughter to just after the adoption of my Son (third kid).
After we brought home Micheal everything is ok until it started to be come apparent that I would need to be able to pick up our daughters from school. My wife didn't like the idea of putting one of them in the trunk. Im not sure why I mean what the hell you can fit golf bags back there why not a Kid?
(and I am just joking here I would never endanger one of my kids.)
So off I go searching for a sensible family car.

I did briefly toss around the idea of a used BMW M5 but at the price of inheriting another persons problems I could get a new car from either Chevy Dodge Ford or another number of other import manufacturers. So I tossed out the idea of the M5 and started to look at what I wanted.
Well to be honest other than briefly tossing the idea of a used M5 or an Aston Martian Vanquish around I really didn't look at anything else other than a Camaro. My main problem is my two local dealerships was pushing A6 at me and really didn't want to even entertain the idea of ordering me a car or going about 60 miles north of me and getting one from Daytona.
So I booked an appointment with John Hall Chevy in Daytona Beach took a day of leave and went and bought me a family car.
I feel in love with Lucy after only a 1.5 mile test drive. In my defense I was handed the keys and told to go with no sales guy in the car with me in a strange town so how far was I really going to go anyway?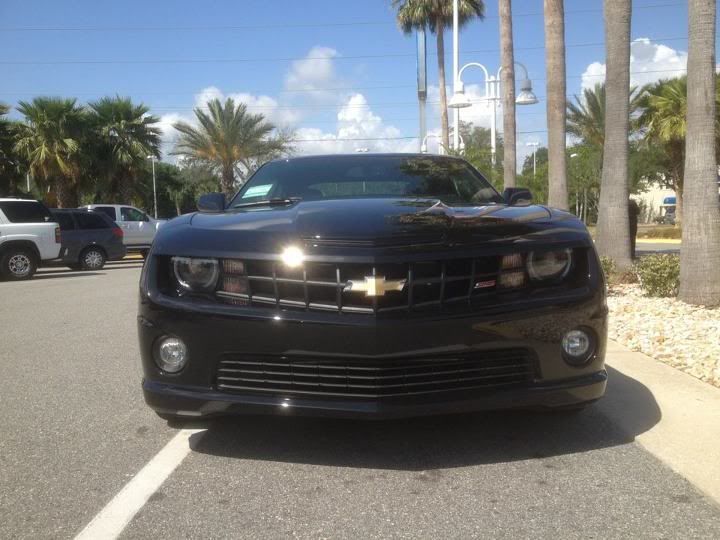 Here she is sitting at the dealership in the background you can see my families true family car the blue gray minivan.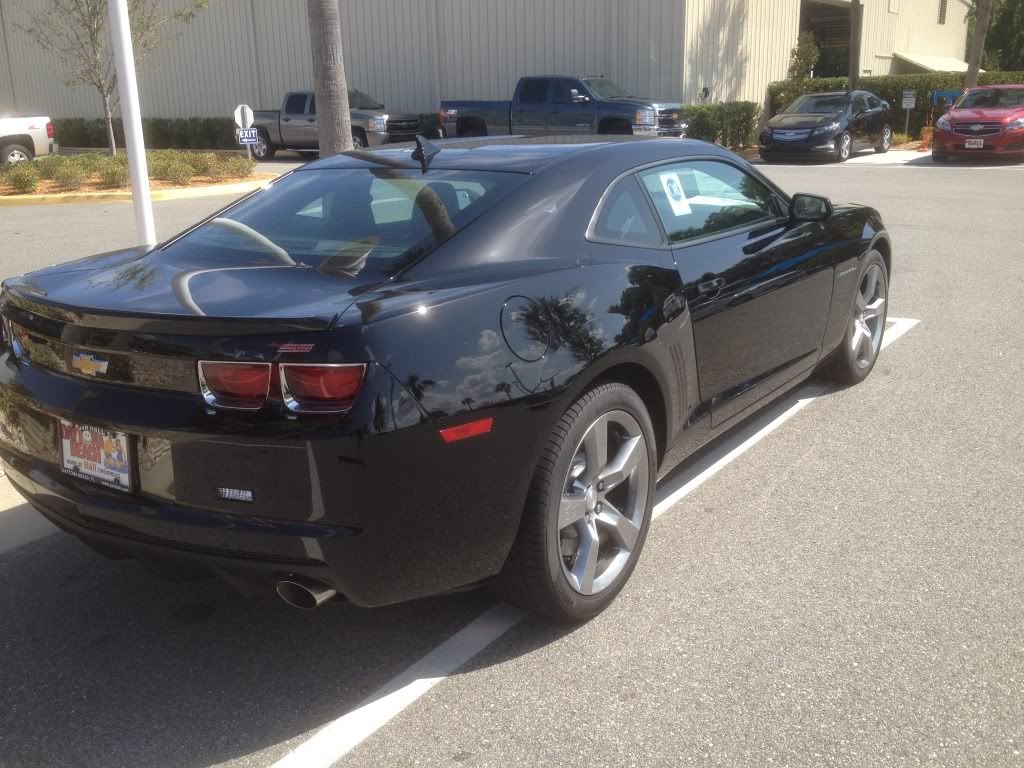 Just another view of Lucy sitting on the lot.
So after some dealing and haggling and waiting to punch a sales manager in the mouth. I drive away with Lucy my Black 2012 Camaro 2SS/RS. She had all of 35 miles on the clock.
One day at lunch I come out of the building I work in pull down my sunshade and start to fire her up to go get some chow and I thought man my a$$ is hot this will not do.
So I ask around and get a recommendation to a tint place in Palm Bay called
The Sun Stopper
.
Here she is in their shop as they are wrapping up her tint job.
Here she is after her tint job. I went as dark as legally allowed in the state of Florida. Best 150 dollars I have ever spent. But it also started my decent into madness.
You see after taking these pictures I thought man those corner markers are bright. That just wont do either.
So I tinted them with a kit from Big Worm Graphics.
And my birthday is comming up in a month so my wife is ordering me Technostalgia Led Tail Lights and Ill tint those as well.
And then I was looking her over and thought man what a nice ass but that bowtie looks like a freaking gold tramp stamp. So I removed it and the lettering on the side of the car with plans to soon get the part to remove the front bow tie as well.
And now I find myself looking though the vendors area and starting a part list of both cosmetic mods and performance mods. Everything from body kits and wheels to super charger setups.
Who would have though a simple things as a burnt a$$ in dress blues would have caused such madness?
My name is Roy and I'm a Camaro mod addict.