Quote:
Originally Posted by
AbsoluteMayheM
I could be wrong, but some of the videos show and say that the system pumps water up to the pads.

I was just also thinking it would just be as effective to have something floating under the guard for boyance to just soak the pad buy pressing it up and down.

@about 40 seconds into the video he illustrates the water pumping jets.
What I have highlighted in bold is exactly what happens, although there is nothing floating. The Grit Guard insert is held up by 4, spring loaded cones. As a matter of fact, I explain in my videos that there is no motor or any kind of mechanically powered device inside the bucket, which makes me cringe at the price.
Quote:
Originally Posted by
ihaveacamaro
I'm not sure if yours an older version or not but if you push down on your grit guard insert, see if in four spots water pushes up like a squirt. That's how mine works. I don't know if that's technically called a pump, but that's what it looks like to me
There is only one version of the Pad Washer by Grit Guard. It has never changed.
You are both being fooled by physics. Water will always take the path of least resistance. Look at the diagram below for clarity.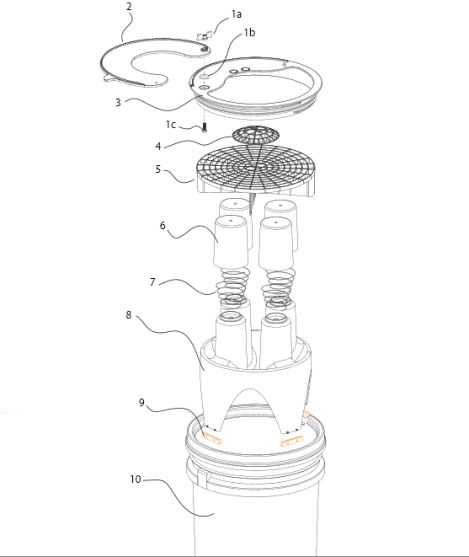 If you look at part #6, you will see that each of the 4 cones has a hole in the top of it. Those cones are submerged BELOW the water line and thus, water is not only around them but also INSIDE them (those cones are completely open on the bottom of them where the springs are shown).
When you press down on the Grit Guard insert (#5), the water inside the bucket takes the path of least resistance and squirts through those 4 holes.
At this point, the Grit Guard insert itself is completely submerged below the water line (depending on how hard you press), so the water also goes around those cones and through the Grit Guard insert itself, which also saturates your pad. The springs inside the cones allow them to go down and against part #8, which creates the pressure necessary to force water through the holes on the top of each cone. Most of the water has no place to go but through the holes in the top of each cone.
That how it works gents. No smoke and mirrors and stuff you see in Las Vegas. Nothing but physics. It's just water taking the path of least resistance.