Some of you will remember my 2010 2SS/RS I had that won COTW 3/19/2012. Thanks C5!
SSTG's Build.
I sold it a couple of years ago to buy a C6 Z06 Corvette. I REALLY loved the Corvette, but I found myself thinking about all the fun I had with my old Camaro and this forum. I met so many friends here.
While I stayed active here because of the NS Stripe kits I created and sell here. I wasn't really part of the community.
So, I sold the Vettes and bought a 2014 2SS/RS 1LE to pick up were I left off, hence the "Back in Black" title.
The car has every option GM had available for 2014 including the Reacaro seats.
And so it begins...
So far I have installed Xpel clear bra on the bumper,mirrors,rockers,gills and behind both the front and rear wheels.
30% Ceramic tint on all windows.
Blacked out the bow ties.
Black Camaro SS License plate surround.
Replaced all the Yellow lights with White LEDS.
Installed Elite Catch can.
Installed ZL1 Rockers.
Installed Show Stoppers LED side markers.
Installed Hash Marks for the 1LE I created.
New Stripe Designs for 1LE's!!! - Camaro5 Chevy Camaro Forum / Camaro ZL1, SS and V6 Forums - Camaro5.com
1LE Emblems on the rear deck and dash strip.
Ofers 5000K Fog Lights.
Diode Dynamics Cup Holder and Foot well Lighting.
And over 30 hours polishing the paint to get it to near perfection.
New and how I bought it less the Bow Tie Black outs (did those the day I got it)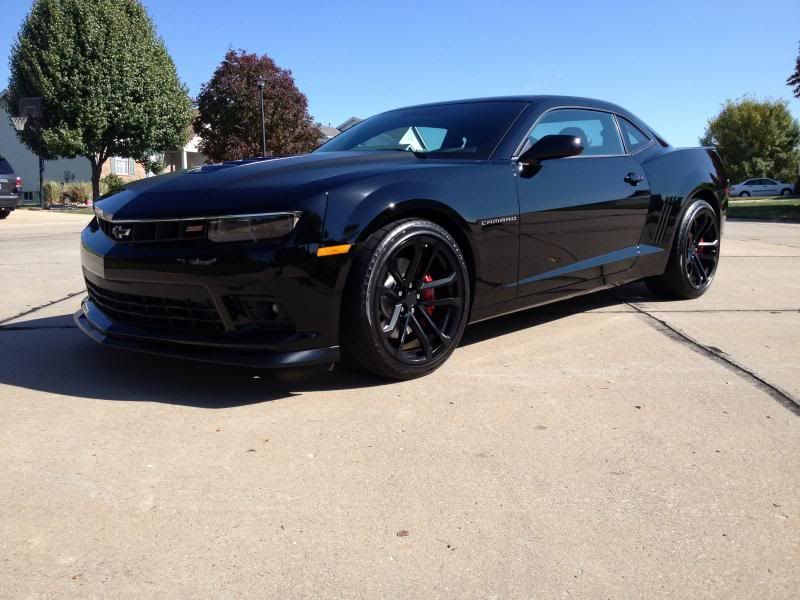 How it looks now.