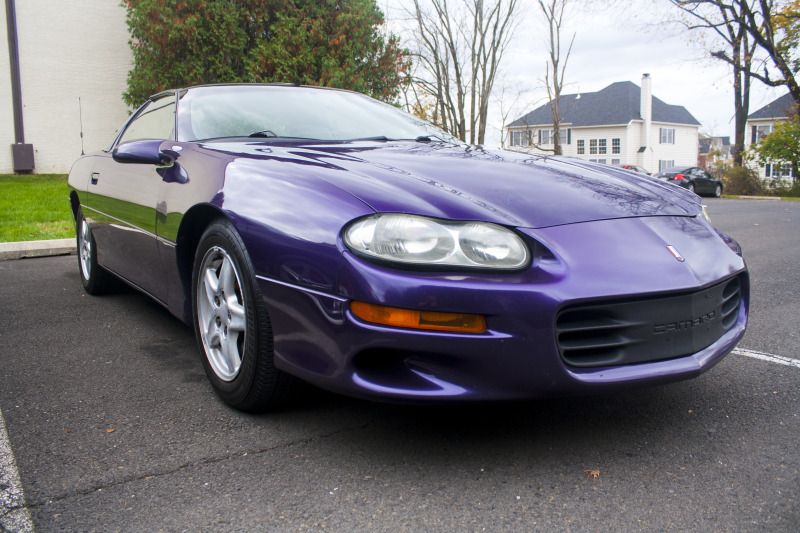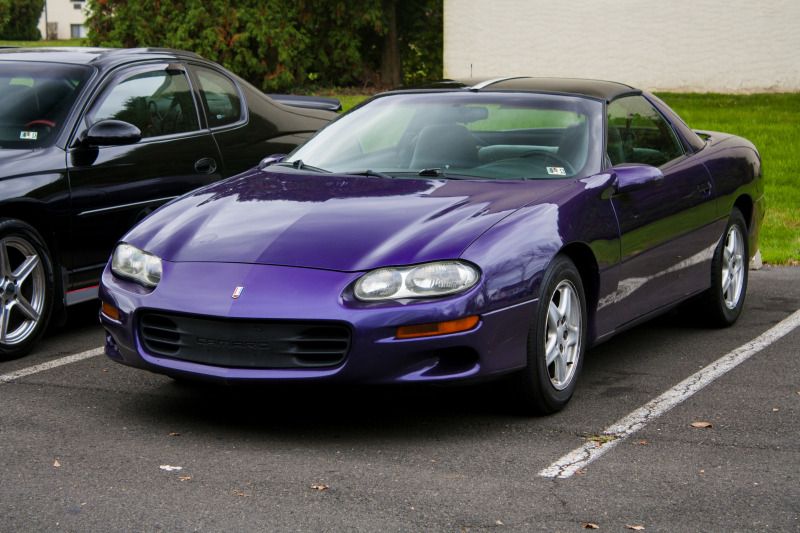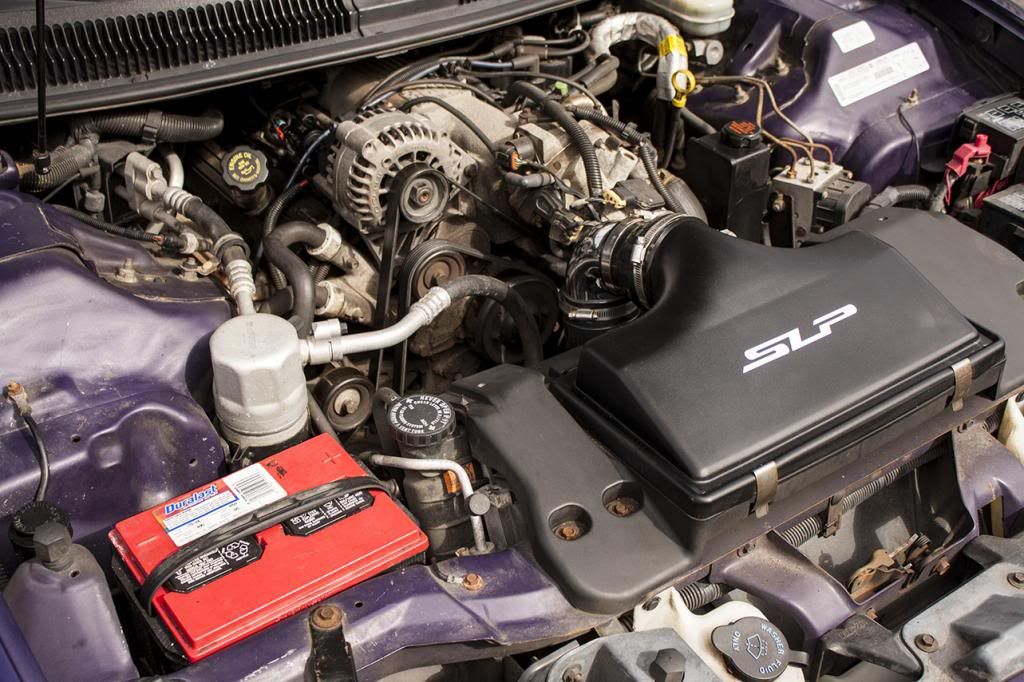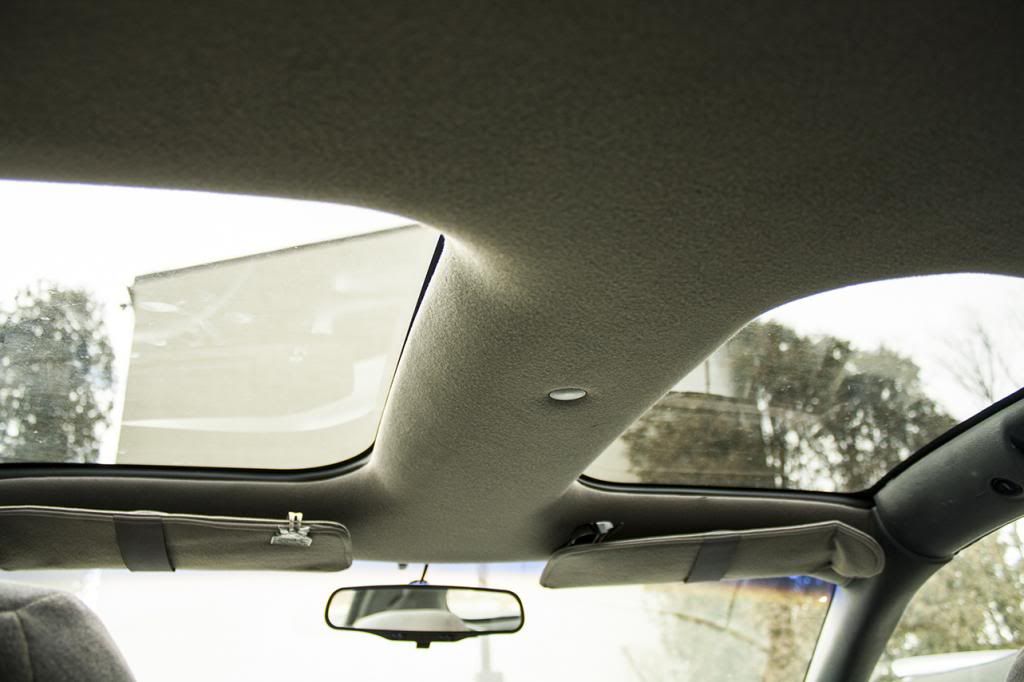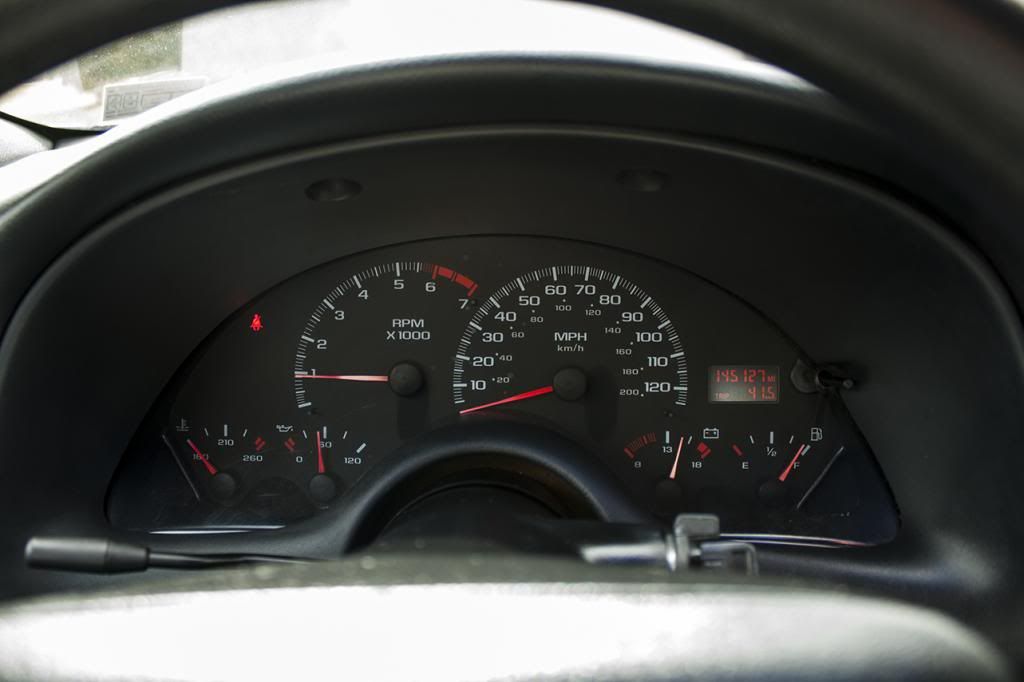 I have a carfax purchased and available upon request through email, it's in PDF form. Cliff notes: 6 owners no accidents, no faults of any kind. Title in Hand.
I have my rare Bright Purple Metallic 1998 Camaro for sale, $3750 (pretty firm on this). Only 380 Camaros in 98 were painted this color, around 1000 in 97 and the color was discontinued after these 2 years. I've never seen another in person, it gets tons of compliments at car shows and around town. The car has a 5-speed with a Hurst Short Throw Shifter (stock shifter is boxed up and comes with just in case). 145,000 miles and counting (it is my daily driver, roughly 15 miles a day for work). For a 15-year old car, that's under 10,000 miles a year which is considered low.
I am located in North Wales, PA
Car has a cold-air intake that I put on because the stock intake was cracked, and an aftermarket exhaust that was on the car when I purchased it.
Manual windows (I found out that the power windows constantly have problems in these cars, so I purposely looked for manual). T-Tops, everything works. It's been a great car for me, and I love driving it.
Since owning the car in Sept 2011, I changed all of the fluids ( change the oil every 3 months with Mobil Clean 5000 5w-30), changed the alternator, replaced the wipers, and had to buy new front tires to pass inspection. Rears are fatter than the front and still have plenty of life. I purchased new rear brake pads and a rotor because when I was getting the car inspected, I was told that they would need to be replaced soon. Then I took the rear apart and found out that the pads and rotor still had plenty of life, so I have brand-new pads and one great rotor in the trunk and will go with the car also.
Car has a couple of cosmetic faults, paint was starting to peel off the hood and I did a temporary patching with some touch-up paint. It is noticeable, but looks much better than the gray spot that was coming through. Purchased the car with a scratch down the passenger side, I have buffed this the best I can, and it doesn't stand out as much. Paint on the passenger rear quarter is slightly fading, looks a little foggy. I was told that should be able to wet sand out easily, but I am not comfortable doing that and it never bothered me enough to learn how. The driver's side window applique has a tear in it, and the window rattles against it when the window is 3/4 down. At halfway and all the way down, or when the window is closed completely it makes zero noise.
Other than that, the car is clean and drives great, especially for a 15 year old car. I'm going to miss the days where I can remove the t-tops and drive home. The interior is in great condition. I don't smoke, I don't eat or even have drinks in my vehicles. I would truthfully love to keep the car, but I'm about to purchase a 2013 Camaro, and have no need for 3 cars.
Email is the best form of contact for me: mikerogers.design (at) gmail (dot) com
Here is a photobucket account page that has more images, and I will update with more as questions are asked of me:
http://s33.beta.photobucket.com/user...o%20For%20Sale