2010-2013 Camaro Floor Mats Package - Custom Embroidered Floor Mats
(Camaro Floor mats will fit any SS or RS, please select options below)
These 2010-2013 Camaro floor mats are manufactured by Lloyd Mats. Lloyd floor mats are known as the best quality manufacturer of floor mats in the business.
These 2010-2013 Camaro floor mats are available in many styles and combinations. Your floor mats are custom built to order, unique for your 2010-2013 Camaro so we do ask you to allow us 3-4 business days from order to ship date.
These Camaro floor mats are thicker than OEM mats and provide better floor coverage than OEM mats. Please select style, logos and colors below. Camaro floor mats come with many logo choices, including SS, RS, CAMARO, Camaro SS, Camaro RS and many more.
Logos Available: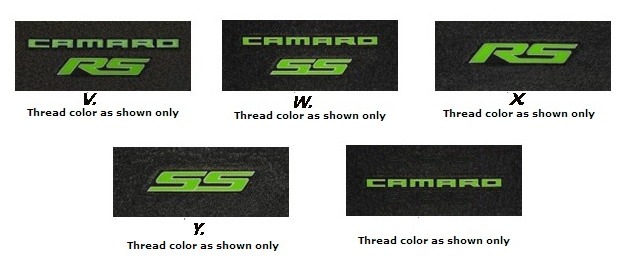 Available here: http://rpidesigns.com/shop/item.aspx?itemid=1631