Finally decided to start a build thread, it's been a long time in the making and it's time to document.
Every modification was done by my father (a professional fabricator) and myself. I am proud to say it has never been to a shop other than my own.
I'm a female participating in a man's hobby but hopefully my car speaks for itself.
2010 Camaro 2LT RS
Summit White
Modifications:
Cosmetic Modifications:
Metallic silver Rally stripes & black pin striping
Custom designed and built strut tower brace
Hydrocoated engine cover
Hydrocoated interior/trunk accessories
Billet Customs engine accessories
Rear diffuser (gloss black)
Heritage grille (gloss black)
ACS splitter (gloss black)
"Gills" (gloss black)
Emblem-pros "Camaro" trunk lettering
Emblem-pros custom dash plaque
Smoked tail lights & side markers
Custom Plexiglas etchings
Electronic rear seat lowering
Suede headliner
Black interior panels
AAC Oracle plasma P13w DRL bulbs
AAC Oracle interior lighting
AAC Oracle License plate LED
HID reverse lights
LED engine bay/grille lighting (blue)
LED footwell lighting (blue)
LED port lighting (blue)
Llyods Mats
Audio Modifications:
(2) 15" Mmats Audio Dreadnauts subwoofers
(2) 1,500 W-rms Class D amplifiers
(1) 700 W-rms full range amplifier
Mmats Audio MP-5 Parametric Equalizer and crossover
Kicker KS Component 6.5 speakers
Kicker 6x9 three-way speakers
(2) Optima batteries
Stinger audio accessories (fuses, isolators, breakers, etc)
Dynamat
Sound insulation
Power train Modifications:
Trifecta tune
Cold Air Inductions intake
Muffler delete
X-pipe
5" Magnaflow exhaust tips
Wheels, Tires, Suspension, & Brake Modifications:
Vossen CV3 monoblock wheels (22x9.0 front & 22x10.5 rear)
Pirelli Pzero Nero tires (265/30/22 front & 315/25/22 rear)
Eibach lowering springs
Powder-coated Brembo 4-piston calipers
Cross-drilled and slotted rotors
Awards:
"Show Class Winner" at Super Chevy (2012)
"Best Modern Muscle" at Street Legends (2012)
"Best of Show" at Hot Rod & American Muscle Sunday (Summer 2012)
"2000+ Best of Show" at Hot Rod & American Muscle Sunday (Winter 2012)
"Top 30 Over-all" at Bloodrags (2013)
"Best Audio/Video" at 2nd Camaro Rally (2013)
"Best Domestic Wild" at King of the Streets (2013)
"Show Class Winner" at Super Chevy (2013)
"1st Place Domestic Street" at The DUB Show (2013)
"Best Display" at The DUB Show (2013)
"Best Domestic" at The DUB Show (2013)
"Best of Show - Mild" at Street Legends (2013)
Pictures:
Current - 2013 Super Chevy Show.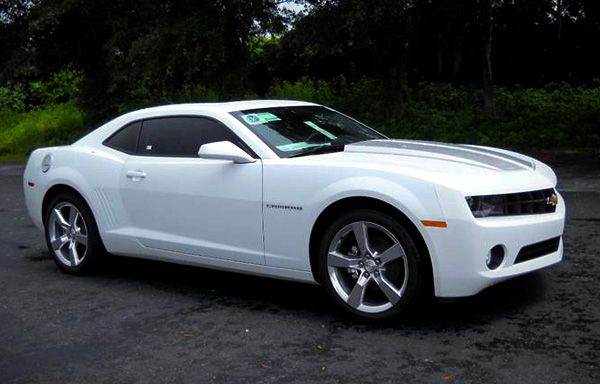 Photo sent from the dealership.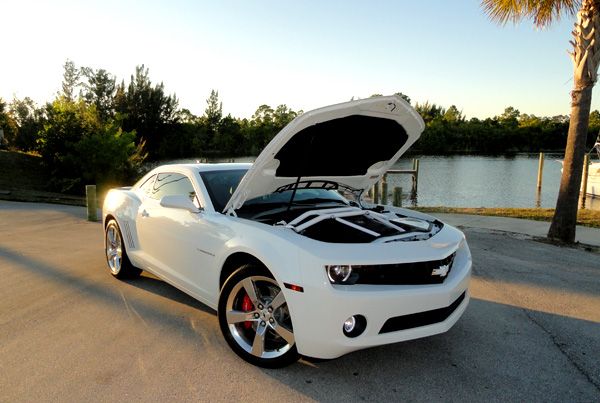 Beginning Modifications
Beginning the stereo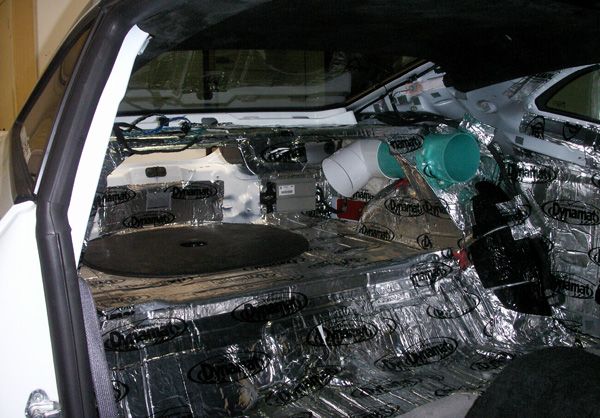 Installing Dynamat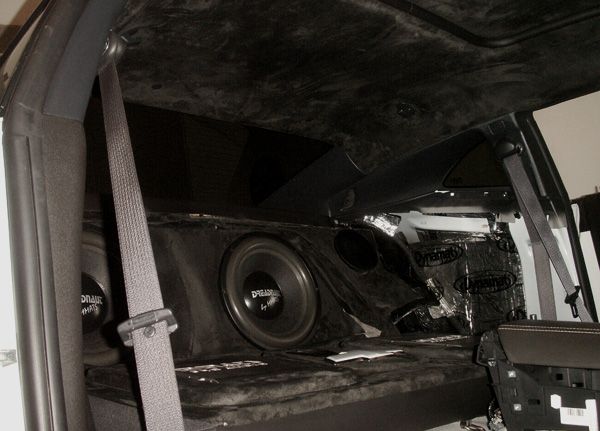 Subwoofers in, finishing suede and details.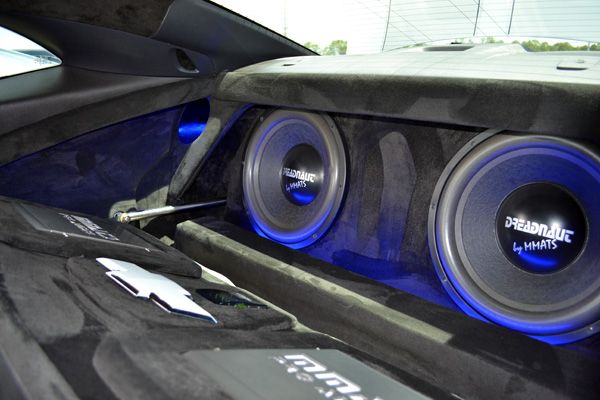 Stereo finished. Custom built ported box: essentially; when the trunk is closed, the trunk is the box.
When the trunk is open and the doors/windows are closed, the box/ports invert and the interior
of the car becomes the box. 3000 W-rms going to the two 15" Mmats Pro Audio subwoofers.
Trunk unfinished; including electronic ram to control rear seat lowering.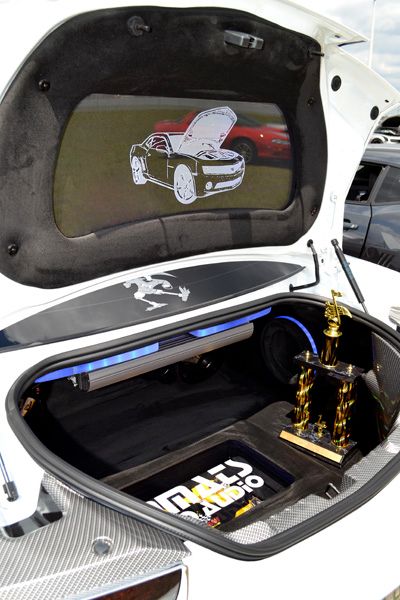 Trunk finished.
First time out with the stereo done.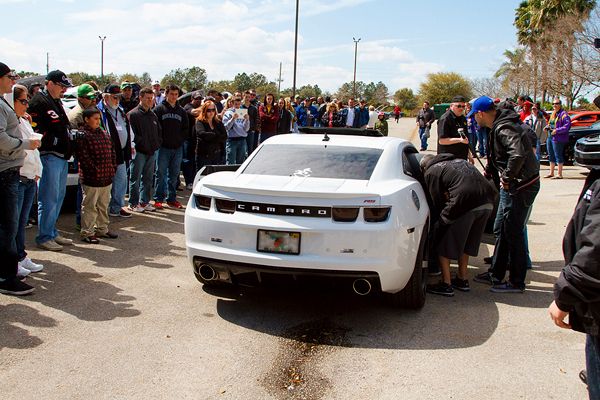 2nd Annual Camaro Rally Stereo Contest.
Front interior
Engine bay; the strut brace was custom designed and fabricated by my father.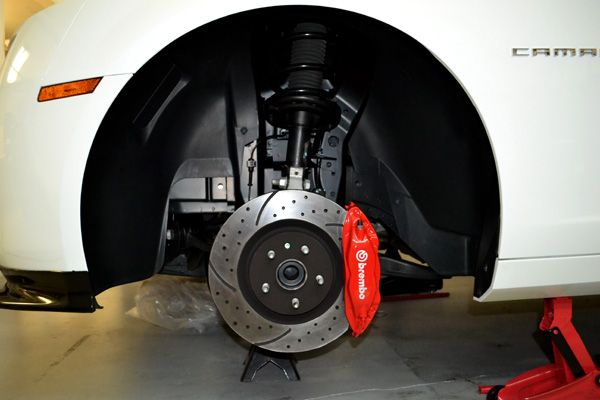 Brakes and rotors.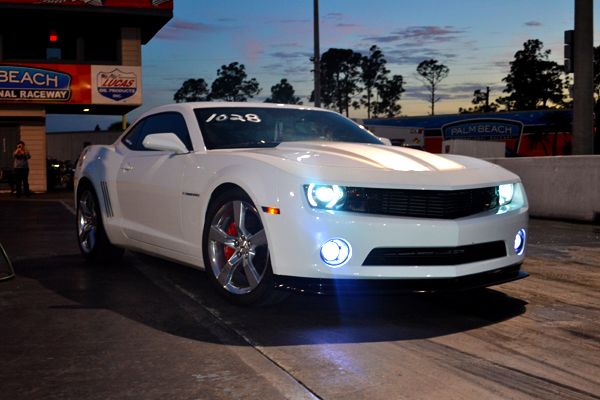 At the track.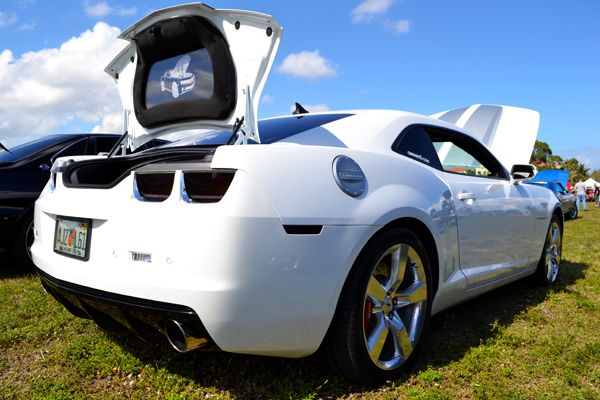 BloodDrags car show.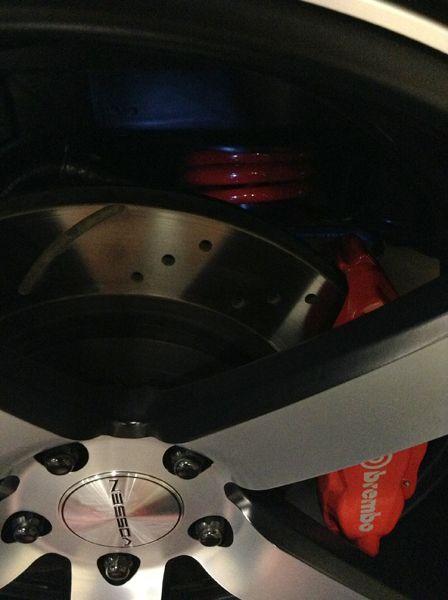 Eibach springs & Vossen wheels.
HID reverse lights
Grille lights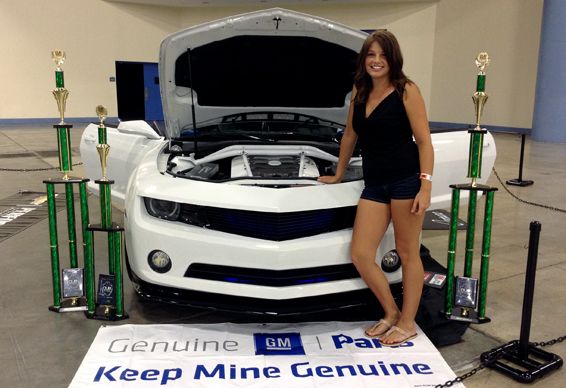 Winning at the DUB Show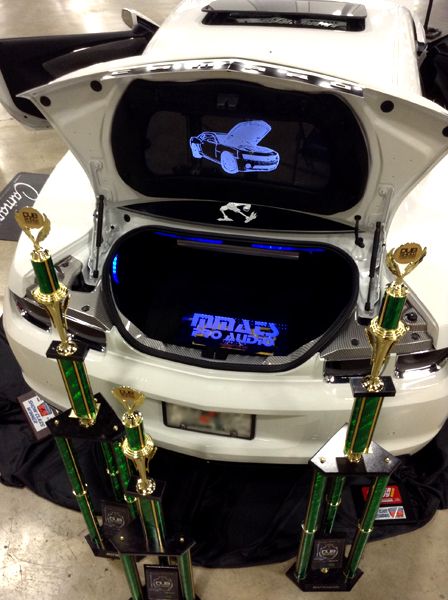 Trunk & Trophies.
Video:
Go Big or Go Home