Hey guys.
I'm the epitome of a novice when it comes to detailing. When I caught the bug I picked up the needed buckets, foam gun etc.
When looking up tips and stuff, I came across AMMONYC and really like some of Larry's video (as they taught me the basics). Recently I picked up almost his entire line of products after just testing the Emergency Spit and the Auto Bathe.
I finally had the time and my ZL1 was in dire need of a wash after getting caught in a rain storm.
I didn't have time to detail in the interior but the following photos are the results of using the following:
AMMO Auto Bathe
AMMO Brute Wheel Soap
AMMO Tire Mud
AMMO Hydrate
Lambswool Wash Mitt
Foam Gun (forget where I got it)
Boars Hair brush
Lug Nut brush
Waffleboard Microfiber drying towel
Now for the pics: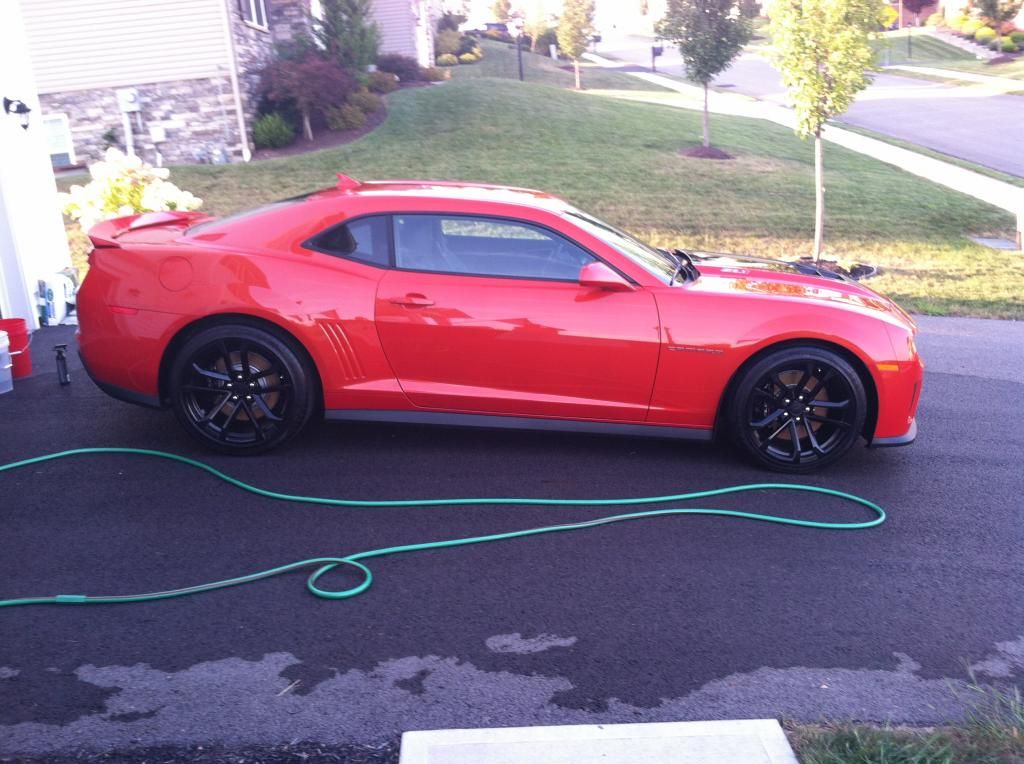 As for the products:
Loved the Auto bathe...had to be careful when putting pressure since the lubricity was so good. One bad angle or leverage and you could easily slip and fall but that's a good thing. Opinion:

The Brute Wheel Soap didn't foam much but it did remove a very large volume of brake dust with little agitation. Opinion: Half thumb up
The Hydrate (used to help dry the car): did what it said it would. The water really hated whatever hydrophobic compounds are in this driving it into my drying towel. However in some spots where the car was mostly dry it left a residue that had to be removed with a light buff with a microfiber towel. Not a big deal but not as easily used as show on his "basic wash" video. Opinion: half thumb up
Tire Mud: Perfect consistency. Not solvent based and gave just enough of a matte finish to compliment the satin black wheels. More layers can be added after the first has time to cure for extra shineyness but I stopped at 1 layer. His tire mud applicator is also handy as it fits the palm of your hand very well. Holds product without need to constantly re-apply and keeps your hands far enough away to avoid accidental contact with the tire or the ground when you swoop back around.
I didn't have time to do the interior but I will be reviewing his interior products when I do. I will also be using his all purpose cleaner when I detail the engine bay.
Be gentle with the comments. This is my first "actually trying" "wash/detail"

-G