Via
CAR Magazine
Ford Mustang GT500 vs Chevrolet Camaro ZL1 (2013) CAR Giant Test
Ford's insane 662bhp Shelby Mustang GT500 has its sights set on oner main rival: the 580bhp Chevrolet Camaro ZL1. CAR headed to California to judge which modern muscle hero is best...
April 17, 2014. It'll be a Thursday, but a special one: it marks 50 years since the Mustang was first unveiled and, if rumours circulating Stateside are true, it'll be when Ford reveals its next, sixth-generation 'Stang too. It won't be another bit of all-American muscle either, rather an all-new 'global' car developed under the One Ford plan. America gets the Fiesta, we get a much-improved Mustang. Seems fair.
But before then, before the Stone Age live axle is swapped for independent rear suspension, before the big V8s die and a four-cylinder turbo engine becomes the biggest seller, before the Mustang is irrecoverably changed to suit European and Asian tastes, we're having a final celebratory drive in the good ol' US of A. And in a helluva swansong, our Shelby GT500, with a supercharged 5.8-litre V8 shrieking out 662bhp, is the most powerful Ford has ever built. Do I need mention which wheels the engine drives?
This won't be some rose-tinted trip though, rather one as bitterly contested as the US elections, because we've got a Chevrolet Camaro ZL1 along too. Thank goodness gas is 50p per litre, because it's got an even bigger supercharged V8, and as our red-and-black pair bark, bellow and burble their way through stunning Joshua Tree National Park, fuel tanks are being emptied at an alarming rate.
After four hours battling choking Los Angeles traffic we've escaped the smog, taken a left off Highway 10 near Palm Springs, paid the $15 entrance fee, and are 3000ft up and charging through a sun-bleached landscape dotted and decorated by the spiky trees that give this park its name. (They're actually yuccas, for those Gardeners' World readers who've picked up the wrong mag and are wondering where Monty Don is.)
That neither has fallen off the road and hit said thorny flora debunks the first stereotype – these are modern-day muscle cars, fierce rivals that are more complete than ever. But also very different from how they began in the late 1960s…
Steve McQueen's '68 Fastback might be the most famous Mustang, but the best have always been the Shelbys – built by former Le Mans winner the late Carroll Shelby. His first modified Mustang wasn't the GT500, but 1965's GT350. It was a stripped-out, GT3-style road racer built for competition and with few sops to comfort – and because Ford hadn't made the engine bay of '65-'66 Mustangs large enough to accommodate its 'big block' V8 family, it made do with just a 4.7-litre 'small block'.
That changed in '67, so McQueen's Frank Bullitt had a 390-cid V8 (cubic inch displacement, equivalent to 6.4 litres) to tear around San Francisco, and a more potent Shelby Mustang was born. A handful of GT500s got Ford's race-derived 427-cid (7.0-litre) V8, but the majority were fitted with 428-cid 'Police Interceptor' engines. Rated at 355bhp to the GT350's 306bhp, the GT500s didn't have bare cabins, bucket seats and competition-spec suspension, but fully trimmed interiors and upgraded (but still cheaper) Mustang GT underpinnings. Being just $200 more, the GT500 comfortably outsold the GT350.
Ford went further with the '68 Mustang 428 Cobra Jet. It had the 428 engine, but with a Holley four-barrel carb and the 427's race-grade intake meant 410bhp – though it was officially rated at 355bhp to calm jittery insurers. Carroll Shelby upgraded mid-year to the 428 CJ engine too, and following the demise of his AC-based Cobra, designated this Mustang the Cobra GT500-KR. KR stood for King of the Road, a nod to its fatter tyres and uprated suspension, yet it weighed more than the Ford Cobra Jet and was no drag-strip champ. In fact, GT350 aside, every Shelby had been more luxury grand tourer than unembellished track star, and the final 1969-70 GT500s were portlier than ever. The Ford/Shelby relationship ended soon after.
Just as the legend of the ZL1 was beginning. Chevy had banned all but the Corvette from having an engine larger than 400-cid (6.6 litres) but Don Yenko, a Pennsylvania Chevrolet retailer, had transplanted the iron-block 427 'Vette V8s into '67 and '68 Camaros. And thanks to his clout with Chevy (he had dealer outlets in 19 states) Yenko convinced the factory to build a batch of '69 Camaros with the 427 engines, making them legal for drag racing. Using Chevy's little-known COPO code (Central Office Production Order) originally intended for bulk orders of customised fleet vehicles like taxis with stronger suspension, Yenko ordered 201 Camaros with 7.0-litre V8s. Other dealers bumped that to over 500, and the cars even had a five-year warranty. Why can't all garages be like that?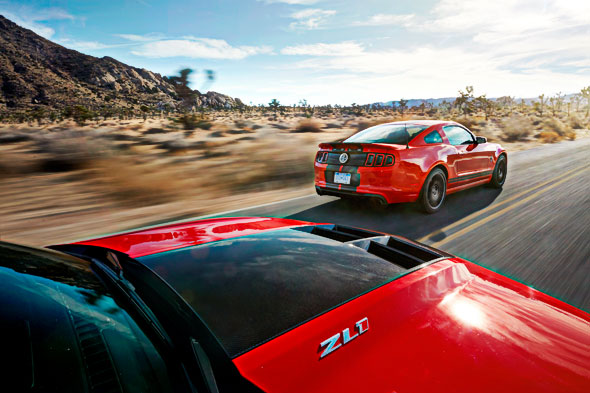 Illinois-based Chevy dealer Fred Gibb went a step further with the COPO code, ordering 50 Camaros – to satisfy National Hot Rod Association regs – with the all-aluminium 427 V8 from a Chaparral Can-Am racer. Designated 'ZL1' this pure 7.0-litre race engine was rated at 420bhp, produced well over 500bhp, and was as light as Chevy's 327-cid V8. In stock trim the Camaro ZL1 ran quarter miles in the low 13s; with slicks, headers and a little tuning, that dropped to 11.6 seconds; and NHRA Super Stock cars set records in the low 10s. Not bad for 1969, and on crossplys too – neither of our new cars can match that. The engines alone cost $4160 (over two-thirds of the $7200 price) so although 69 were built, 30 were returned unsold to Chevrolet and took years to shift. But that didn't stop the ZL1 badge becoming as iconic as CSL or GTO.
Our range-topping Mustang and Camaro are now fully legit models, and while neither has a race-grade engine – though both are all-aluminium – it's the Ford V8 that's most advanced. Granted it only switched from an iron block a few years back, but it's got four valves per cylinder. Fancy, huh? And the MY2012 to MY2013 change (this model year stuff is important in America) saw the 5.4-litre V8 bored out to 5.8 litres (355-cid) and, with a larger Eaton supercharger, 550bhp and 510lb ft became 662bhp and 631lb ft.
That's not a typo. This Mustang has Fred Flintstone-spec rear suspension, but nothing this side of a Ferrari F12 has that much power, and even the new V10-engined Viper isn't as torquey. And if you go by the old measuring system used to rate the original GT500 and ZL1 (until 1972 the power outputs were gross, ie, without ancillaries but with open exhausts) then you're probably looking at over 700bhp…
It's a glorious looking engine too, the supercharger sprouting from between the blue cam covers, air being fed into it via a paint tin-sized cone air filter, the Cobra badge sitting on the opposite side of the grille so it doesn't get sucked in. It's special.
Pity the new ZL1. Its predecessor was the first production Chevy with an aluminium engine, and apart from two '69 Corvette ZL1s and a one-off Camaro prototype built in 1993 with a near-700bhp 8.6-litre V8, the ZL1 suffix has never been applied to another. But although this one's 6.2-litre (376-cid) supercharged V8 cranks out 580bhp and 556lb ft, a 638bhp version is in the Corvette ZR1. And with pushrods and only two valves per cylinder, the original ZL1 427 was more advanced for its day.
Add in the Camaro's extra 122kg, its 800rpm lower rev limit and – when the Mustang has traction – the Race Red Ford romps ahead of the Victory Red Chevrolet. It's so much faster, not just than the Camaro, but pretty much anything. A big V8 with a big supercharger means 395lb ft at just 1000rpm (more than a BMW M3 at its peak) and 90% of the 631lb ft between 2200 and 5800rpm, and yet it still screams above 4000rpm and whips into the red. Only Pagani Huayras and Porsche GT2s feel more brutal.
But throw in a gearchange or two and the Camaro comes back. Both use the same Tremec six-speed manual, yet the ZL1's stubby Alcantara stick shifts quickly and cleanly when the cue ball-topped lever in the 'Stang fights your every attempt. After an hour I swear my wrist is arthritic. Add a truck-like clutch and your average Shelby owner will soon be shuffling in circles with the left leg of Chris Hoy and the right arm of a silverback.
There's no doubting the Chevy's quick, but it's the noise you'll truly love. The Shelby shouts loudest when you twist the key, but otherwise it's concealed behind too much road roar and tyre slap. The ZL1 crackles and rumbles and roars on the overrun like a Mercedes SLS AMG, and there's no supercharger whine to mask its bassy beat.
And I'd rather be sitting in the ZL1 for other reasons. Granted the flimsy plastic air-con vents will sag beneath your fingers, the dot matrix digital displays are as high-tech as the old-school engine, the steering wheel and stalks are out of a Vauxhall Astra, and Superman would struggle to see past the sloping A-pillars. But the svelte dash is Alcantara-trimmed, the low seats are much more supportive than the Mustang's rock-hard chairs, and rake andreach adjustment means you're not forced to huddle over the steering wheel. Love the head-up display, too.
You sit barstool-high in the Ford, seat crashed forward so you can reach the rake-only rim, hemmed in by the high transmission tunnel. It feels HUGE. The Camaro's hardly small or efficiently packaged but at least you feel part of it rather than perched on top. And it's a feeling exaggerated by the Shelby's more instantaneous turn-in. The ZL1 is a little softer, a little slower to react when you attack a corner, but also more balanced front-to-rear; the Mustang is stiffer, the nose more stable and less susceptible to roll, but you fall out of the over-styled seat and feel like you're clinging on behind the V8.
I can't get on with the 'Stang's steering settings either, in Comfort, Standard or Sport. All three are devoid of feel, and too light around the straight-ahead when you really want that confidence-inspiring bite. Comfort is preferable to Standard because its over-assisted lightness at least mirrors those first few numb degrees of lock, but it's best to stick with Sport.
Not the case with the two-stage Bilstein dampers. They're part of the £2200 Performance Package (a must-have, as besides forged aluminium wheels and unique rear spring rates it also bundles in a Torsen limited slip diff) but even in Normal the front fidgets and the rear axle shimmies and skips over mid-corner bumps, undermining your confidence. Freddy Krueger would be a welcome distraction to my nightmares of damp, concrete freeway on-ramps.
The ZL1 has its own adjustable dampers, but they're the more advanced MagneRide system seen on the Audi R8 and Range Rover Evoque (an electric current softens or stiffens the iron-filled magneto-rheological fluid in the dampers). There's little difference between the Tour and Sport modes, but the continuously variable set-up means the ride is more fluent. That, the independent rear suspension, the meatier steering, and co-operative gearbox, means whatever advantage the Mustang pulls down the straights when the park rangers aren't looking is more than matched by the Camaro through each corner.
The Ford/Shelby relationship was rekindled in 2003 when the legendary Texas tuner was appointed advisor to the GT supercar project, and the first GT500 in decades was unveiled in 2005 (as a 2007 model year – go figure). But although Ford's own Special Vehicle Team now engineers these new Shelbys, there's more than a hint of aftermarket about this latest GT500: the suspension barely copes, the outrageous engine dominates, the chunky glasshouse and upright stance of the base V6 model is evident through the Cobra badges and black stripes, and the lack of any actual grille in the front intakes makes you think anything that interrupts the flow of cooling air under bonnet has been ditched. It's madder, as Edmund Blackadder once said, than mad Jack McMad, the winner of last year's Mr Mad competition.
Forty-five years on from Carroll Shelby first applying the Cobra name to a GT500, that means there's been a role reversal: the ZL1 is no longer an engine on wheels, and Shelby Mustangs aren't grand tourers. That won't matter to diehard US fans who'll forever remain loyal to Ford or Chevrolet, to the Mustang or Camaro, but unless you need the Shelby's engine (and it does make an eye-opening, heart-racing and stomach-punching case for itself) then we'd take the surprisingly rounded and resolved ZL1.
The battle may be won, but with the next Mustang imminent the war isn't over, and although the supercharged 662bhp V8 may be too tall to fit beneath the new car's bonnet, the twin-turbo 5.0-litre V8 lined up as a replacement hardly sounds underpowered. Meantime, if there's a bit of Shelby, Yenko or Gibb in you, tuners in the USA – including Shelby's own company – build GT500s and ZL1s with 1000bhp…
Words:
Ben Pulman
Photography:
Greg Pajo
>> This article first appeared in the March 2013 issue of CAR magazine.