Hi, just want to share some experience with my new suspension mods. I was lucky to get some Pfadt and Pedders stuffs before they went of the bussines. I visited my grandpa who is mechanic in a small town and we installed Pfadt zl spec sway bars, front endlinks and Bmr rear cradle poly bushings. It took us about 7 hours. The Pfadt arm package and Pedders front radius rod bushings was still on it's way.
After sways with end links and rear cradle bushings I felt that the car is more stable in corners, I could go faster in corners, less body roll and rear end was more stable too, but I still wasn't satisfied with stability in rear end. Still got some bad feeling in the rear end under hard acceleration.
Ride was more firm on bad roads but still comfortable. My sways are set in the middle.
The hardest thing was removing retro chambered exhaust. Then removing stock bushings from rear cradle. We heated it and then pushed out with a hammer. We had to heat it until the rubber bushing start to melt. The other thing was front sway bar. We tried to get out stock front sway bar and we couldn't do it. So we loosed motor mounts and raised the motor about 4 cm and then it got out in 1 minute.
After 2 weeks my Pfadt arm package and Pedders radius rod bushings were here. So I went to my grandpa again and it took us 3 hours.
Installation was easy but here are few tips.
When removing lower trailing arm bushings, heat it a little bit with torch. It would go out easier. We got it out with some clamps. I don't know how it is called in english.
When unbolting toe rod on the drivers side you have to drop the rear cradle about 3 cm to get the bolt out.
Removing the bolt on radius rod on the drivers side it quite tricky because of the washer botle.
When changing toe rods, make a mark on the excentric bolt and chassis to keep correct lenght of the toe rod
Wow, after arms package it is huge improvement in the rear end feel. The rear of the car is more planted and have that solid feel what I wanted. When I do hard launch, I have no wheel hop and the traction is so much better. I can't say much about radius rod bushings. Maybe the steering is more firm and I have got little bit better steering response.
Overall I am happy with mods I have done. The ride is more enjoyable and still get ride comfort. The only thing I feel I'm missing right now are coilovers.
Here are some pictures. Sorry for the quality, it was taken with phone and I had dirty hands. Sorry for my english too
.
Came with no instructions.
New swaybars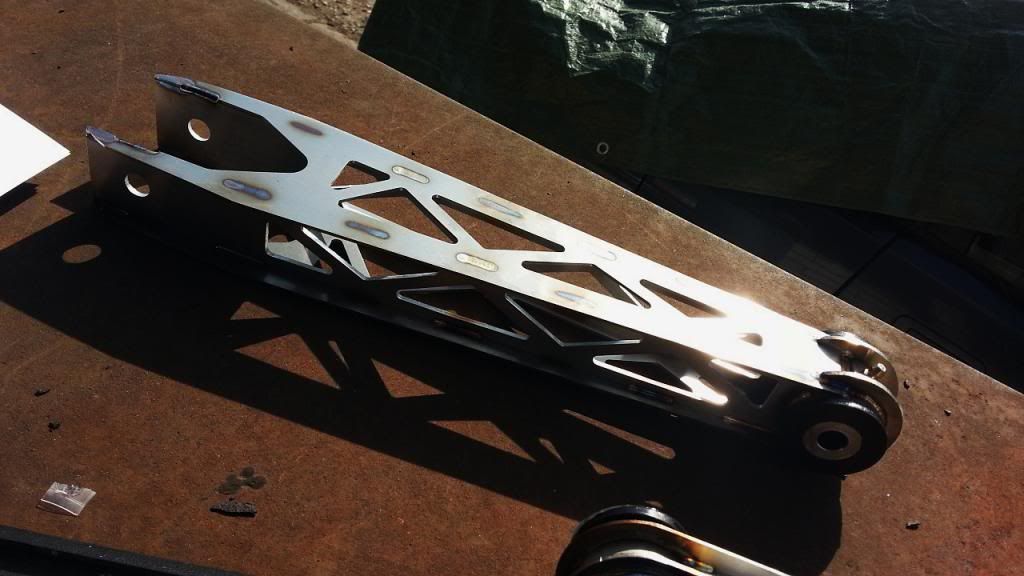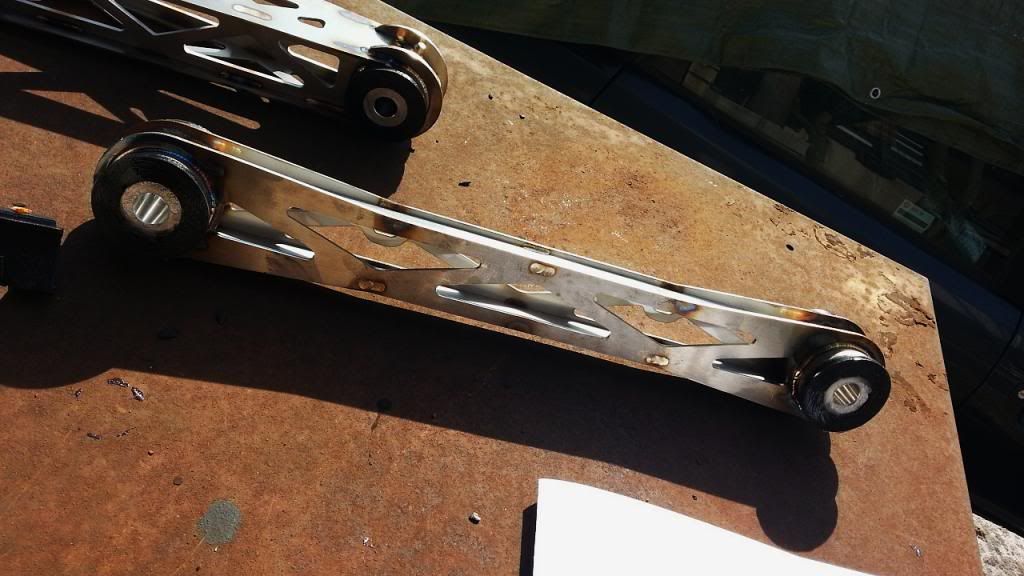 I just love the unfinished look.
With this "clamp" we took off the lower trailing arm bushings.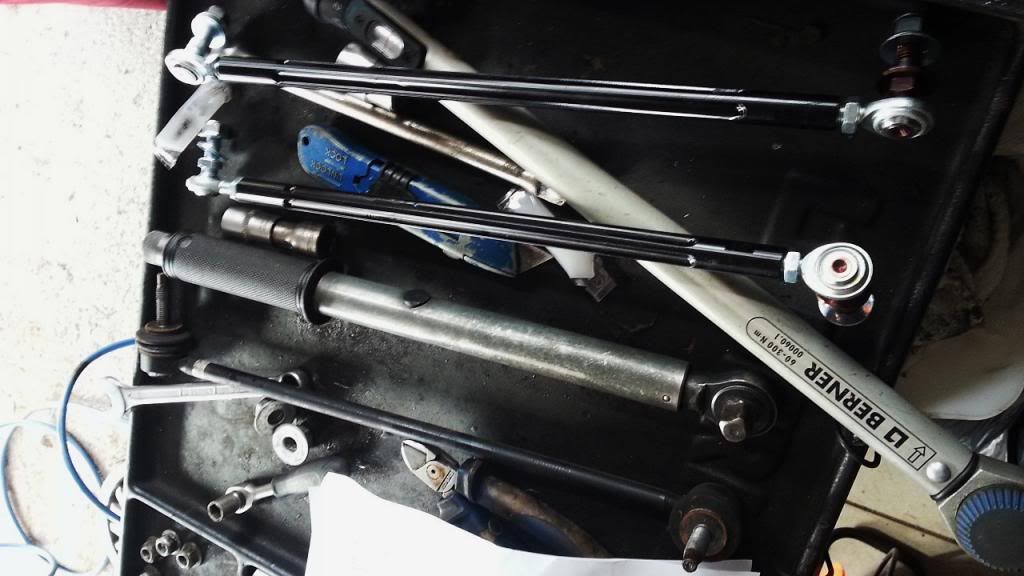 Old and new end links.
Exhaust off.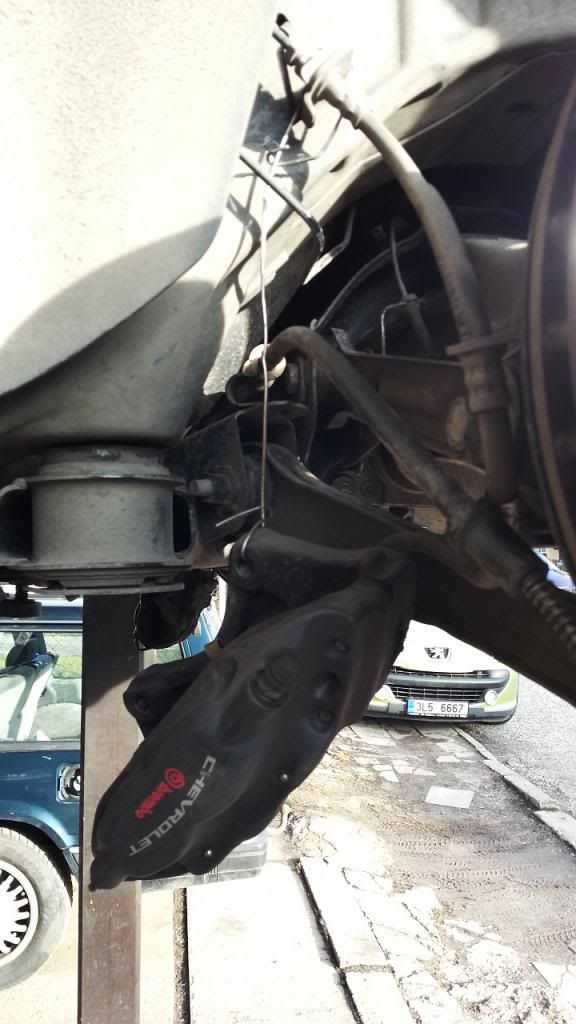 Cradle dropped.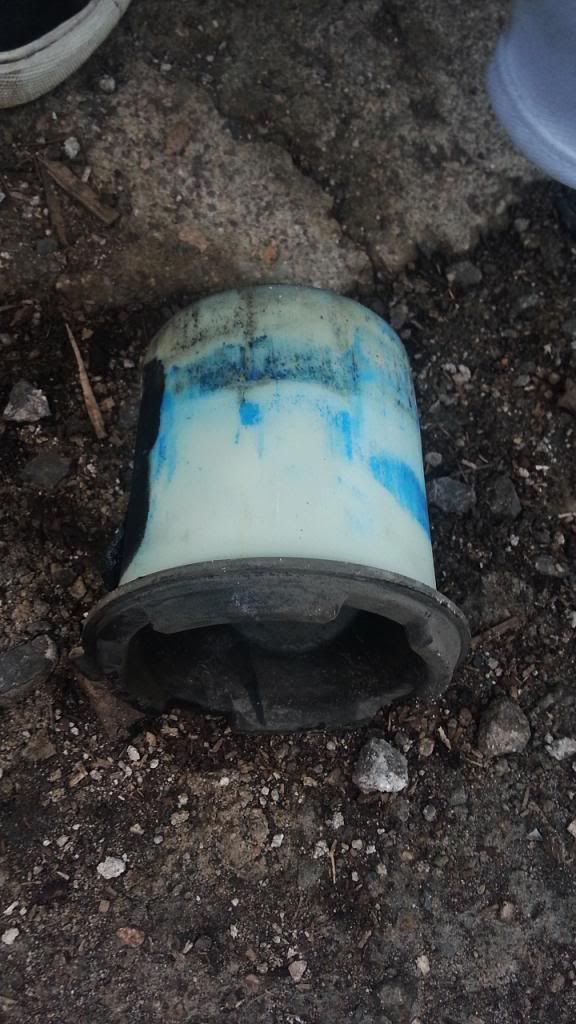 Stock cradle bushing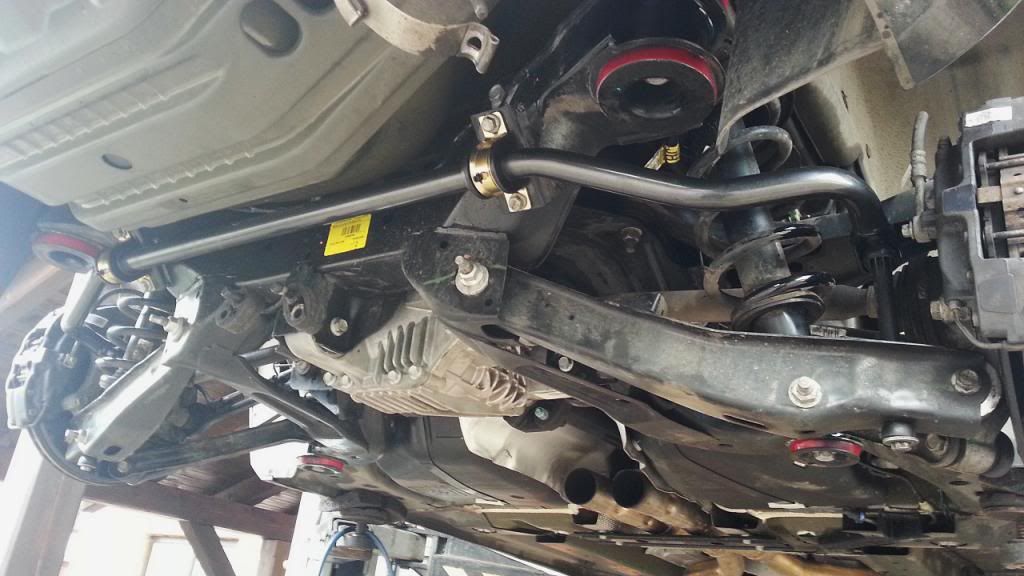 Rear sway bar and cradle bushings installed.
Front end links and sway bar installed.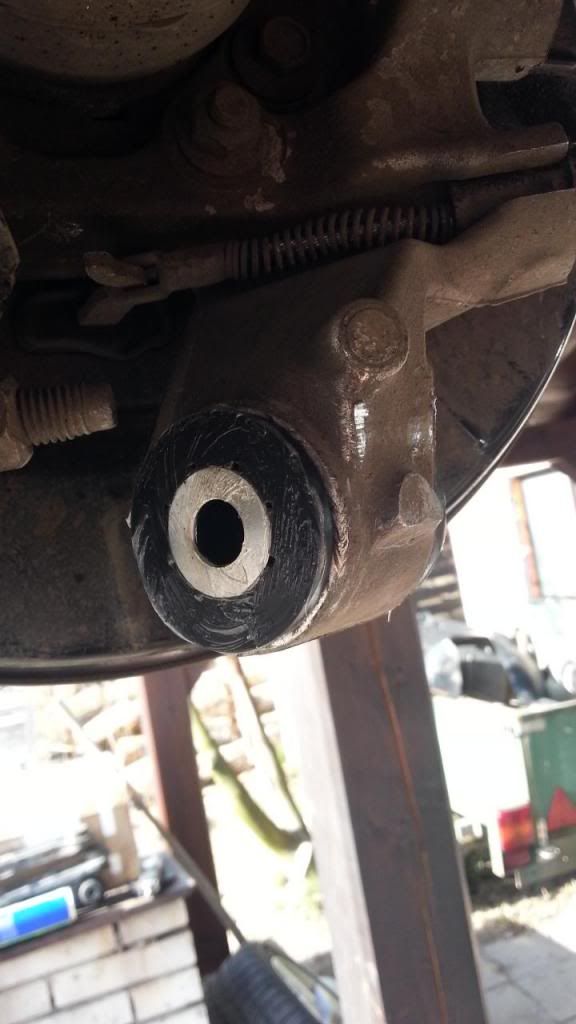 After sanding we put on lower trailing arm bushings.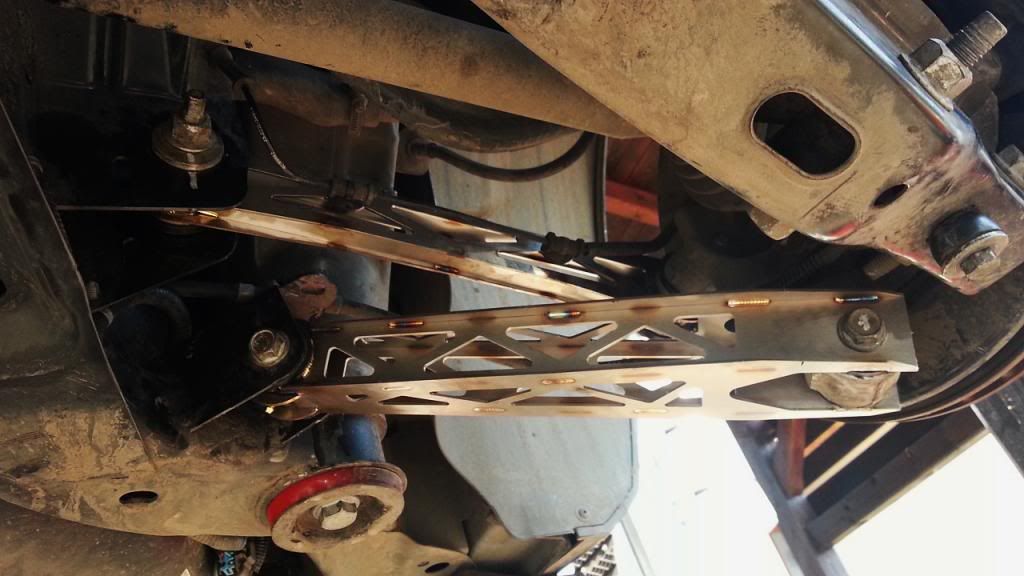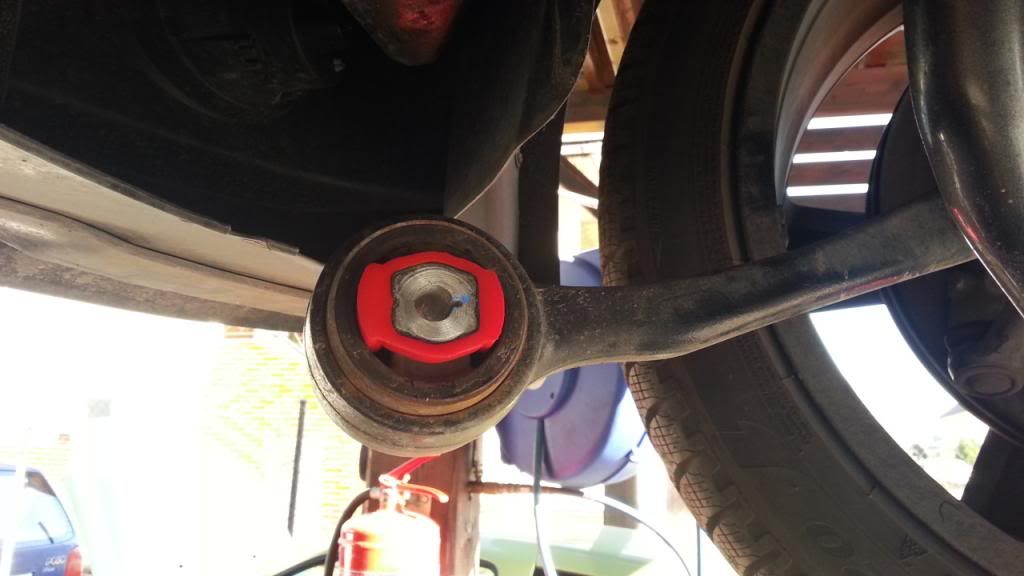 Front radius rod inserts.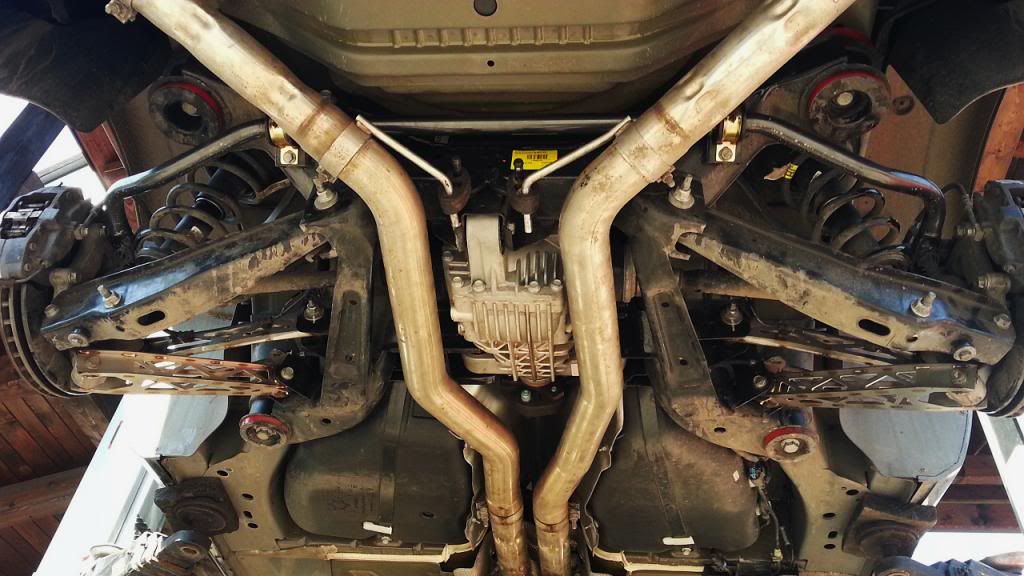 __________________
performance:
SW LT headers, SW 3" retro chambered exhaust with HF cats, CAI intake, Elite catch can, Jre tune.
suspension:
zr28 wheels, Pfadt ZL spec sway bars, Pfadt adjustable front end links, Pfadt trailing arms, Pfadt toe rods, BMR rear cradle poly bushings, Pedders front radius rod inserts.
audio:
front Hertz hsk 165.3, rear Hertz dcx 690.3, Helix P8W woofer, amp ipaul 4300, amp Carpower HPB 602, STP isilver sound deadening (doors, trunk, rear deck, under rear seats).
exterior:
SPL like splitter, red painted calipers, zl1 spoiler, 1le diffuser with quad tips, zl1 upper grille.