Hi everyone, I guess I'll start off by introducing myself. My name is Jake, I'm 20 years old (21 in October) and currently serving in the United States Air Force as a SrA in Security Forces. I have wanted a Camaro ever since I saw the first 5th Gen riding on the streets. I come from a diehard Chevrolet family; my Pap has owned numerous Corvettes with his latest being a 59 and my mom has owned many Camaros, her latest being a 2002 Z/28.
I saved for this car all through High School and right after High School I went off to Basic Training in San Antonio. On Leave in between tech school and my first duty station back in March of 2013 I found the perfect car, a 2010 Black 1SS/RS with under 8k miles on the dash. I bought it and immediately fell in love with the car. I always wanted to start one of these journals but never really had the time until now, so I figure better late than never.
Mod list:
Engine/powertrain mods
-Magnuson TVS2300 w/ 3.4 pulley
-JRE super tensioner
-CAI Intake
-Vmax ported TB
-Stainless Power 1 7/8" headers-no cats
-Stainless Works 3" retro-chambered cat-back
-Lingenfelter GT9 cam w/ BTR dual valve springs
-LS3 conversion
-80lb FIC injectors & ZL1 fuel pump
-Elite catch can
Suspension mods
-FE6 sway bar conversion
-Pfadt tie rods
-BMR trailing arms
-Apex-Speed lowering springs
-Hotchkis strut tower brace
-BMR tunnel brace
-R1 concepts drilled/slotted rotors & EBC redstuff pads
Cosmetic mods
-ZL1 front Bumper
-ZL1 side rockers
-Z/28 spoiler wrapped satin red
-HRE S101 wheels-Charcoal Gray
-ZL1 rear diffuser
-oracle ghosted LED sidemarkers
-Technostalgia LED taillights
-Seibon carbon fiber 4" cowl hood
-ZL1 steering wheel
Here is a picture of my car the next to my friends Silverado the day I bought it. Consider this a before picture as later down the road I drove my car home after extensive modding on both our ends and took an after picture.
I didn't really modify my car for about a month until after I had it, starting off with a Borla Atak axle back and a range AFM delete chip. After driving around for about a month and loving the sound, I decided to add my next round of mods. I ordered a catch can, CAI and VMAX Ported TB from Chase at Apex, and as soon as they arrived I got to adding all the new goodies. I absolutely loved the noticeable difference between stock and what I had at that point. I don't know why our cars come from the factory with AFM, because with the range chip in (turns off AFM) I noticed no difference in fuel economy.(sorry couldn't find hardly any pictures i took from way back then.)
Shortly after my basic mods were put on, I had been looking around for stripes, something to make my car really stand out and pop. Well I stumbled upon the NS-1 stripe kit, and after a little picking and choosing, had a local vinyl shop put them on in a carbon fiber style vinyl.
That summer I wanted a new exhaust setup on my car. Don't get me wrong the Borla sounded awesome, but I was looking for more volume. I went down to a local muffler shop and had them cut out my giant resonator and replace it with an x-pipe. I also had them take off the Borla and replace it with a muffler delete and quad tips. The tricky part about this was they had to end up cutting my diffuser to make it fit. I would eventually move up to the quad tip diffuser for our cars, but that took about a month for me to do.
Around the end of July/early August, I found a killer deal on a rear 1le wheel (had a 285 Goodyear on it) with no miles. I bought it, and now was in search of 3 more wheels. Well Ofer from Gen5DIY was able to get me two fronts and I called Becky from Rodger's who was able to get me a brand new rear. I drove down to get my wheels off of Ofer and headed straight to Discount tire the next day to have them installed with 285/35/20 Goodyear eagle F1s all round. Here is the end result of which I was incredibly happy with.
2 months or so later, I was able to come across a decent set of Stainless Power headers that were never installed, so I bought them and had a buddy of mine install them at his shop. Man was the car woken up. It got insanely louder and kicked out a lot easier in the rear end. I took it to get tuned and it came in at 360/375 on a Dynojet Dyno. My car was well on its way to becoming one of the baddest street cars around.
November of that year I spent back home in Pittsburgh on leave (I flew home, no rocky mountains in November for my car!) but December I was able to buy a set of FE6 sway bars and conversion parts off of Ofer and a couple good friends of mine helped me install them later that month. I noticed a great difference in performance from the weak FE3 to the strong track-oriented FE6 parts and was very happy with these new sway bars.
That next year, early in January, I was talking to Ofer about getting ahold of a ZL1 front bumper. When it came in, I drove down to get it from him. I must say this bumper is one of the best looking bumpers on our car and I am incredibly happy as there is such a difference in look. My car looks much more aggressive now, like it wants to chew the ass off a mustang and crap it out as a focus.
Around February I bought an ACS TL1 insert off of Ofer and had it taken to get painted. It wouldn't be installed until the next month, when my friend Gene was able to help me cut up my hood and put it on. The second half of that month was mainly spent talking with a shop about what camshaft to put in my car! I was thinking of going FI in the future so I knew that would be a determining factor. I also would need it to be street-able. I ended up choosing the GT9 cam from Lingenfelter, and had it installed at the end of February by Leading Edge Performance here in Las Vegas. All parts installed are as follows: BTR dual valve springs, 7.400 pushrods, complete DOD delete kit including LS7 lifters, and of course, the GT9 cam. Car officially dyno'ed at 405/382, and was a complete beast now.
In March, I talked to Ofer and he said he heard I got my cam and wanted to know if I was looking to buy a supercharger anytime soon, as he had one he would like to sell me. I was surprised and also very happy, and so I of course told him yes. I ended up getting a red Magnuson TVS2300 with a 3.4 pulley, zl1 fuel pump, 80lb FIC injectors, and all supporting parts/pieces. Unfortunately it would be awhile until I would be able to have it installed, but man was it worth the wait.
Around April, I was able to get some ZL1 side rockers which Ofer had for sale, so my friend Gene helped me paint and install them on my car. I was also finally able to put my r1 concept rotors and Hawk HPS pads on, and I absolutely love them. I think they are much better than the stock pads and rotors. Near the end of that month I also had finally burned down the rear Goodyear's on my car, and it was time for some new rubber. I ultimately decided that the Michelin Pilot Super Sports's were the best choice, so I got 285/35/20 for the front and 315/35/20 for the rear. These new tires are absolutely insane, so much better than the Goodyear's, it's like night and day!
A little later that spring I had to start thinking about supporting mods for the future Maggie I would be putting on, and so Chase at Apex helped me out and I was able to get a set of Pfadt tie rods and BMR trailing arms. Those two pieces really stiffened up my rear and I was very impressed how much the polyurethane bushings helped with wheel hop.
The time has finally come for the big moment!! Around mid-summer I finally was able to get the supercharger installed by the same friend that installed my headers for me. He installed my supercharger along with a Stainless Works 3" retro-chambered cat-back with quad tips. My car dyno'ed in at 558/511 on a dynojet. Initially I had tome belt slip but that was all fixed with a JRE super tensioner. Nothing could have prepared me for the massive power increase that came with my supercharger. I still have permagrin every time I get in my car, it is an absolute monster and I could not be happier!
Later in July I was able to get a hold of a Z/28 spoiler from Ofer and had it painted to match and installed. It really improved the aggressiveness of my car and it really looks basa$$! Just another little piece to tie everything together into an ultimate street car.
On August 4, I took leave again to go home for 3 weeks. This time, I drove my car, and seeing the country was amazing. 2200 miles was done in 2 days with the help of my father (trip home) and my mother (return trip.) We took I-70 all the way from Las Vegas to Pittsburgh and back. While I was home I had a few goodies installed and they were a Hotchkis strut tower brace, and a set of Apex-Speed lowering springs that I bought off of Chase. The strut tower brace improved steering feel and also looks really good under the hood. The lowering springs really improved the stance and looks overall and I must say the ride didn't suffer at all. I was also able to take a picture or two with my friends truck and my car (that after picture I mentioned earlier in the thread.)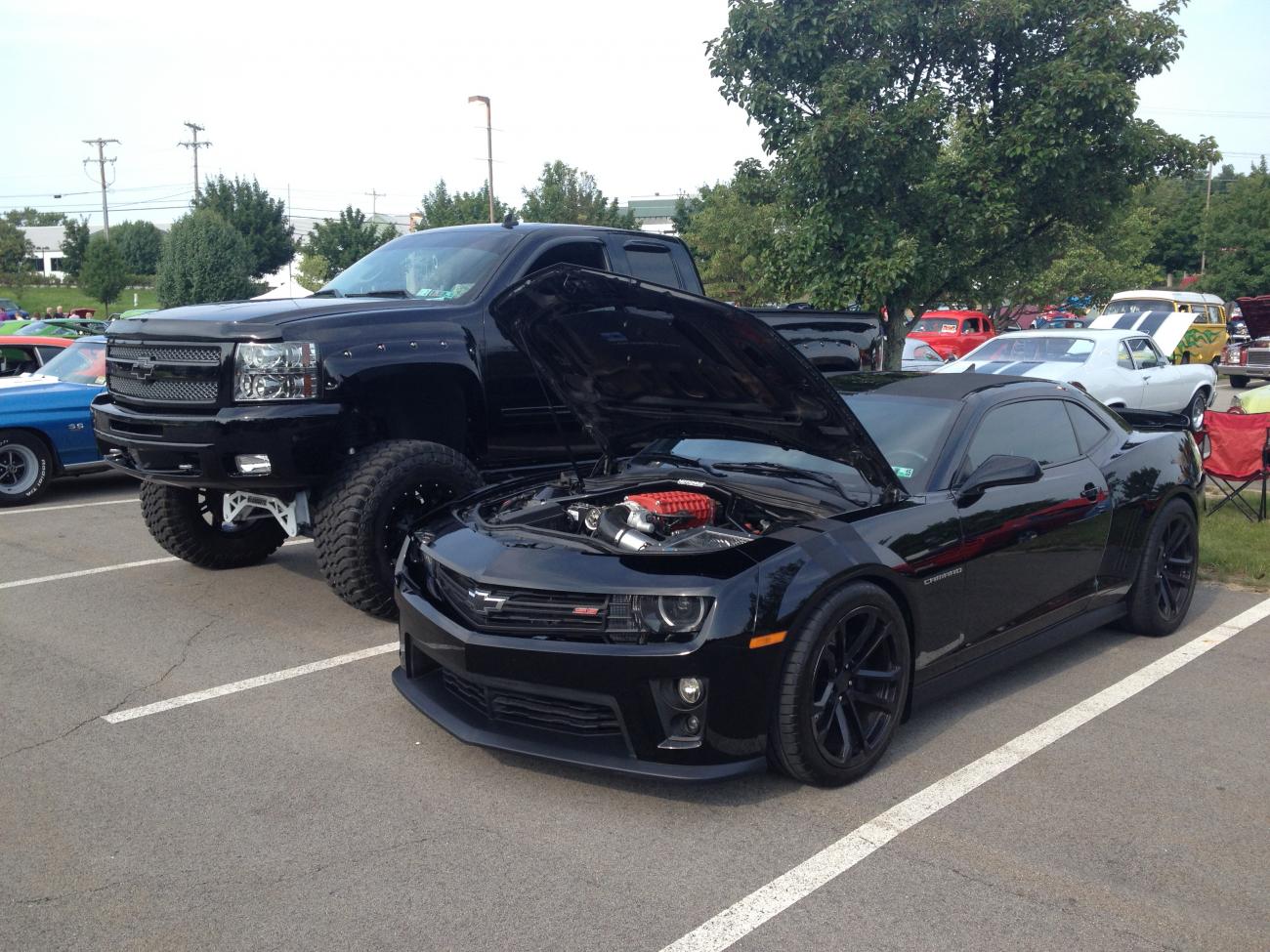 Once I got back to Las Vegas, at the end of august, I felt as if my project car was nearly complete. I, however, was completely wrong. I got a text from a friend asking if I would like to buy a new set of wheels. Now let me give you a little back story to these wheels. I first saw these beauties on a friend of mine's ZL1 in August of 2013 when we went on the big cruise to Mt Charleston and I instantly fell in love with them. I think these are arguably the best looking wheels on a Camaro, and I was excited to get be able to get them for my car. These HRE S101 wheels are my favorite mod on my entire car, second being the supercharger.
Big shout out to all my friends who have helped me along the way with my project car:
Ofer, Alex, Gene & Wanda, my brother Paul, any friends along the way i forgot to mention and my parents for teaching me that hard work pays off.