The MTI Racing 2010 Camaro shifter is being used in Grand Am, European Spec series, and currently remarketed by several notable aftermarket suppliers. Through extensive testing and engineering, the MTI Racing Six Shooter Shifter for 2010 Camaro successfully maximized the feel and precision. It is HUGE improvement in feel over the stock shifter. It actually shifts better than stock. 99.9% of customers report that they finally have a good solid connection between them and the transmission with great results. We accomplished this with thorough engineering and maximizing the feel, and redesigning certain elements of the linkage that make the entire assembly stronger and last longer. A throw reduction of 25% was chosen because that is where the data shows the optimium feel, combined with the best total feel, combined with the easiest shifting effort. Any more than this, and it is not optimum because it further shortens the throw at the expense of a stiffer feel.
Our shifter also accepts either the stock Camaro knob or you can use our retro stylle Cue Ball knobs. (see attached pic)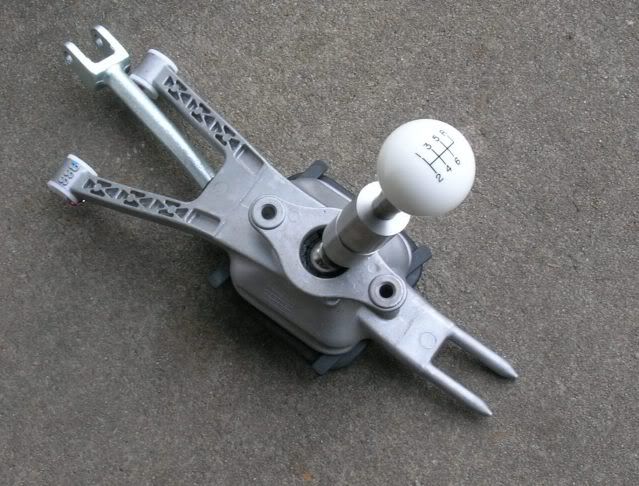 Most other aftermarket shifters focus primarily on a short throw shifter stick. They do not address the shortcomings in the linkage or improving the overall feel of the shift selection. Their throw reduction is significantly higher than ours. In our research, this is not optimum. It shortens the throw at the expense of stiffer feel. The useage of "centering-springs" and touting its great stiffness isn't optimum either. The higher shift effort seems exciting for "death-gripping" the knob but it is harder on your wrist, harder on linkage and makes it more cumbersome to find 5th gear and Reverse.
The MTI Racing Six Shooter Shifter is an engineering masterpiece, using the best materials and technology available to make the best feeling, most precise shifter for the 2010 Camaro.