From what I recall reading, the 35th Anniversary package was only available in T-Tops and Verts. (Don't remember the thing about it being an SS) but I don't doubt it. It'd make sense...
Tan interiors get so disgustingly dirty...it's sad.
my mom rented a car with a standard Tan Interior, I made a promise to myself to never ever EVER get a tan interior.
My grandpa's Lexus is a leather tan interior, it also gets extremely dirty very easily.

charcoal or black is the only way to go imo. Not from a fashion sense, but as far as - if you want your car to look clean inside as well as outside, or not.
__________________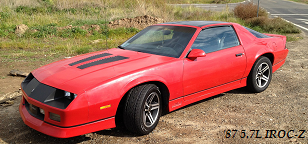 "
Camaro
Z/28
is back. Gentlemen, Don't even bother to start your engines."