Like a $2500 RS, right EllwynX?

I have to say; I was pleased I didn't see that number up there. The prices were all very reasonable, imo.
It's too bad I can't get back in. I would've loved to analyze them a little more....
EDIT: Daha! I love backdoors
...
-Rear object detection............... @ $250-350
-Premium audio system ...............@ $475-650
-Compact spare tire................... @ $60-120
-Steering wheel mounted controls..@ $150-250
-Wireless connectivity package..... @ $250-350
-Premium exterior package........... @ $1100-1600
-Remote starter .........................@ $150-250
-6-way power driver's seat.......... @ $400-500
-Leather and heated seats ...........@ $900-1100
-Power sunroof.......................... @ $700-900
Standard-equipment 18" Steel wheels
Painted aluminum 18" wheels @ $300-450
Polished aluminum 19" wheels @ $500-700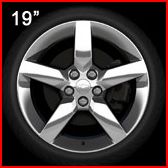 Polished aluminum 20" wheels @ $900-1100