Not affiliated with the Vendor X-treme Horsepower.
This experience is from a customer (me) perspective.
I wanted to give my Camaro a little extra oomph with out going too aggressive.
Just wanted a few mods and a safe tune
So in need a few minor performance upgrades to be done X-Treme Horsepower was willing and ready to oblige, Taking time to listen to my concerns and questions.
Then provided a professional straight forward answer to all my questions and concerns offering up solutions and options to what I was looking for in a performance upgrade.
The shop:
Nothing short of state-of-the art!
It houses today's modern high-tech equipment including to a fully computerized dyno for that special custom tune just for you and your automobiles specific application.
The store front:
On site extensive selection of top-of-the line automotive performance parts.
Don't see it on the shelf, don't fret! because if they don't have it there they can get it at a competitive cost to you and usually within a day or so from your order.
Appearance:
The facility is neat and clean
Your cars safety:
Strict no car left out overnight policy!
The technicians:
Fully staffed with mechanics that are knowledgeable and experienced with today's hot rods
The experience:
was pleasant and happy to say I will be a repeat customer.
First
was to install a MTI Racing Short throw shifter
http://www.mtiracing.com/purchase/20...10-camaro.html

which I purchased and brought in.
When installed and the job completed, I knew immediately I would be back.
Second
Returning with high expectations a few months later for a performance upgrade
Which included but not limited to…
Airaid CAI
http://www.airaid.com/images/Product...250-243-LG.jpg
Kooks Long Tube stainless Headers
http://www.kookscustomheaders.com/index.php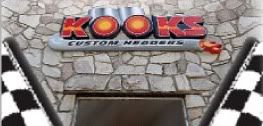 Kooks High Flow Cats
Custom Dyno Tune
Installed everything and tuned the car to its peak performance.
My Camaro now feels runs and sounds like a very different car just As soon As I drove it I remember thinking it as it should have preformed from the factory.
So if you need short throw shifter, Headers, N20, Cat back to a full-blown high performance custom built long block X-Treme Horsepower can fit the bill.
They offer several
package deals
to choose from just for the
forum members.
Kudos to X-Treme Horsepower and their highly experienced staff.
Conveniently located in the DFW Area:
X-Treme HorsePower
5102 Commercial Dr
North Richland Hills, TX 76180
Phone: 817-503-8947
http://www.xhpsolutions.com/help.php...us&mode=update