As featured on
Homepage
.


We don't get alot of chances to have a meet and cruise during the winter months in Colorado. But today we had a beautiful day and 9 Camaros got together plus one 3000GT(C5 member Blue70SS, his car went to LPE).
We got together for pics in front of the Garden Of The Gods Visitor Center, in Colorado Springs. Then we cruised the state park, which has some beautiful scenery and rock formations. As soon as we got home this evening, the Camaros went in the garages since they are predicting 3+ inches of snow tomorrow.
Camaro Owners in attendence (and Camaro5 screenname if they have one)were:
Karen - karenb - RY Transformers package
Don - Mtcwby - IOM Vortech w/Pearl ghost stripes
Larry - 2010 SS RS - IBM w/silver ghost stripes
Wes - Wildwes - RY w/black stripes
Maverick - MadMav - SIM w/black stripes
Mike ------------Black w/IOM stripes
Ed - BlackSunsine - RJT
Derek - gitRdone - IBM w/black painted stripes
Tara - CamaroTara - RJT
Garth - Blue70SS - IOM LPE650 (car is at LPE, was driving his 3000GT)
Half the group w/Pikes Peak in the background.
Other half of group w/Pikes Peak
The whole group.
Nice Line-up.
The line w/flags in background.
View out window of Mtcwby's car w/the line of Camaros going through the park.
Our newest member, Tara, she just picked up her car Friday evening.
She now has Permagrin!!
The next 3 are from Mtcwby's side view mirror of the line of Camaro's going through the park.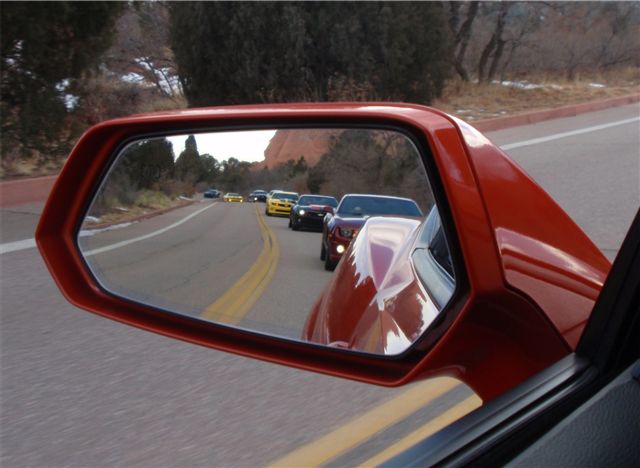 Here's a video of a Jan. 30th meet we did at Parry's Pizza in Parker, CO where 14 Camaros showed up. As well as this weeks meet at Garden of the Gods.