Quote:
Originally Posted by
n2oSS
Hello all i have a 2010 camaro LS3. This is the first domestic car i have ever messed with performance wise. Been a long time import tuner with z's and rx 7's and i am just unfamiliar with the camaro limitations.

I am about to get a slightly modified street package from jannetyracing with the headers, cats, tuner, intake, and also will be purchasing wires.

My question for the gurus here is i want to put a nitrous set up on my ss with a mild street cam and no internals being reinforced what kind of nitrous set up would you guys recommend. I really like the idea of direct port but im just unsure how much you can push the stock internals.

Keep in mind please i only use the nitrous in quarter mile runs. I don't spray straight for 30 seconds down the highways for some stupid fun as some people. So just factor on a spray of about 8 seconds.
You should be safe with a 150 shot. I would recommend a plate system rather than a nozzle setup. I installed a Nitrous Outlet 2010 Camaro Specific kit on the car with a dedicated fuel tank(C16 fuel) and squeezed a 200 shot to start but will work it up to 300 shot. It made 811 tq and 640 hp on the juice.
You can get info on the nitrous kit here:
http://www.nitrousoutlet.com/catalog...=14&section=37
http://www.nitrousoutlet.com/catalog...6&product=3925
I have them in stock so let me know if you want one.
Here is a video I took of the kit installed and purging it a little: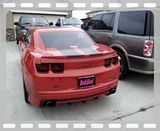 __________________
2005 Dodge Ram 2500 RCSB Thunder Road Hemi Sport w/STS Turbo
2004 Dodge Ram SRT-10 - Silver - Stock
2003 Chevy 1500 RCSB Stepside 400SS - 408 in now awaiting Turbo