The bottle is one of the best $$/hp mod out there.
For timing you can reflash the ECM with a nitrous tune when you want to spray or you can tie into your IAT and pull timing that way. You can also use a timing box to pull timing.
EFI Live has a new COS that will pull timing whenever you flip a switch. I installed the pin in the ECM and ran the wire already just need to convert the calibration into the new COS to use it.
You should be safe with a 150 shot. I would recommend a plate system rather than a nozzle setup. I installed a Nitrous Outlet 2010 Camaro Specific kit on the car with a dedicated fuel tank(C16 fuel) and squeezed a 200 shot to start but will work it up to 300 shot. It made 811 tq and 640 hp on the juice.
You can get info on the nitrous kit here:
http://www.nitrousoutlet.com/catalog...=14&section=37
http://www.nitrousoutlet.com/catalog...6&product=3925
I have the nitrous kits in stock so let me know if you want one.
Here is a video I took of the kit installed and purging it a little: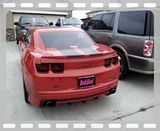 __________________
2005 Dodge Ram 2500 RCSB Thunder Road Hemi Sport w/STS Turbo
2004 Dodge Ram SRT-10 - Silver - Stock
2003 Chevy 1500 RCSB Stepside 400SS - 408 in now awaiting Turbo