L99 is only available on the Automatic and was really built to sell to the markets of Inner-City enthusiats who do alot of city driving therefor consume alot more gas and want the benefits of an automatic. L99 has 22 fewer horsepower but like some other members have said I SERIOUSLY DOUBT you would even recognize the difference in power as in their times on straight aways were split by very minimal times.

Maybe at the track the manual would have an advantage depending on the driver, but on the random Expressway Showdowns believe me, the Automatic wins.

Random Expressway Showdowns (VERB) - A suitation in which two males feel they have been challenged by a car moving in the same direction and both feel that their car is better than the other. In which at a point in time both end up flooring it And the loser is whoever backs off first, or the winner is no longer in sight. -- LOL.
__________________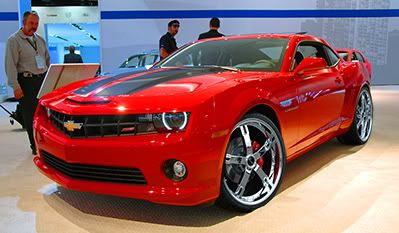 Thinking bout Victory Red 1SS/RS with Matte Black Custom Stripes. Automatic Transmission (L99)
and apparently a $900 dollar whole in my roof.
OHH.. DID I MENTION 24" off THE GROUND?!