MTI
Racing 5th Gen Camaro Shifter
MTI Racing has a great spring time SALE going on right now for our awesome
Six Shooter Shifter for your 5th Gen Camaro
.
FREE SHIPPING
and a
FREE CUE-BALL
shift knob. You have a choice of black or white Cue-Ball.
Why is the
MTI
Racing Six Shooter Shifter the BEST choice for your Camaro?
Because we focus on the "feel" of the shifter. We engineered a shorter throw, but we did so without adding increased effort. With our shifter you will go from one gear to the next easier than stock, more precise than stock, and the feeling gives you more confidence and connection to the shift action. Most other brands focus primarily on the shortness of throw at the expense of "feel". With the
MTI
Racing Six Shooter shifter, you will absolutely find each gear fast and true. The purpose of the
MTI
Six Shooter is to give the most precise feel, period. With a firm and precise feel you wont second guess shifts anymore, or miss the 2-3 shift.
The
MTI
racing Six Shooter Shifter
-The main shifter stick itself is made from high quality stainless steel. Take one look at how thick and beefy the shifter shaft is and you know it means business, this shifter is extremely strong and durable. Most other shifters use a pencil thin stick made for a V6 and adapt it to fit the V8 trans.
-The MTI Racing shifter stick attaches to the linkage via a super low friction roller bearing for strength, durability and a smooth shifting action.
-Delrin housing bushings give immediate lever action and provide extra durability. These bushings also aid the precise feel of the shifter by stiffening up the shifter assembly.
-The one thing you will NOT find on the Six Shooter Shifter are any type of springs to aid in the shifting action. We have found that springs in the shifting path can lead to a much stiffer and notchy feel while going through the gears. This is one of the main reasons people remove their short throw shifters.
-We chose a 25% reduction in the throw for everyday driveability and comfort. When you start reducing the throw more then 25% you begin to notice unnecessary stiffness in the shifting action and diminishing returns.
MTI
Racing has designed and engineeered our shifter to be the best possible solution for your Camaro. It truly is the best quality Camaro shifter on the market.
Check out what our customers are saying by clicking on the links below.
http://www.mtiracing.com/mti-camaro-...timonials.html
Check out the differences between the stock shifter and the MTI Racing Six Shooter Shifter.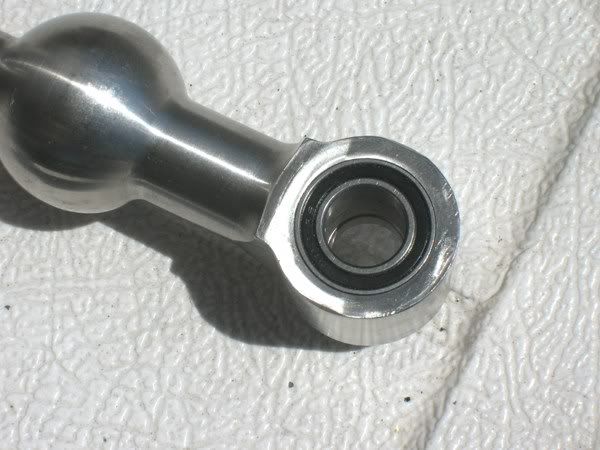 This is the roller bearing that connects the shifter to the shift linkage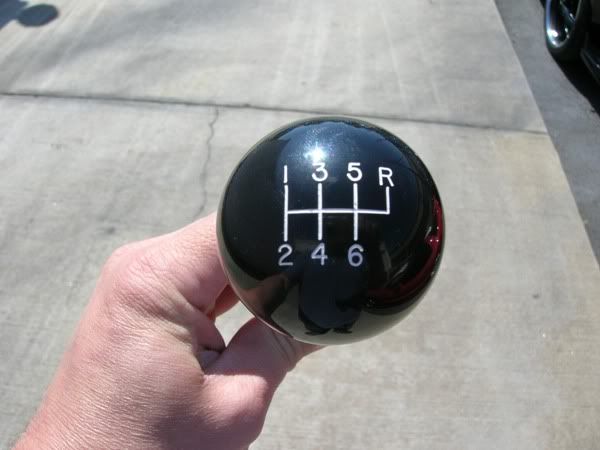 Black cue ball with shift pattern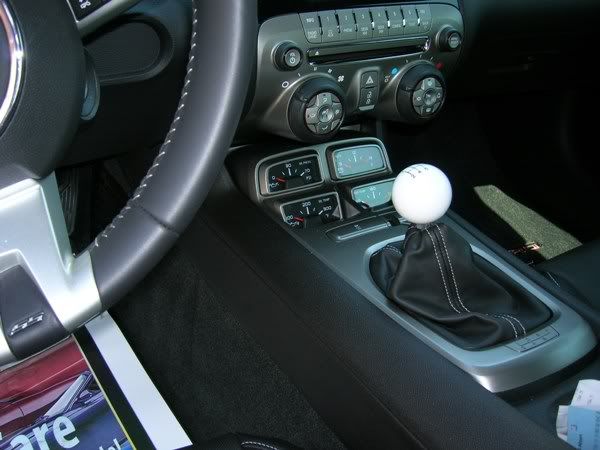 This is the shifter installed with the white cue ball