Selling my 68 Chevelle. Why? Well I'm a little tired of it I guess, but the main reason is to pay off all my debt, so I can actually save money and afford to work on another project. I'd like to find a Chevelle or Chevy II wagon project, 66/67 Chevelle/Lemans/GTO, 70-73 Camaro. and would even be willing to do a part trade + $ for the right (project) car...
Anyway, details on my car: 1968 Malibu, original A/C car (engine a/c stuff missing, still have the a/c stuff on the firewall. ODO reads 022500, when I purchased the car back in 04 I was lead to believe it's only rolled over once.
Engine: 350 +.030". Forged Eagle crank, and rods. KB Hyperutectic pistons. Dart Sportsman II iron heads. 10.5:1 compression. Holley strip dominator manifold, and Holley 750 double pumper carb. MSD 6AL box, and MSD pro-billit distributor, MSD 8mm streetfire wires. Headers (headman I think?). 2.5" exhaust with H-pipe, flowmaster 50 series mufflers, dumps at the rear end, sounds good. Engine has about 15,000 miles on it.
Trans: TH350, has a shift kit (mild, can't remember brand). 2500 Stall converter. Trans has less than 5,000 miles on it.
Has torque thust like wheels, can't remember exact brand. Kumho tires. Wheels and tires have less and 5,000 miles on them
Interior is mostly original, and in great shape for being old. The only think think was changed is the front seat cover.
Body, rust free to my knowledge. Painted 2 years ago, bc-cc. Body very straight, pretty nice paint job.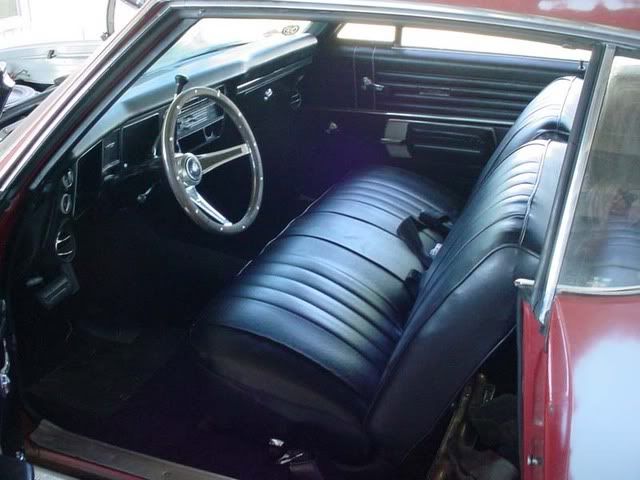 have more pics, but I dont have time to organize them and post them at the moment.
Asking $15,000 obo, or part trade for a chevelle wagon, or chevy ii wagon, or a 70-73 Camaro project, 66/67 chevelle/lemans/gto.