Quote:
Originally Posted by
caverman
Yeah...a little drama on his part...but as you can read/see he is a man of his word. You see who deleted their stuff and who didn't.


BTW: with MagnaflowPlus, you can't go by the website prices. Magnaflow has an minimum advertised price that dealers must post. I can promise you that if you called and told them you were with Camaro 5 you would be quoted a hell of a better price than what's on the website.
You are truly a douchebag...
Still trying to tell the guy he paid too much/he's asking too much...in his sale thread...you won't ever learn will you?
BTW I haven't been back on here nor given this thread another thought until just now..
__________________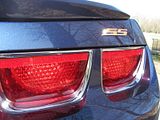 2010 IBM 2SS/RS Camaro (M6)
Previous rides:
2003 Twin Turbo Mustang Cobra(900 RWHP)
2004 KB S/C Mustang Cobra(700 RWHP)
2003 Mustang GT,Heads,Cam, N20 ect..