There are a few different theories of where the saying "a picture is worth a thousand words" originated, but it holds true in these polishing pad charts and graphics on polishing pads and their uses. Take a look below at the tables we've created explaining each polishing pad and we believe you will get clarity on some of your polishing pad questions.
Have you ever wanted to see each of the Lake Country Pads compare to each other in one place? Check out this handy Polishing Pad Chart that lists the main Lake Country Pads, Kompressor, CCS, and OEM, and their colors. The table shows how the surface is designed, type of machine they are best used with, and the sizes available.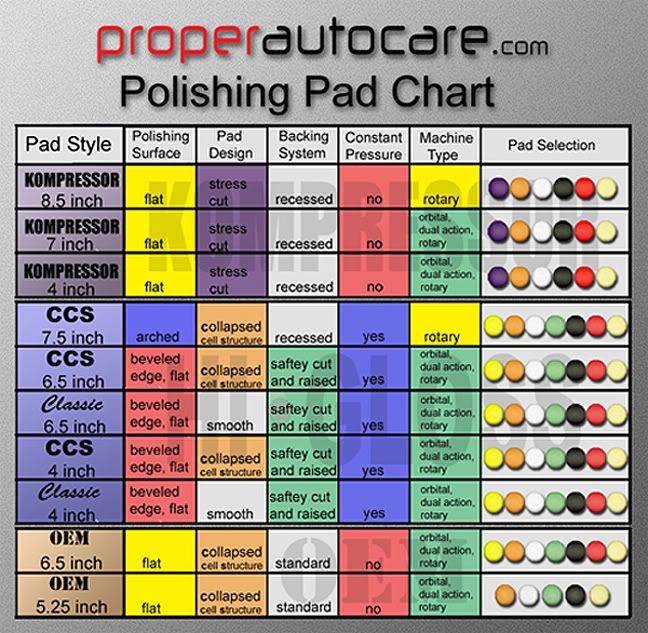 This Polishing Pad Comparison Chart compares Lake Country's pads to the Meguiar's pads. You can see how the Lake Country foams compare to Meguiar's Mirror Glaze and Solo1 foam pads. It also compares Lake Country's Foamed Wool and Twisted Wool pads to the Solo1 wool pads. A great resource you can print on one piece of paper and take with you.
Purple Super Cut Heavy Compounding Pad can be used in place of wool pads, and is only available in the Kompressor pad.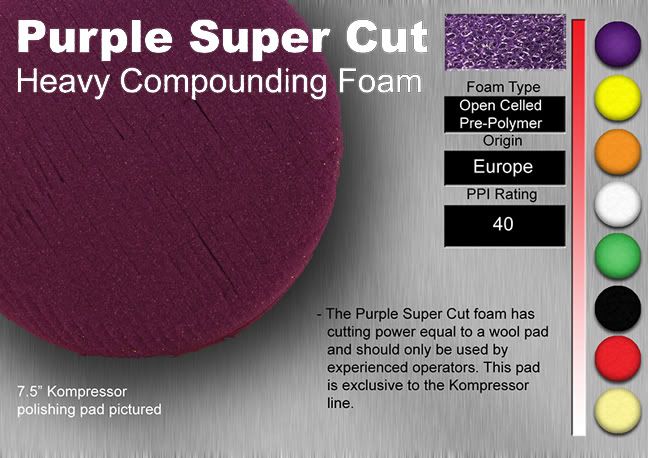 Yellow Cutting and Compounding Pad has less cut than the purple pad, and is used with cutting compounds and polishes used to remove paint defects.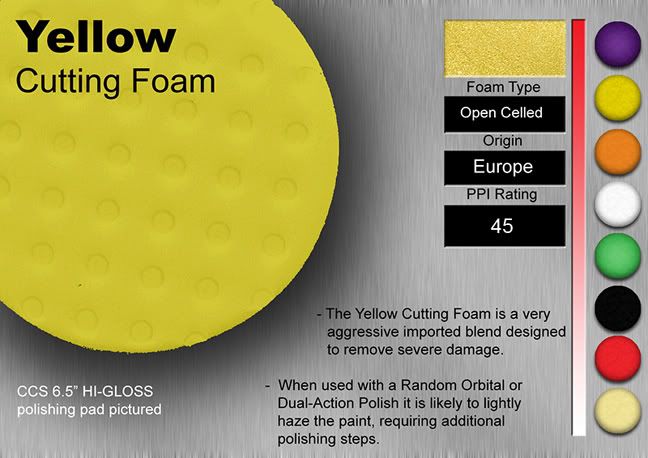 This Orange Power Pad is great for removing moderate to severe defects using the right polishes without leaving a haze.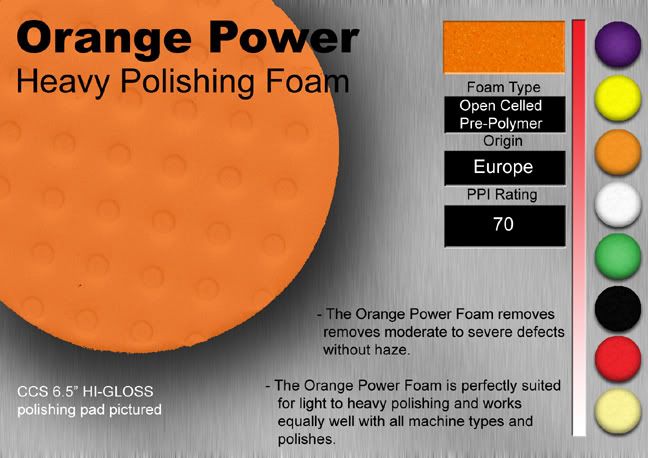 White Polishing Pads are great for general polishing and cleaning, and used with the right polish can remove minor swirl marks.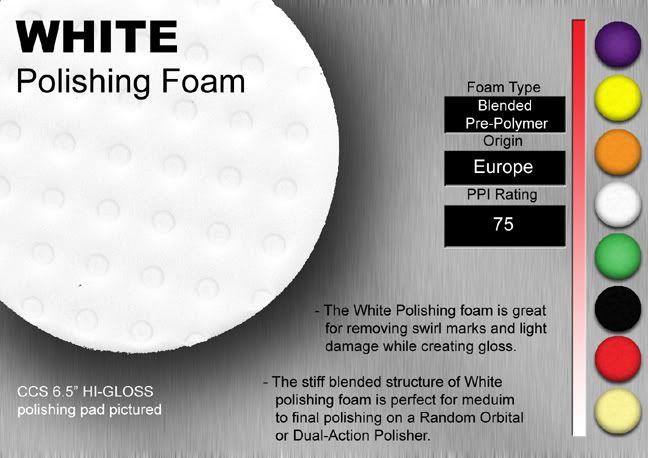 Use the Green Polishing Pad for all-in-one polishes and protectants.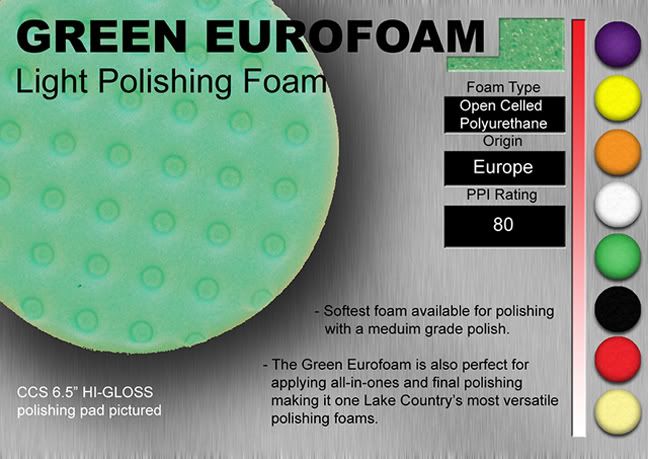 The Black Foam is ideal for ideal for last-step polishing or finessing to really bring out the shine in the paint.
This Red Finishing Foam is ideal for final machine polishing on soft paint, and can also be used to apply liquid waxes and sealants.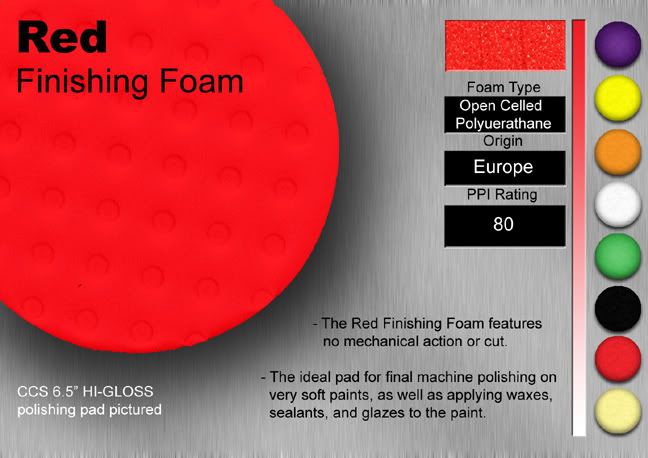 Gold Concours Finishing Foam is the softest foam available and is best for applying final waxes and sealants.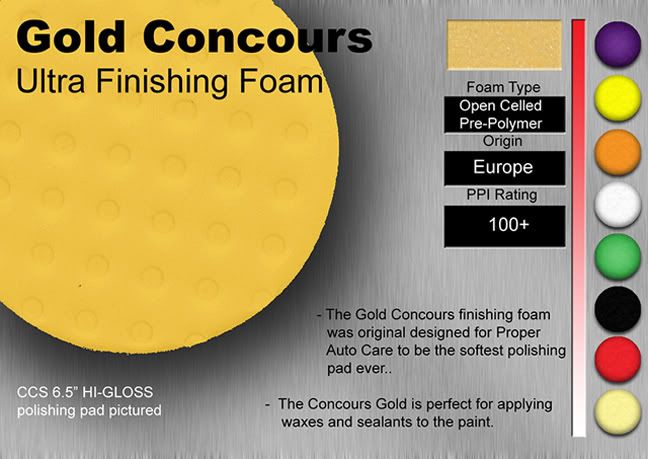 Hope helps you all out on your pad selection when you are polishing your ride.