Quote:
Originally Posted by
TAG UR IT
SLP Loudmouth FTW!!!

Price (does not cost you what Magnaflow or Borla will run)
......
20 bucks more for the Magnaflow....
400 more for the borla....
not a good price comparison tag.... you biased #@$#*))$@*$))!@&#!@&$)%#
lol
jk...
SLP is a nice setup. Flowmaster for some reason sounds like ASS on 4th gens.
but since we are being biased...
quick little clips of my exhaust (stock manifolds & y-pipe, gutted cat, Magnaflow cat-back & automatic/manual cutout)
View My Video
if you watch closely the camera shakes from the earth trembling at my exhaust. lol
another round away from the house so im not bothering the neighbors
View My Video
hooker super comp longtubes, 3" ORY, magnaflow catback. ive got a cutout, but didnt feel like unbolting it for the vids.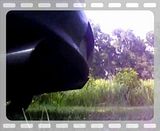 from a distance... im still runnin rich... as you'll see in the next vid
View My Video
flame throwin. i like to cook the rice...lol