Quote:
Originally Posted by
ljustin293
I attended the gathering in atlanta and I remember this car now...I will be looking for and exhaust upgrade of some kind...just not sure what yet...
I don't blame you. As you can see from the pictures of our Camaro's stock exhaust below, other than not producing the sound one would expect from a 430hp V8, it is extremely restrictive, especially when it comes to the mufflers. Whether staying NA or adding a supercharger, an upgrade to the exhaust system is extremely beneficial.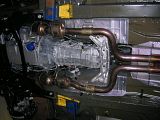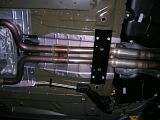 Click on any of the above pics for a larger view
We have complete exhaust systems on order from various manufacturers. As soon as they complete their design process and start shipping systems out, we will do our own independent testing to determine the benefits of replacing headers only, axle-back only, and the combination of the two. We are also in the process of designing our own axle-back muffler system for the 2010 Camaro.