I realized that I haven't updated this thread in a while, so I thought I would throw up a quick pic of my most recent mod, the Vitesse Motorsports aluminum paddle shifters. Here is a pic of them installed, and below it is a little story of the drama I had installing them.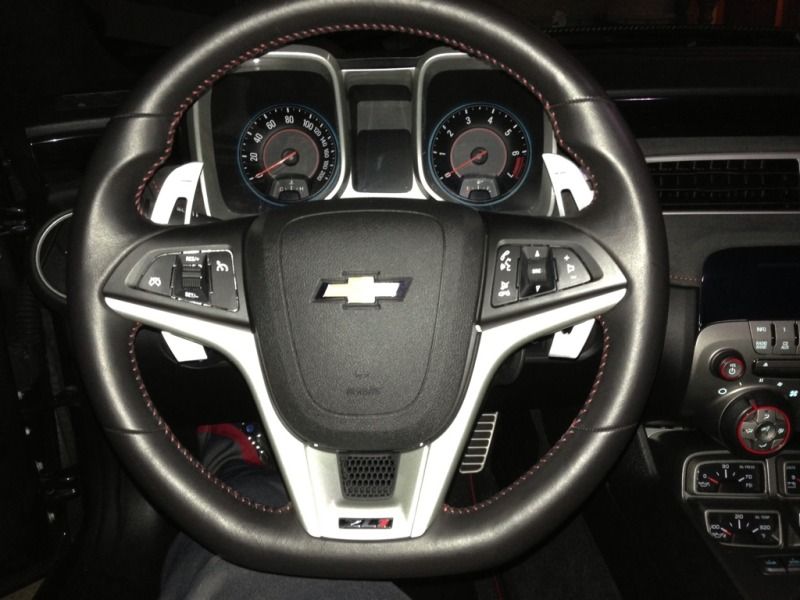 Now for the story- I received my paddle shifters for my 2012 ZL1 last week. I went to install them on Sunday before heading over to a buddy's house, thinking a 5 minute install should be easy. That was my first mistake. No project on my car has been easy, even when it is supposed to be. I get the pins holding the factory paddles off, but for the life of me I could not get the pin to slide all the way in to install the new downshift paddle. The pin for the upshift paddle slid right in the first try, but the paddle did not recoil back after it was tapped. After spending about 90 minutes on it, I was extremely frustrated and gave up and went to my friend's house to relax and play a little COD: MW3. Prior to giving up, I also had another minor setback that was not due to the paddles themselves, but it added to my frustration level that day. I lost one of the pins that hold the paddles on. And when I say lost, I mean gone, like I have no idea where it went. It flipped out of my hand, hit the steering wheel and I thought it went inside the dash. Apparently it did not (which I found out after taking the drivers side dash panels off. After getting home, I was determined to get the paddles installed. After fabbing up a new pin out of steel rod stock, I got them both on, kinda. They still didn't move smoothly on the hinge pin and didn't pop back out after tapping to shift. Frustrated again, I emailed the vendor (Ahmed) and explained my problems. He was very responsive and we exchanged multiple PM's that night. I was very close to sending them back for a refund, but Ahmed asked that I give him a few days to figure out a solution. He emailed me back yesterday and explained that I needed to open up the holes a little more (with my Dremel) to make them move more easily on the pins. I had already done that on my downshift paddle to make it work in the first place, but I needed to do it to the upshift paddle as well. After geting that done last night I got the paddles installed, and they worked and I was happy.
Obviously it was a little more than a minor setback, but Ahmed was great to work with throughout the situation. Looking back on it, I probably could have fixed it in less than an hour, but hindsight is 20/20.
I have also recently installed a new JL XD700/5 amp in the factory location. It was a great improvement over the stock amp. Next I am working to install a single 12" sub with a stealth box. I am helping Dennis over at Double D Mods modify his current box to fit correctly in the 2012+ models with the hump in trunk.
I also have a stack of other mods sitting in my garage waiting to be installed. When it gets a little warmer here, I will be installing everything and taking tons of pics. I've got a lot of good stuff coming, so please stay tuned!!
Thanks for stopping by!