Hello all. Since some of you have asked about how I did my engine cover mod, I figured I'd write up some instructions for those of you that might be interested. The first thing I did when thinking about doing this mod was find an extra engine cover for sale on Ebay. I got mine for around $75-$80 if I remember right. Some will be cheaper than others but I wanted one brand new so I paid a little more. I wanted to have a second one for the project in case I screwed it up I still had a usable cover. Now that the project is complete, I have a regular one to use when I'm not showing the lighted one off.
I have to give credit to d69chris and SSE 4 2SS for the initial mesh idea. I went off d69chris' instructions for the cutting and sanding etc. His write up can be found here:
http://www.camaro5.com/forums/showthread.php?t=42523
SSE 4 2SS' cover can be found here:
http://www.camaro5.com/forums/showth...=52592&page=11
(post 258)
Once I initially saw the mesh mod I knew I wanted to light it underneath. I hadn't seen one lighted yet but figured someone had done it. I found this thread by summitSS. His pictures are no longer posted for some reason though.
http://www.camaro5.com/forums/showthread.php?t=87288
I had previously installed the AAC colorshift halos in the headlights and fog lights and knew that I wanted to have the same effect for the engine cover as well. I began looking for strips of RGB lights that I could tie into my existing contoller from AAC so that all the lights would be in synch. I purchased two 1 foot RGB LED strips from Oznium.com here:
http://www.oznium.com/led-ribbon
The one foot strips were the perfect size for each side of the engine cover. These also come with plugs on them making it easy for me to disconnect and store my engine cover when I don't want to ride around with it. Usually have it stored unless I'm at a show or I'm showing it off to other Camaro nuts like everyone here!
Here are a few of the things I did to complete this project and pictures so you guys can have a good idea what I'm referring to.
I began by using painter/masking tape to mark off exactly what I wanted to cut out. Then I used a sharpie and straight edge or ruler to draw lines along the tape.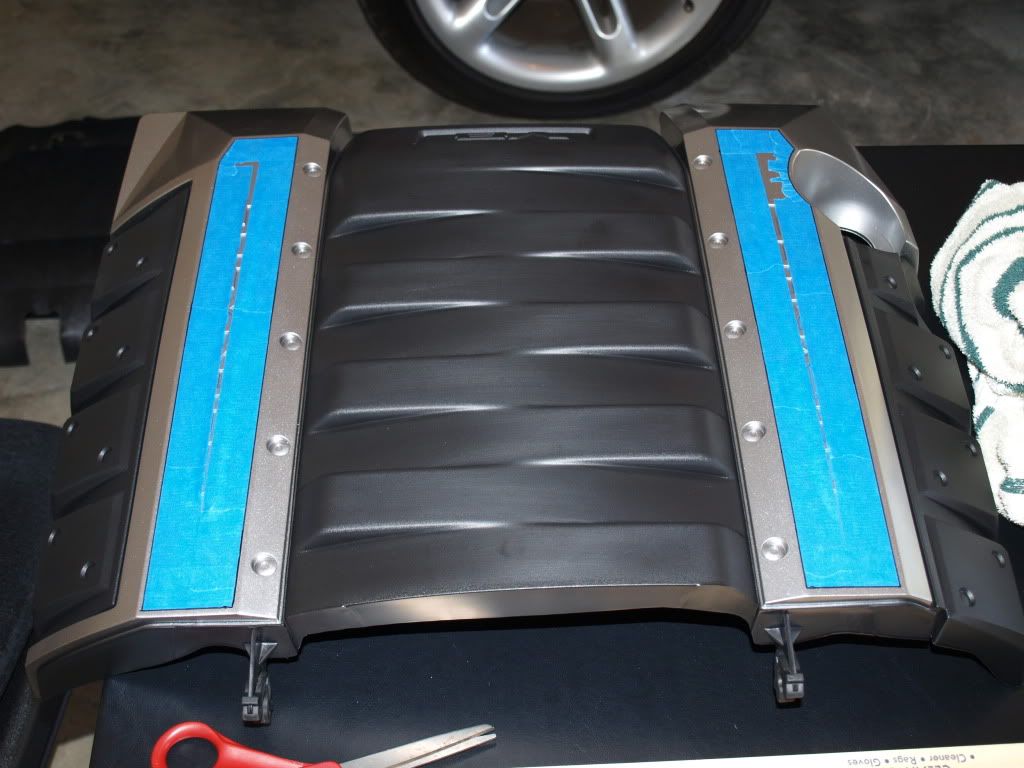 Once that was complete, I drilled holes into the corners of the part that would be cut so I could get the jigsaw blade in there for cutting.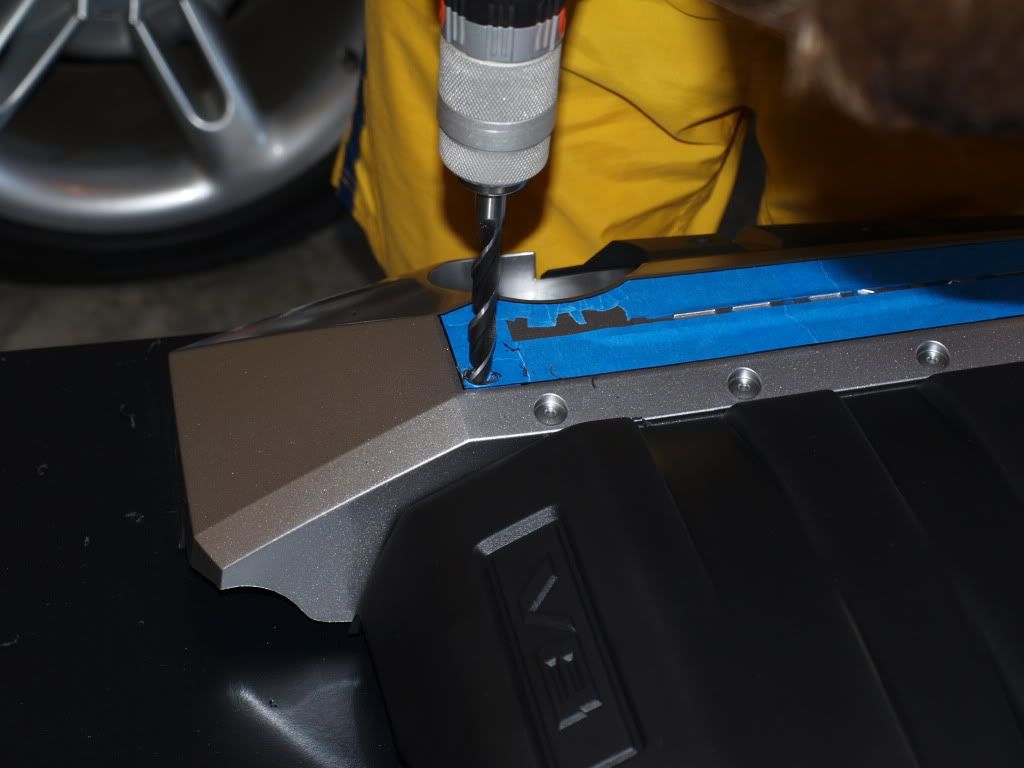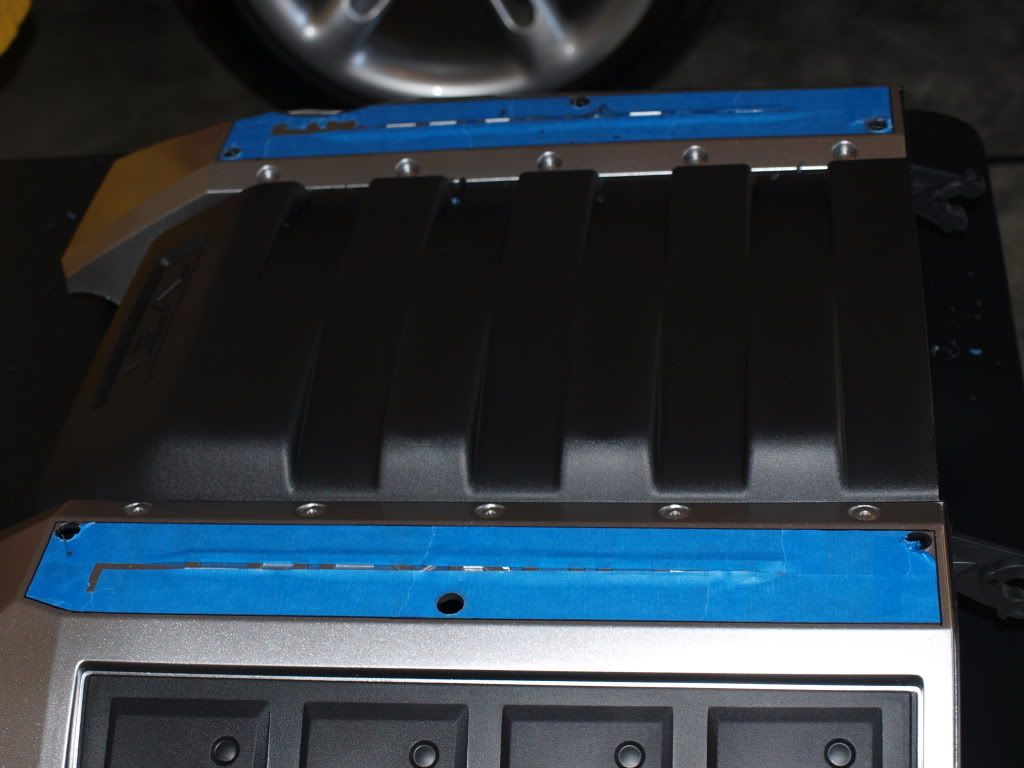 You can see all the holes here with the light shining through: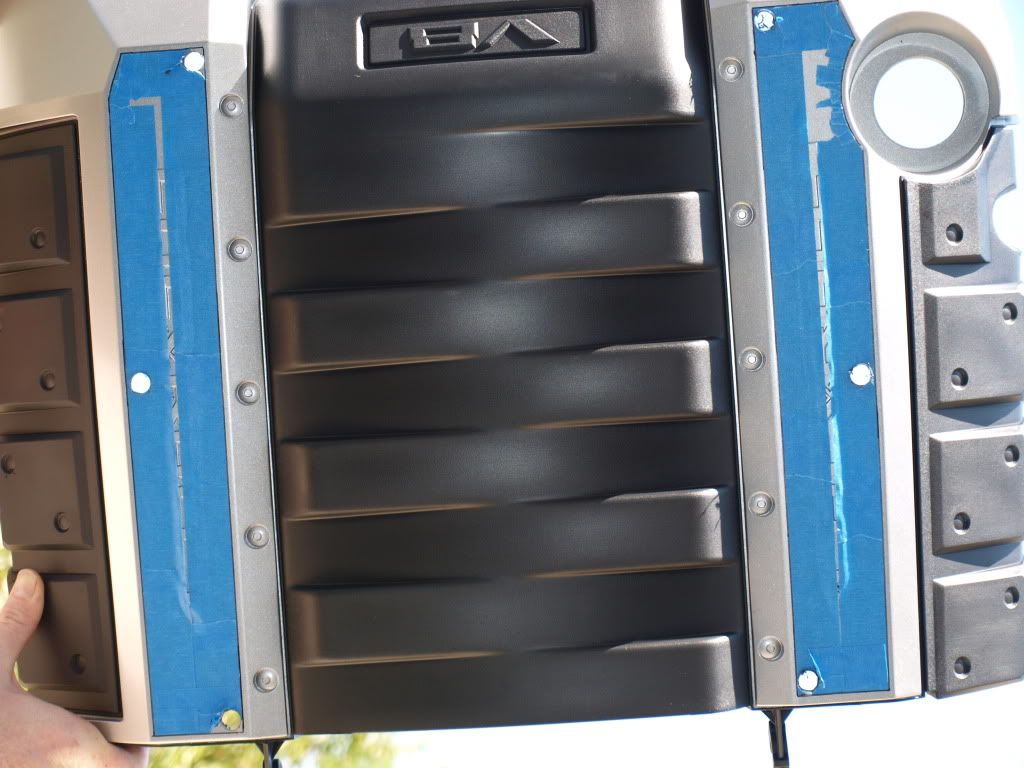 Next was the cutting. Just follow the lines you made and TAKE YOUR TIME. Keep in mind though that as the blade heats up, it may melt the plastic. If this happens just stop for a few minutes to let the blade cool and then continue on. I had to do this several times as I was taking it nice and slow to make sure my lines were as straight as possible. After I was done cutting, I drilled holes where the simulated bolts were on the top and sides of the engine cover.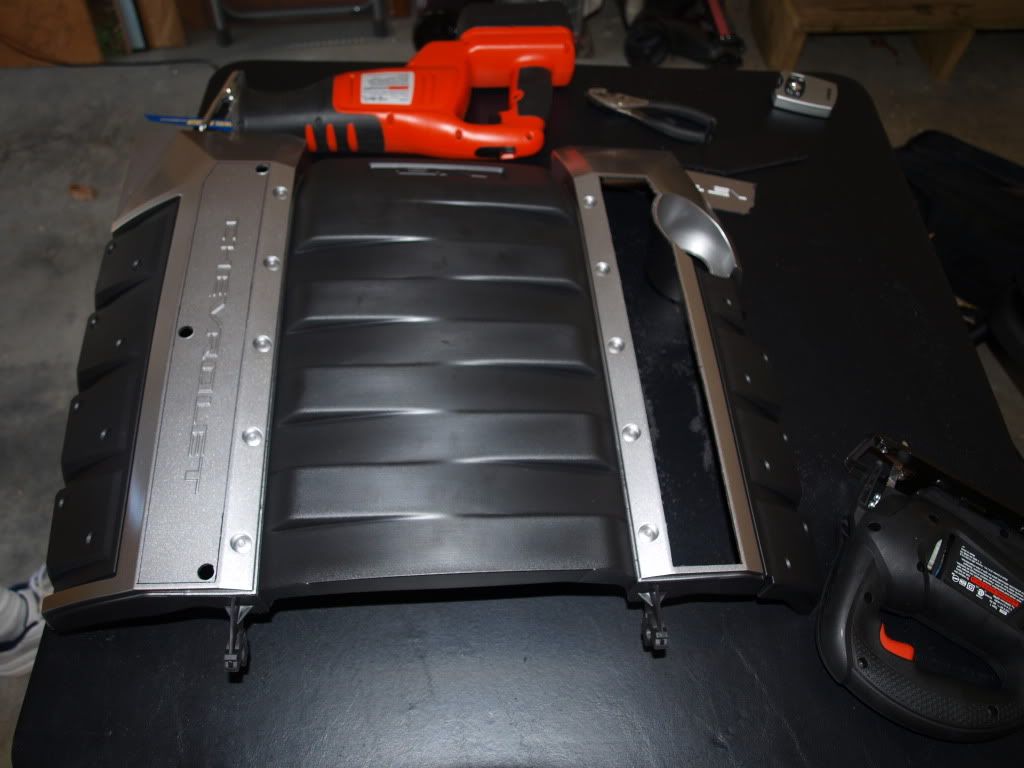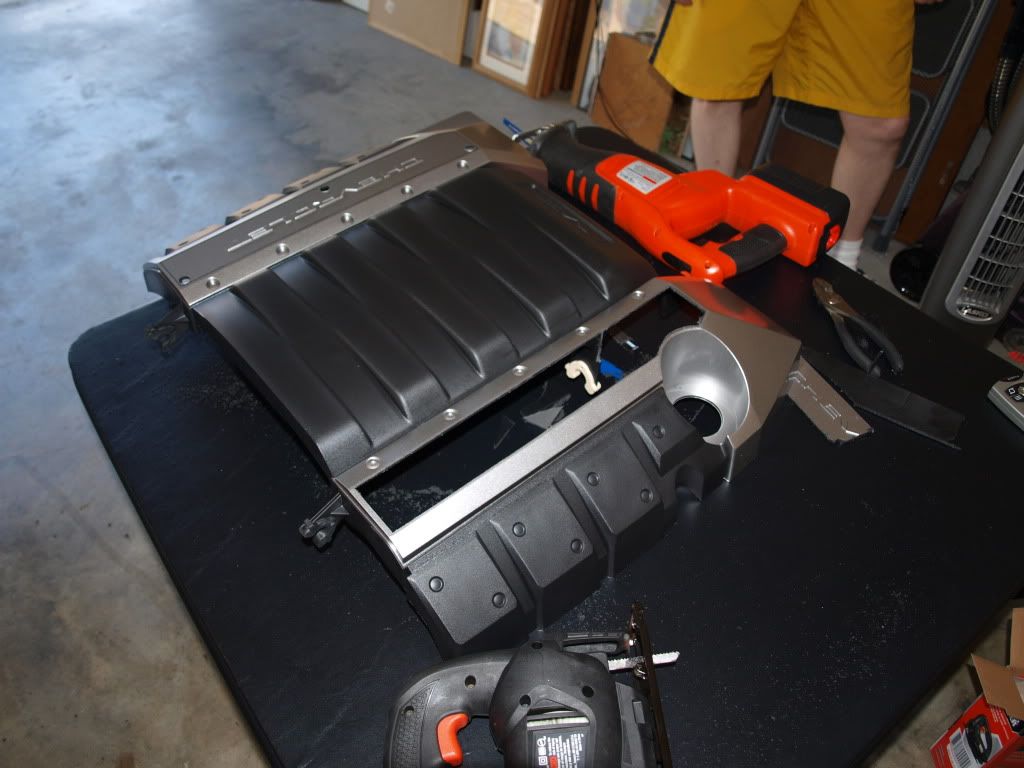 Next I sanded the area for painting and then masked it off with newspapers and tape. One thing I did not do however, and I should have, was get a can of adhesion promoter and spray the area with that first to help the paint. It still turned out ok but I ended up wetsanding a few times in between coats.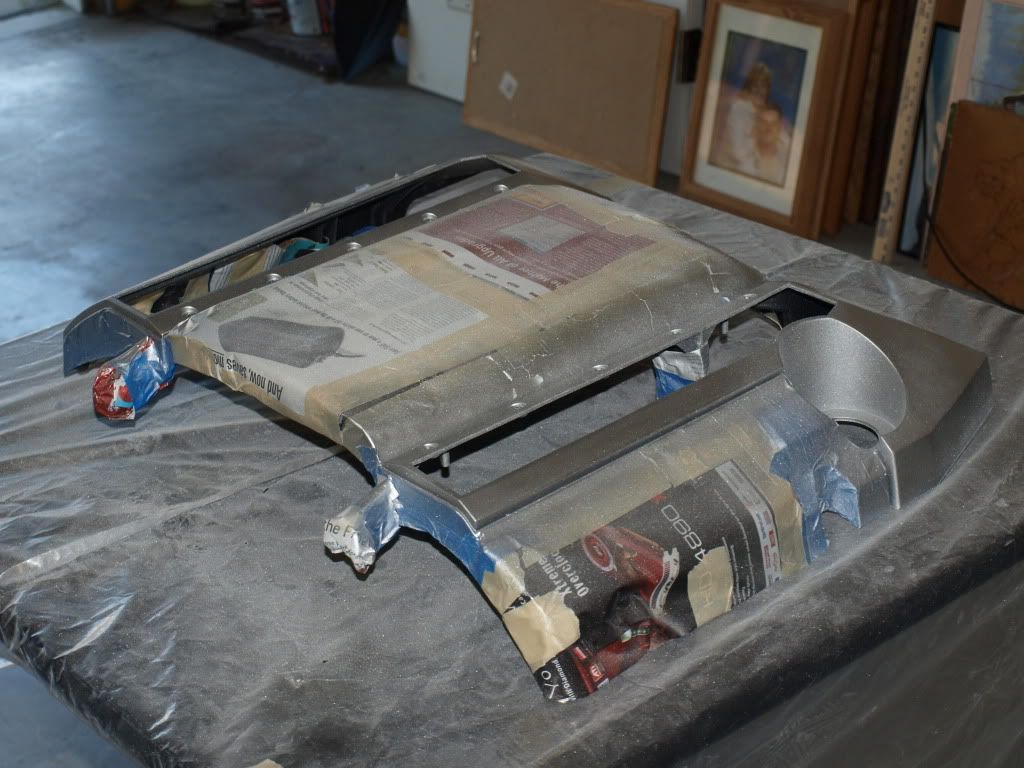 After I was happy with the paint, I sprayed a few coats of clearcoat on for protection and to help bring out the silver even more.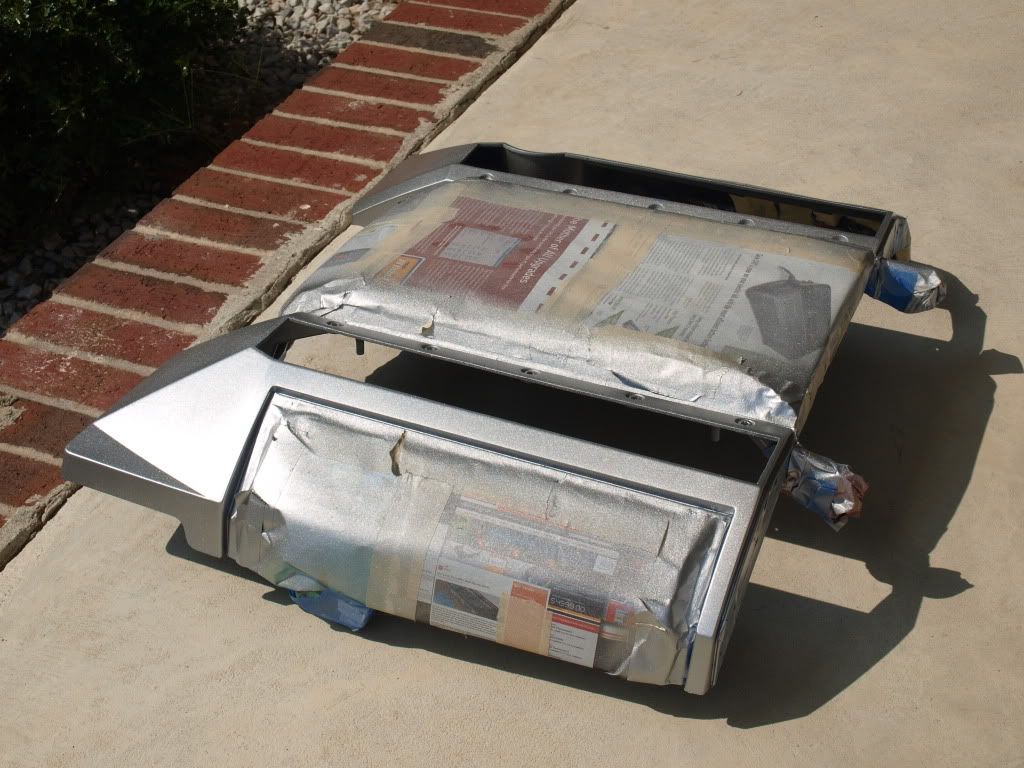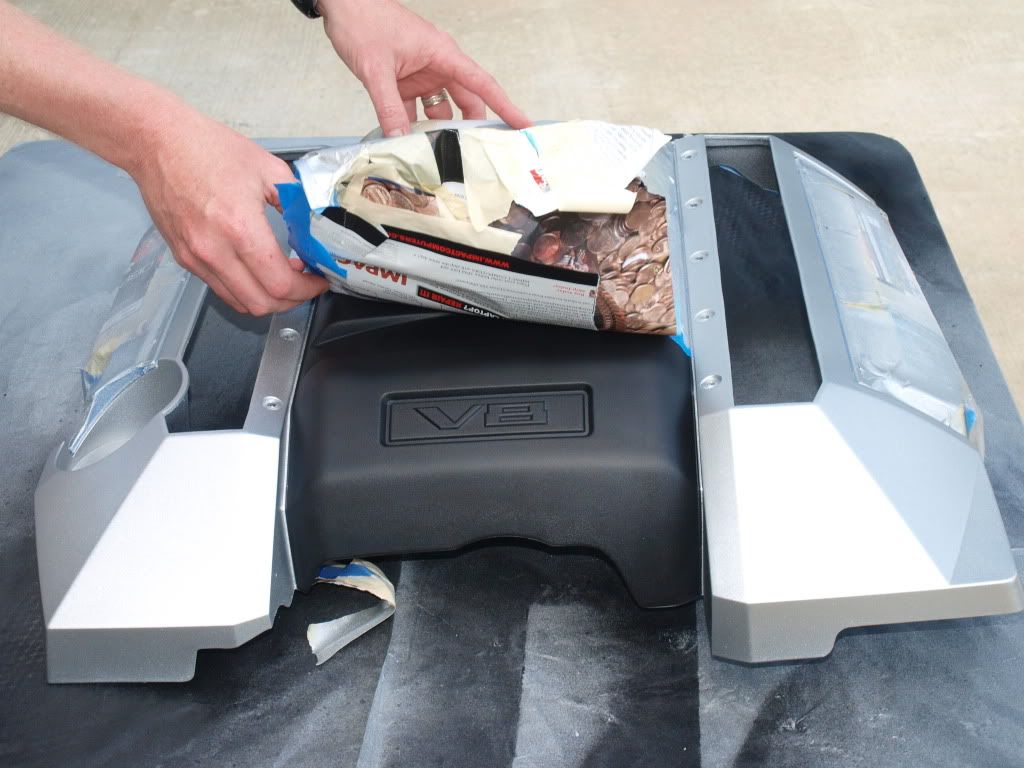 Here is the type of mesh I used. I purchased this at Home Depot and it was like one or two dollars if even that per sheet of mesh. This mesh is the type used to keep leaves out of the gutters on the roof and has two small mounting hinges on it. I spray painted this satin black as I didn't want gloss because I felt satin would go better with the unpainted parts of the engine cover. I also painted the screws that would be going on the top of the engine cover. I wanted contrast between them and the silver so I painted them black. The remaining ones for the side I left alone. These were also purchased at Home Depot and I used the size and type recommended by d69chris in his thread.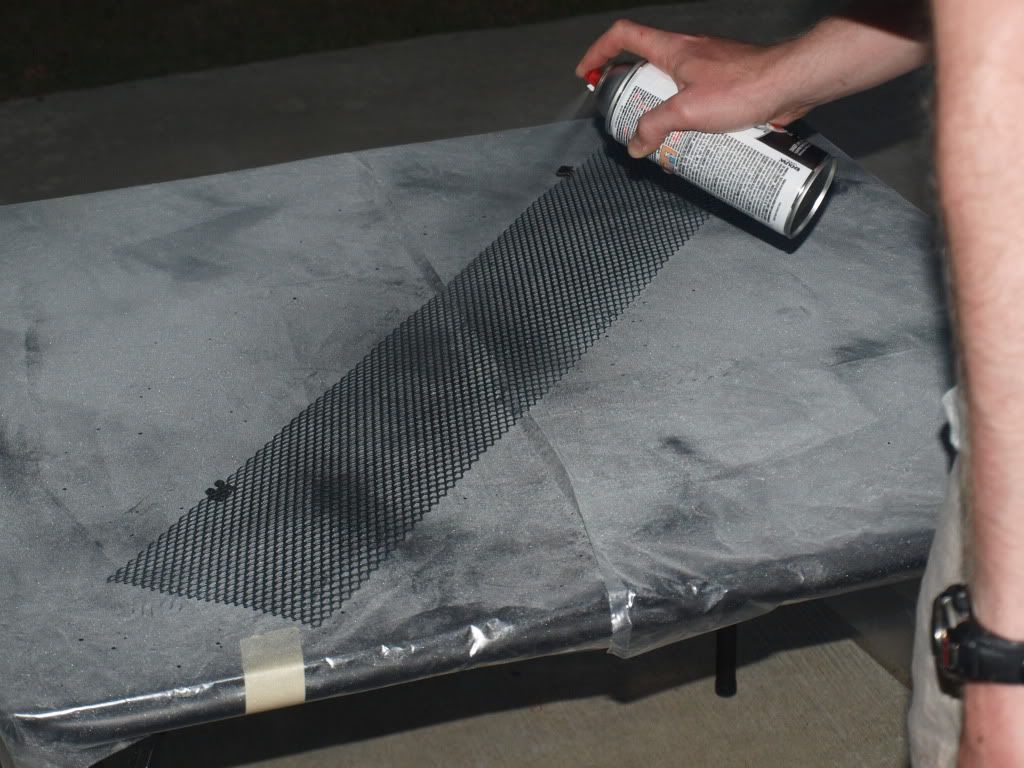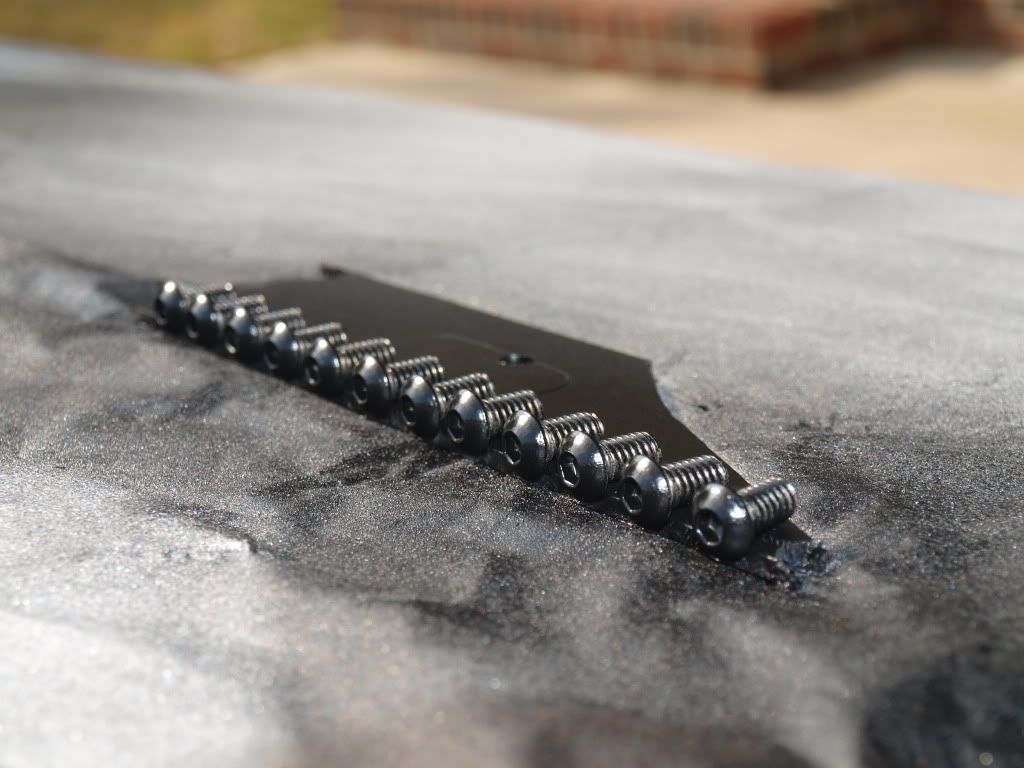 Next I began putting all the bolts in. First the black ones on top, then the silver ones on the sides.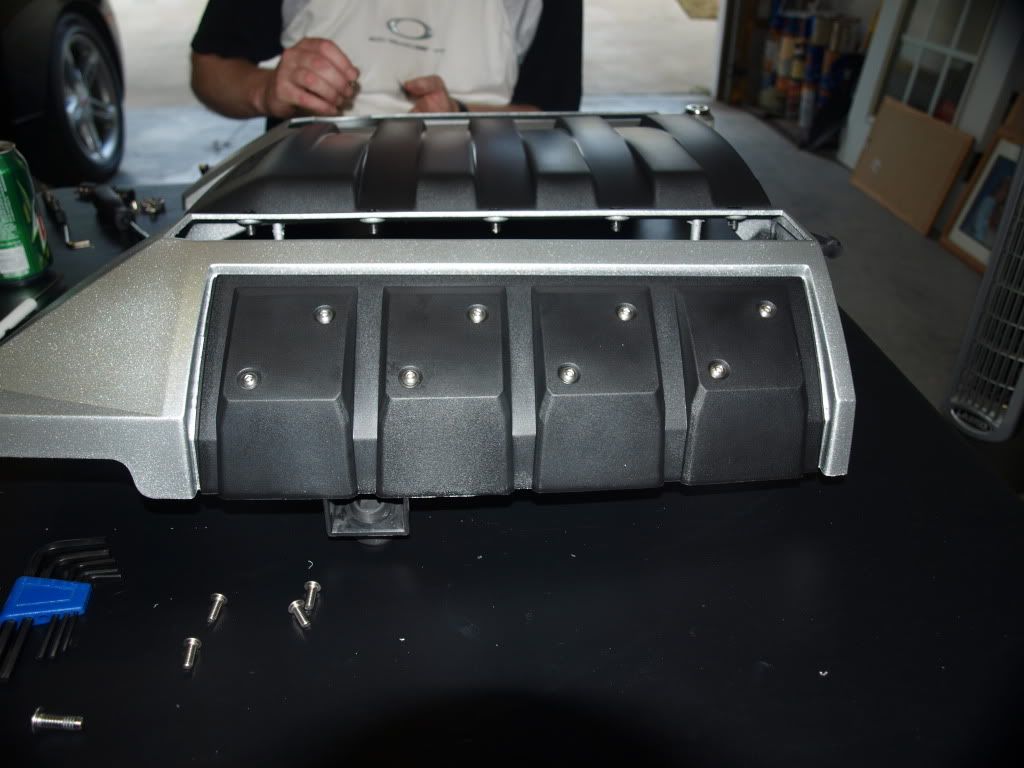 Next was getting the mesh cut into the right size. I used an extra piece of mesh to make a template for each side. Then placed it onto the painted mesh to do an outline for cutting. After that it was just a matter of tweaking the cuts and bending it so it would lay properly. After that, I used JB Weld to secure it and weighed it down with tools on each side so it would dry overnight.
Mesh in place! However I had to do a little more tweaking and touching up. If you look hard enough near the back, you can see that the mesh is not very flush with the top of the opening. Just had to bend it and shape it carefully so I didn't mess up the JB Weld holding it in place.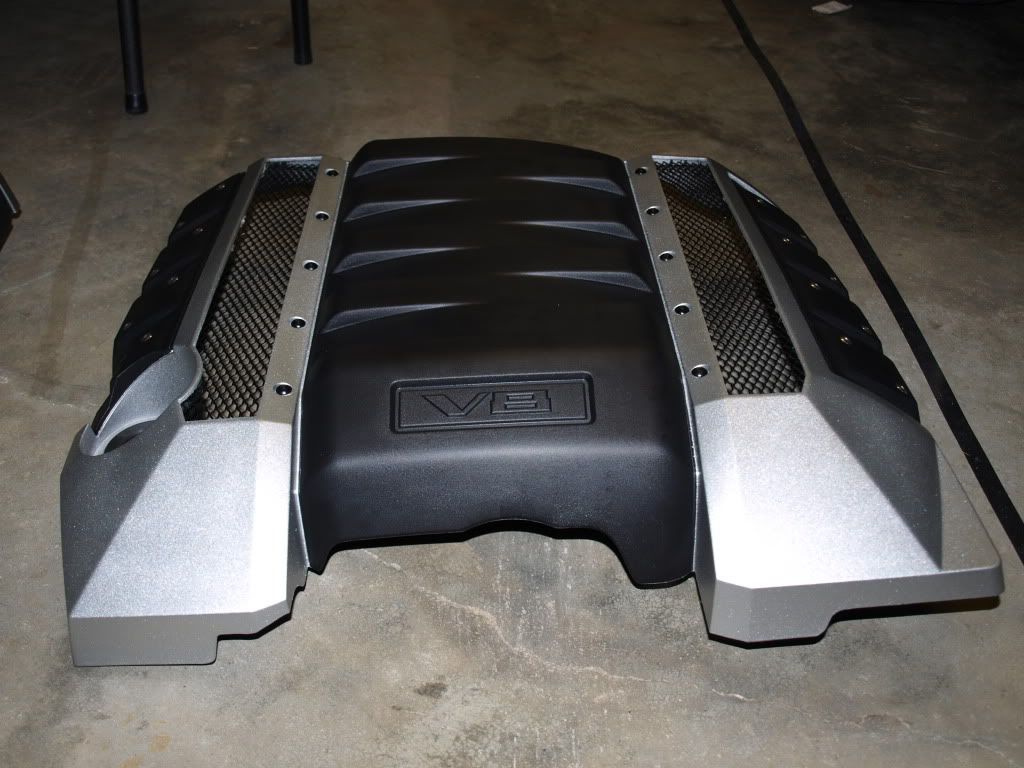 Now for the lights! The LED strips already had 3M adhesive on the back of them so I pealed the protector off and then went to stick it in place. Some places were holding better than others but I used some super glue here and there and that held just fine. You may need someone to help you though if you do that. Also, take a look at the back of the engine cover and you will see I drilled holes for the wire leads to run out for connections.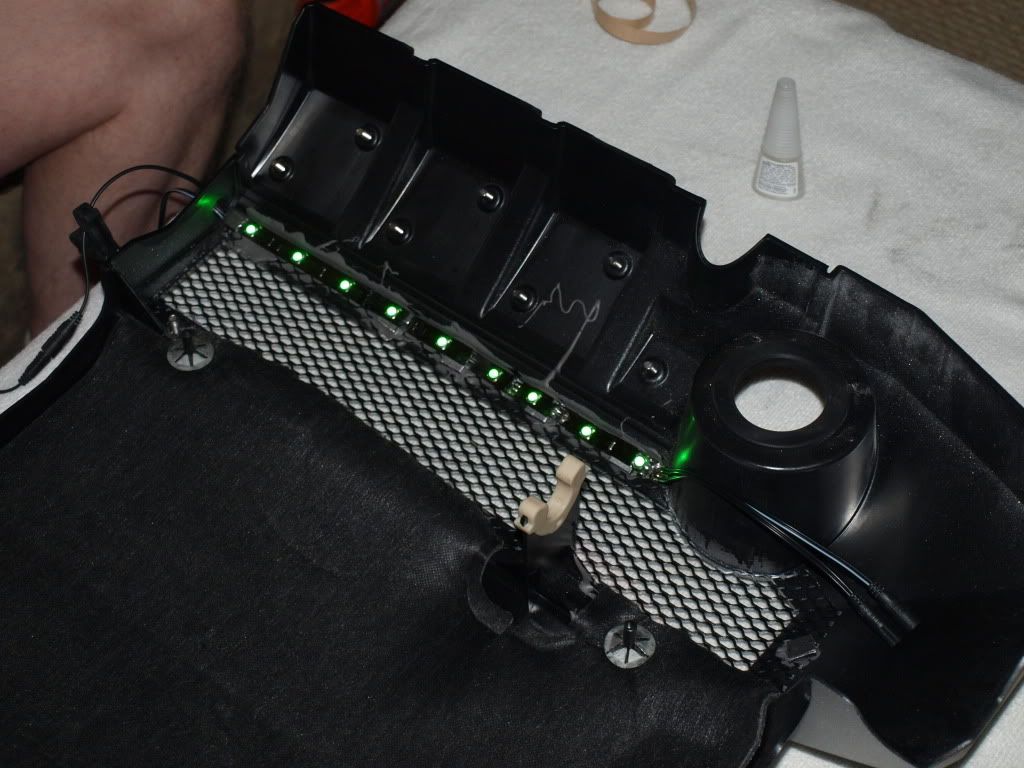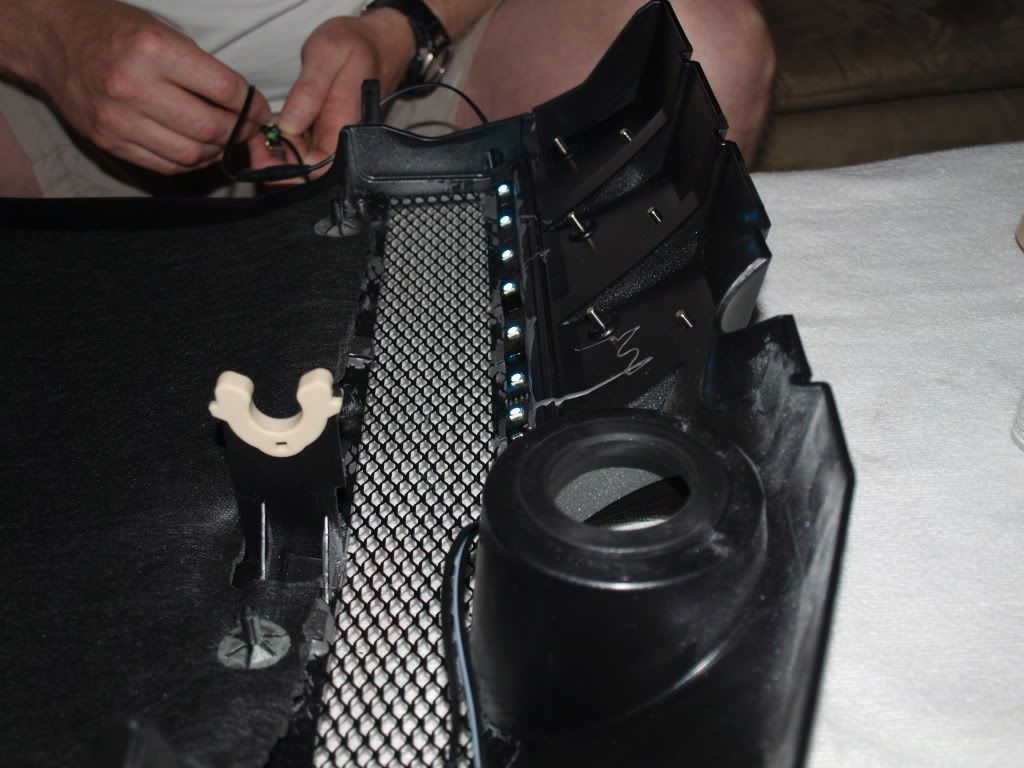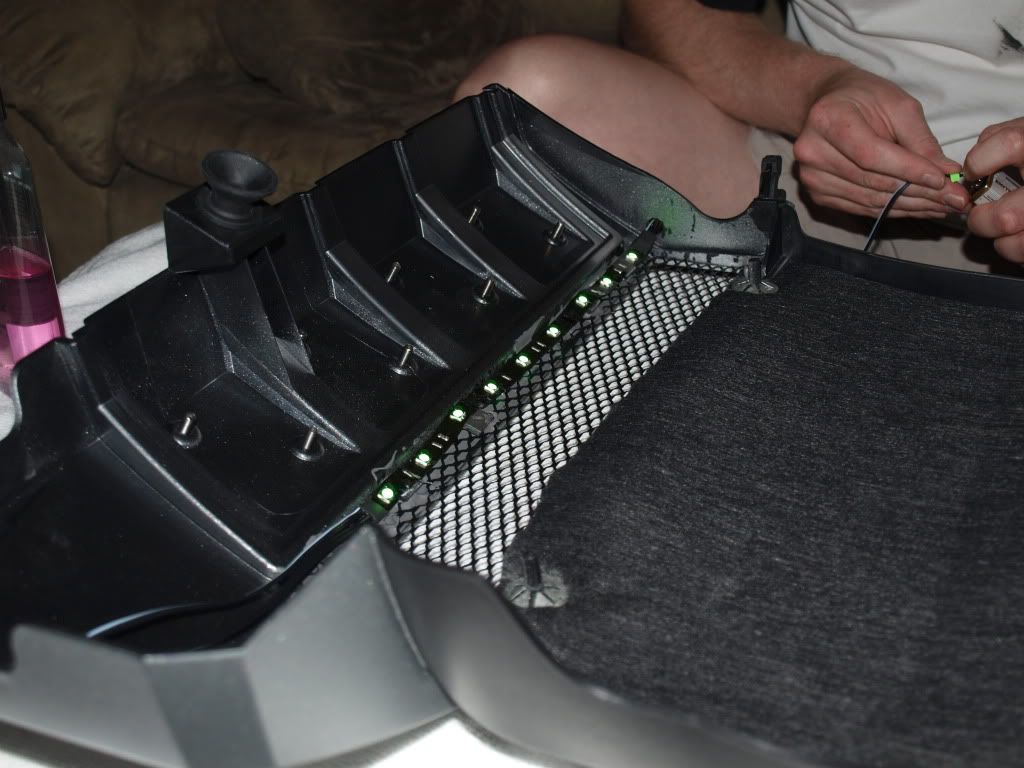 And there you have it! A colorshift engine cover!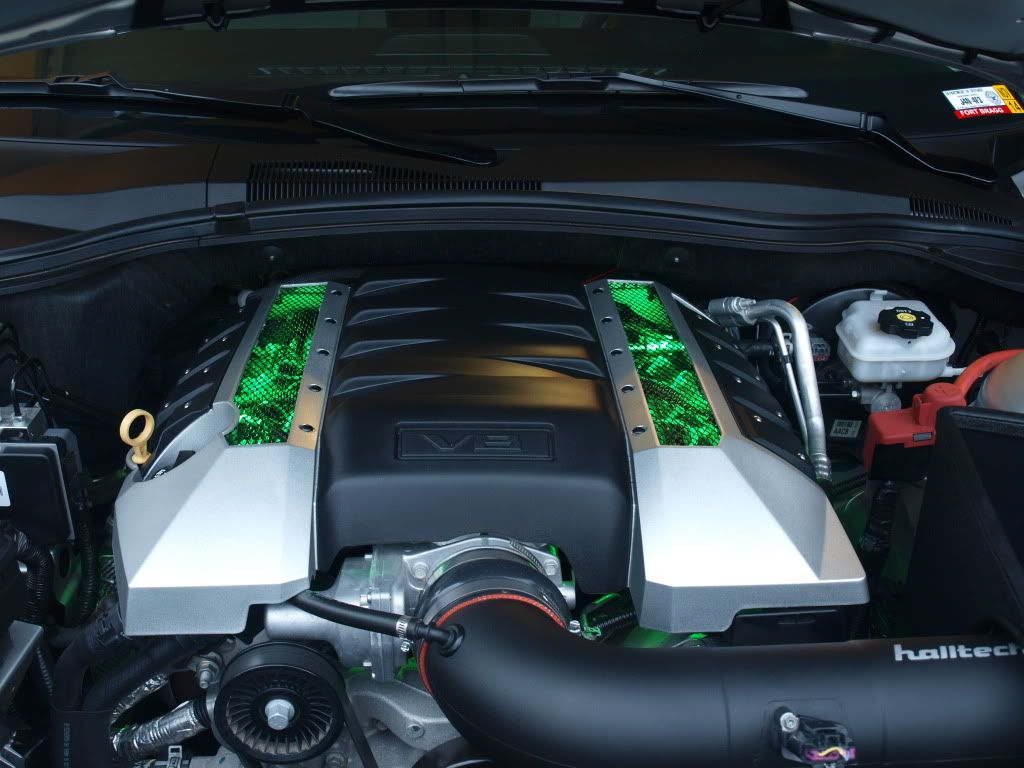 Good Luck!!!
I definately want to say thanks to all those mentioned previously for their write ups. I also want to thank my wife who helped me tremedously on this project, as she loves the Camaro just as much as I do!
Adam