( A bunch of folks here have been following this thread over on another forum so I thought that I would just post it here also. Quite an adventure it was... )
... and it wasn't pretty either.

I went all NASCAR and taped it up so that I could drive in home.
This is why I couldn't pursue the guilty party.
Here's what happened. It was 0-dark thirty at night and I was rolling at around 80 through the mountains of Chattanooga, TN. I was coming down a bridge when this semi threw a retread. I had a concrete barrier on my left and right and was going to fast to swerve so I grabbed the steering wheel with both hands just in time for the impact. The car shimmied and I immediately pulled over. I knew it was bad, I just wasn't really wanting to see how bad.
I got out of the car and looked at it and just stood there in disbelief. Semi was long gone and there I was in a little shock.
The insurance company wanted to put the car back to stock and raise my rates but I wasn't going to have any of that. So I told them to go screw themselves and I went shopping for a new provider. In the mean time, I'm fixing the car myself and this thread will chronicle the experience.
I have already started ordering the parts I need thus far. A new Tiger Shark fascia from Starcraft (by way of J.W. Motoring), a new fender and a new wheel housing. That was over $2000 for those three parts alone.
We're just getting started.

Okay, here are some updates!
Since the inner fender housing was damaged beyond repair, it had to come off the car. This was not a fun time as the inner fender is glued to the frame.
You can see how it is glued in this picture.
The horns were all finagled and bent every which way. I straightened one out. Check out what is left of my fog light.

Test fitting the new inner fender.
Prepping the new bumper.
Test fitting the fender and bumper:
What's left of my fog light...

I finally got into the hood and found out that the fiberglass wasn't cracked, thank God. It was just the paint that was damaged so I got that knocked out. I also got my alignment all together so all of my seams look great.
Finally got the inner fender in place and glued to the frame. That is an adventure unto itself. I don't wish that on nobody. :(
It appears that my skids were slightly bent and I darn near crapped on myself trying to pull them straight. I finally unfangled my horns too. I am going to replace my turn signal sockets while the bumper is off and redo my fog light wiring. I'm also going to replace my high beam 4300 HID's with 5000's. I'll probably do away with that 197 bulb. I don't like how it matches with all my HID stuff. The 197 bulb is the one that is illuminating the inside of my high beams in this picture.
Tomorrow, I go get my paint. I should have it primmered and ready to paint by this weekend but I have to do a detail clinic in Texas so I'll wait until next week. I'm going to have to do a lot of clean up after all this is done. My hands will probably be worn out after all the buffing I'll have to do too. I want to make sure that every drop of orange peel is out of the paint so there will be a lot of wet sanding and clear shooting in order to match the undamaged paint on the car.
I am going to paint the entire dog house and blend into both doors. I am not going to chance having any unmatched paint lines.

I finally got all the body work completed and laid my primer and paint.
Halfway decent for a "brutha' in his friend's garage production" (my friend has the air compressor I needed)!
Now comes the fun of wet sanding all the orange peel away. This is as much fun as claying, another arm burning activity. I'm starting with 2500 and working my way through 3000. I'll then re-clear everything and go back again with 3000. I'll then re-clear again and it will be slick as snot, with plenty of clear on the car.
My first clear, wet sanding and buffing...
In progress...
And the saga continues...
Well, I finally got all the headlight wiring figured out and repaired. Everything is nice and bright again. First, my halos or "angel eyes".
Then the high beams, which I changed over to HID's...
And the low beams...
Now here's something that you have to consider if you are a C5 Corvette owner and decide to goo all HID's with your high's and low beams. When switching from low to high, the high beams need a few seconds to reach their correct brightness. That means that when you first switch over, you'll practically be driving in the dark!

This of course is not good. Thus, I needed to make sure that my low beams stayed on whenever I switched over to my high beams. This can be done by what is known and the "4 on or high four" mod. It can easily be done by changing the circuit design in the following manner.
Now I have enough light output to land a 747!
Next, I installed the brake cooling ducts...
Then came the fun part. Installing the bumper was an adventure to itself because you had to keep the fog lights and brake ducts in place as you did the install. This was a PITA! I must have spent 3 hours trying to get that darn thing back on!
After getting the bumper on, I kid you not that I spent about 6 hours trying to get the alignment perfect. There's obviously a trick to it at the factory and trust me, I don't know the trick. Thus, I had the fun experience of learning it. I have it presentable right now, but I know I'll spend a couple more hours messing with it again. At least it's straight.
Next, the lights went back into the car...
I still need to enclosed the headlights with their shrouds and add the covers but hey, that was 18 hours worth of work that you just looked at! :eek:
Well folks, the "Junkmobile" is rolling again! I want to thank all the well wishers in this thread and all those who jumped in just to have a look. I must say that I am very happy about the way it turned out, much better than any dealership could have done. My alignment of the body panels is better than it was at any point. I still want to tweak it a bit but hey, I'm always trying to go for perfection.

The first thing I needed to do was get her back into the garage and put a 2-bucket wash on her.
After that, I took her out for the post-wreck cruise.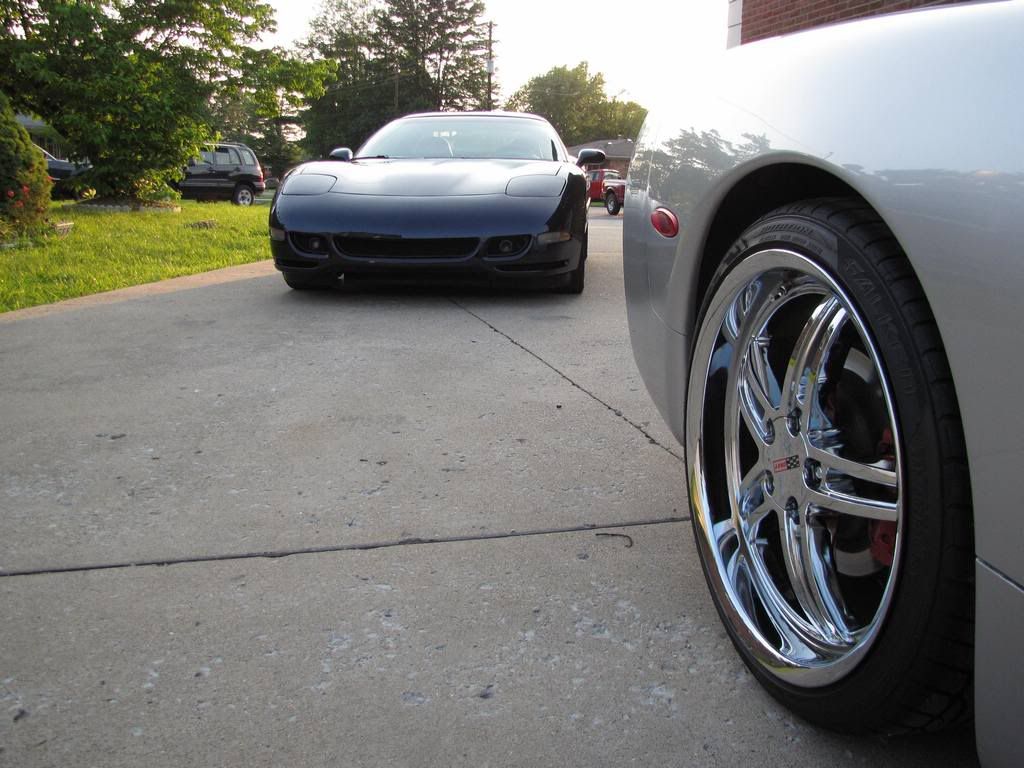 Now I have a lot of detailing to do to the paint and engine compartment but hey, that's what I do. At least I can take advantage of the summer weather now. Total cost for the repair was around $3100 with me providing the labor and food for my buddies. It's the small things that nickle and dime you to death. I am not looking forward to ever having to do this again!

The Junkman