We are currently running a sale install special on ECS and Whipple Supercharger Setups. GIve us a call to schedule your install.
ECS Supercharger Setup - $7250.00 Installed & Tuned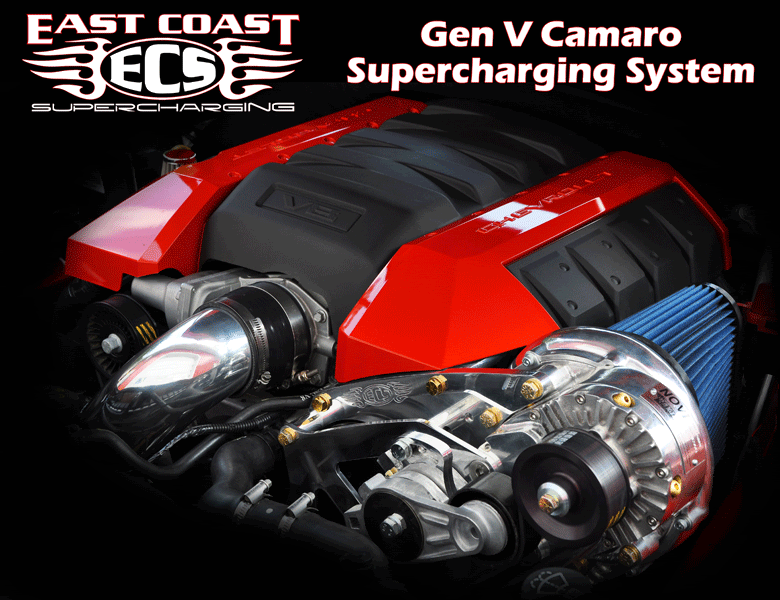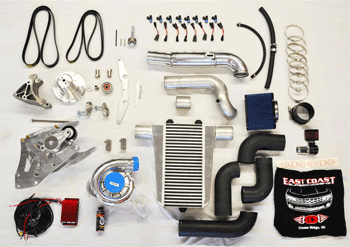 East Coast Supercharging has just released their high output Gen V Supercharging system!!! Our base system features the quiet and reliable Paxton Novi 1500 Head Unit, which has proven to to provide more than 750 rwhp on stock LS3s!
This system was designed to be easily installed without removing the nose of the car and provides a dedicated 8 rib supercharging drive system to provide positive belt tracking no matter how much boost youre planning to make.
Our base system is designed to deliver 525 – 570 RWHP on otherwise stock cars, but is expandable with optional head units and blowoff valves capable of more than 1000 RWHP if desired.
Base systems come complete with a polished headunit, bracketry and charge piping, a quiet and reliable bosch blow off valve, a Kenne Bell Boost-A-Pump, 60lb Motron injectors, and a high flow front mounted air to air intercooler system in addition to a dedicated Crank pulley and HD Tensioner assembly. The kits are complete with all necessary hardware, silicone hoses and belts.
System Contents & Features:
Kit adds approximately 200hp to otherwise stock vehicles, and the capability to deliver far more on modified cars.
Belt driven NOVI 1500 centrifugal supercharger provides unmatched reliability (Vortech YSI upgrade available)
Fuel management upgrade includes a Kenne Bell "Boost A Pump" and 60# injectors for safe, reliable operation
Self contained oiling for ease of installation and the best possible lubrication and cooling for the supercharger
Braided Stainless steel oil drain line
Billet aluminum supercharger mounting bracket assembly includes steel double, walled ball bearing idlers, Crank pulley, drive belt and all necessary hardware
Crank pin kit and new GM Crank bolt included
High-flow, reusable air filter
Air inlet restrictor plate integrated into system provides greater low RPM hp & torque while maintaining safe peak RPM boost levels
PCV oil separator to eliminate oil vapor from intake
ECS Valve Cover Breather
Inlet and discharge duct connections utilize heat-resistant silicon sleeves and premium quality stainless steel clamps
High-flow Bosch bypass valves provides surge-free compressor operation
Large, thermally efficient air to air intercooler
System is designed to work with factory cooling system
Heavy duty belt tensioner with double walled ball bearing idlers to ensure proper belt tracking and traction
Kit comes with new NGK TR-6 spark plugs
New 160 degree thermostat to ensure adequate cooling
Complete kit fits under stock hood
6061 aluminum ducting
Standard kit comes with polished head unit, brackets and ducting
Please note:
These systems will require ECM programming. Tuner kits do not include the fuel pump, fuel injectors, or ECM tuning.
Power output could be much greater with custom tuning and/or on higher octane fuel. Supercharged horsepower and torque data shown is a calculated estimate based on percentage increases from actual rear wheel hp/tq measurements.
Whipple Supercharger - $7999 Installed & Tuned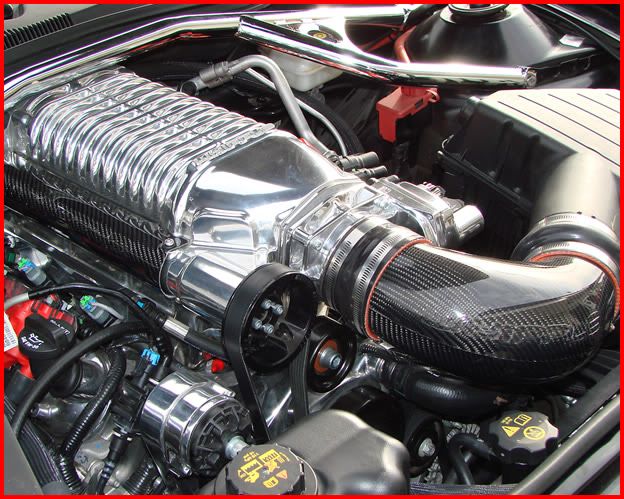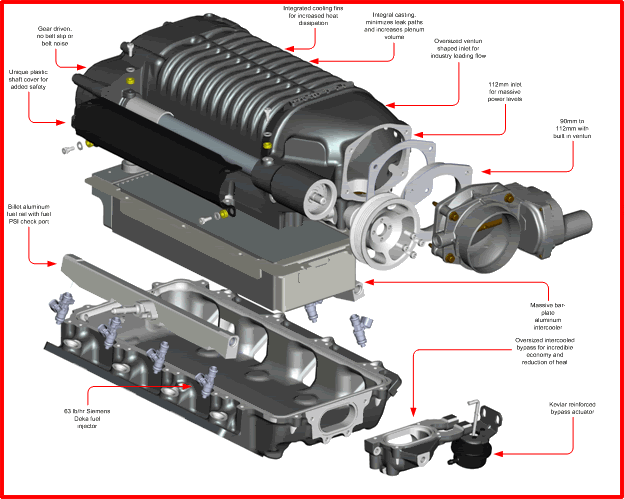 WHIPPLE SUPERCHARGERS EXCLUSIVE FEATURES
Only twin-screw that's 50-state emissions legal
Front entry W175ax (2.9 liters) Whipple twin-screw supercharger that significantly outflows competitions 1.9L and 2.3L roots-type systems
Integrated casting to minimize bolt on pieces, adapters, leaks and flow restrictions
Integrated Crusher ™ venturi shaped inlet for maximum airflow capacity and minimal rotor cavitations
Integrated Crusher ™ 112mm round inlet outflows smaller 90 and 93mm inlets such as other Eaton based systems
Integrated Crusher ™ 112mm round inlet for optional 102mm, 105mm and 112mm TB's that outflow others 110mm
Big Mouth Whipple Crusher ™ plastic air inlet for increased velocity and lower inlet temps vs. steel and aluminum tubes
Optional Crusher™ 120mm (4.75") air inlet system that outflows competition
Integrated design allows for oversized intercooler core compared to other smaller intercooler cores giving Whipple lower air charge temps which allows more boost and timing to be run on pump gas
Massive air-to-water aluminum bar-plate intercooler offers more cooling than any other positive displacement system available
Whipple Superchargers massive oversized intercooled air-bypass system for industry leading reduction of burst knock and incredible fuel economy, no ridiculous fabbed steel tubes
Self-contained oversized oil system for dramatically reduced oil temps in even the most demanding conditions
Exclusive 3x5 rotor combo for significant increase in airflow under the curve than less efficient 4x6 rotor combo
Zero turn inlet allows for decreased induction losses when compared to rear inlet systems and 180deg bends
Center discharge port for better cylinder to cylinder distribution then other twin-screws with cobbled together billet adapters and forward facing discharge
Discharge down design allows for less pressure loss which gives more power at lower boost levels
Top mount design allows for cooler operation then upside down SC's that conduct heat from engine and are trapped by runners and covers, causing hotter manifold temps and less power per pound of boost
More boost at the "hit" than any other twin-screw
Flat torque curve for incredible acceleration
MSD ™ Fuel pump booster with pre-defined voltage curve for less pump duty cycle then other pump boosters, only supplies increased voltage when needed, others are on/off
MSD ™ Fuel pump booster voltage curve can be adjusted by user, no need to purchase "competition" version, already included
Oversized heat exchanger for incredible intercooler water temps
Optional 4.5 liter supercharger for race applications
Fits under factory hood with no modifications
No internal modifications required
Completed installation looks factory installed, not some cobbled together kit with multiple billet adapters
Kits come complete with all necessary parts and hardware for installation
Unique oil level sight glass for easy oil level and quality check, no dipstick to bind or misread
Plug and play wiring, no cutting or splicing
High flow air filter system (50-state legal filter system), coolant reservoir is maintained
High flow fuel injectors (63lb/hr)
Proven 6-rib belt system with heavy duty spring loaded tensioner and adjustable idler system
Stainless steel jack-shaft with unique plastic cover for increased safety
OEM quick connect fittings for easy installation
Complete kits, Tuner kits and Hot Rod kits are available
Available in wrinkle black, polish or any custom color
Easily upgradeable with big cold air intakes and bigger throttle bodies (102mm or 112mm)
Instant boost at the touch of the throttle
3 minute pulley changes
1 year warranty